Suara.com – The name Alip Ba Ta has been in the spotlight of netizens because his fingerstyle guitar playing video is popular on Youtube. The following is the profile of Alip Ba Ta, a fingerstyle guitarist from Ponorogo.
Alip's expertise in playing fingerstyle guitar is well known to foreign countries. Not infrequently, Alip gets praise for his guitar playing. He has even been praised by a number of the world's top guitarists.
Although it has been discussed by netizens since the end of last year, there are several interesting sides of Alip Ba Ta that are not widely known. Come on, see the full profile of Alip Ba Ta.
The beginning of Alip Ba Ta is known to the public
Also Read:
Raden Brotoseno's Complete Profile
Alif Gustakhiyat or better known as Alip Ba Ta is a fingerstyle guitarist from Ponorogo, East Java. Interestingly, this 31-year-old man actually works as a forklift operator at a company in Pulogadung.
Alip Ba Ta became known after his guitar playing video stole the public's attention. The video was uploaded on his YouTube channel. In 2018, Alip Ba Ta started to open a Youtube channel called Alip_Ba_Ta.
Since then, Alip has regularly uploaded videos of his guitar playing. Until now, he is still actively uploading content on the account which has 2.69 million subscribers.
The Uniqueness of Alip Ba Ta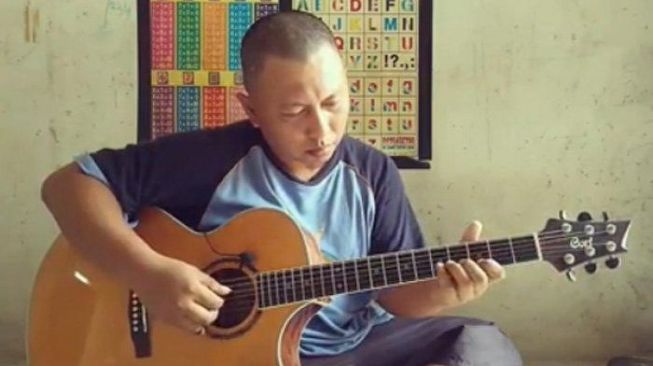 Alip Ba Ta plays his guitar in a fingerstyle style. If you pay attention, there are actually a lot of other fingerstyle video content on Youtube. However, Alip Ba Ta has its own charm. In every video he uploads, Alip always plays the guitar with a distinctive style.
Also Read:
Regent Faida's Complete Profile
Alip's relaxed way of playing and original arrangements became Alip's first attraction. In addition, in every song he performs, Alip also always inserts natural Indonesian notes. This is what other guitarists don't have.
Apart from being watched more than 1 million times, Alip's uploaded videos are always flooded with complimenting comments. The video is also often used as material for "reaction" video content by other Youtubers, both from within and outside the country.
Alip Ba Ta's musical insight is also very broad. This is evident from the songs that he brought. Alip does not limit himself to one particular genre of music. Alip often brings songs from different musical genres.
On one occasion Alip performed songs from the world's top musicians. On other occasions, he also performed songs from Indonesian musicians, even songs in regional languages ​​and songs of struggle.
Alif Ba Ta Often Gets Praise
Alip Ba Ta's expertise in playing his guitar often gets praise from various circles. In fact, Alip Ba Ta's game has been praised by the world's top musicians.
Brian May, guitarist for the legendary band Queen, once uploaded a video of Alip Ba Ta covering the song Bohemian Rhapsody on his Facebook account. In addition, a video of Alief playing the song Love of My Life has also been uploaded to Queen's official Facebook account.
Another world musician who was also impressed by Alip's playing was Synyster Gates. The guitarist for the band Avenged Sevenfold uploaded Alip's action on his Instagram Stories, complete with words of praise.
In addition, Alip has also received praise from other foreign guitarists, such as Alexandr Misko, Fun Two, and Igor Presnyakov.
That's the profile of Alip Ba Ta, a fingerstyle guitarist from Ponorogo.
Contributors: Theresia Simbolon