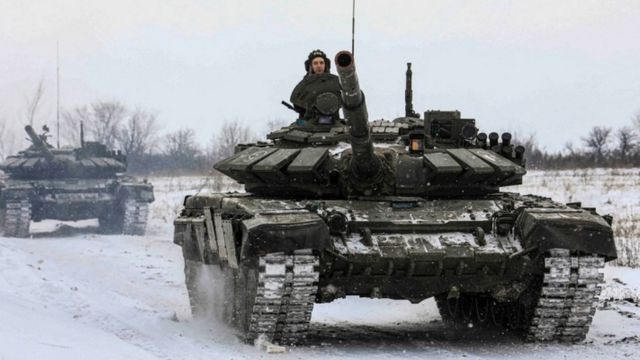 Russian President Vladimir Putin has ordered troops into two rebel-held areas of eastern Ukraine, after recognizing them as independent states.
Russia said its troops would engage in "peacekeeping" in the people's republics of Donetsk and Luhansk, which pro-Moscow groups in the region declared unilaterally.
But the US says calling the peacekeepers "bullshit", and that Russia is creating a pretext for war.
Both regions are strongholds of Russia-backed rebels, who have been battling Ukrainian forces since 2014.
Putin's move was immediately criticized by the Ukrainian president, who accused Russia of deliberately violating its sovereignty.
West prepares tough sanctions for Russia
Western powers have threatened to impose tough economic sanctions on Russia to try and stop it from attacking Ukraine.
The US Senate is compiling a list of actions it calls the "mother of all sanctions" and US President Joe Biden said Putin had "never seen sanctions like the one I am about to impose".
However, Western diplomats refused to be explicit about the nature of the punishment, in order to keep Russia guessing.
So what sanctions might the West be planning?
Financial restrictions
One of the measures being considered is excluding Russia from the system known as Swift – a global financial messaging service.
This system is used by thousands of financial institutions in more than 200 countries.
This action will effectively make it difficult for Russian banks to do business abroad.
But these sanctions would inflict economic losses on countries such as the United States and Germany whose banks have close ties to Russian financial institutions.
"Maybe you won't see SWIFT in the initial launch package," said Deputy National Security Adviser Daleep Singh.
Dollar clearing
The US can prohibit Russia from conducting financial transactions involving US dollars.
Basically, any Western company that allows a single Russian institution to deal with Dollars will face penalties.
This means Russia will be very limited in what it can buy and sell around the world.
Sanctions like this could have a huge impact on the Russian economy as most of its oil and gas sales are settled in dollars.
National debt
Western powers could take action to block further Russian access to international debt markets.
The ability of Western institutions and banks to buy Russian bonds is already limited – those restrictions could be tightened.
This action will deprive the country of access to the finances it needs to grow its economy. The cost of the country's borrowing may rise and the value of the ruble may fall.
Russia has prepared for such a situation by reducing the amount of debt held by foreign investors.
Block bank
The US could easily blacklist some Russian banks, making it nearly impossible for anyone in the world to make transactions with them.
Moscow must save the banks and do what it can to avoid rising inflation and falling incomes.
However, this will have a major negative impact on Western investors who have money in these Russian banks.
Target export controls
Western countries can limit exports of its main commodities to Russia.
The United States, for example, can stop a company selling any item that involves American technology, software or equipment.
This includes, in particular, semiconductor microchips, which are used in everything from cars to smartphones, machine tools to consumer electronics.
These efforts will target not only Russia's defense and aerospace sectors, but its entire economy.
Energy restriction
The Russian economy relies heavily on the sale of gas and oil abroad. The sale is a huge source of revenue for the Kremlin.
The West could bar countries and companies from buying oil from big Russian energy giants like Gazprom or Rosneft.
The US could use its diplomatic powers to stop a new gas pipeline under the Baltic Sea from Russia to Germany – called Nord Stream 2 – from operating. This pipeline network has been built but is still waiting for regulatory approval
President Biden says: "I promise you that we will be able to do it"
However, any restrictions on Russian gas would drive up prices across Europe, which relies largely on energy from the east.
Targeted individuals
New sanctions could be targeted at individuals, including not only Vladimir Putin's associates, but also the Russian president himself.
This action is likely to be a punishment for Russia's hostility towards Ukraine or a threat to its sovereignty or territorial integrity.
Asset freezes and travel bans are the most likely options. But many such sanctions are already in place and have not changed Russia's behavior much.
The hope of the US and European powers is that the Russian elite will put pressure on Putin if they cannot access their wealth in a foreign country and educate their children in western schools and universities.
Sanctions from London
Some sanctions can be imposed to limit the ability of Russian individuals to invest and live in London.
Such was the scale of Russian finance in banks and properties in England that the capital was nicknamed "Londongrad".
The UK government claims it is addressing the issue with "a court ruling to compel the target to disclose the source of the unexplained wealth (unexplained wealth orders)", which requires people to say where their money is coming from.
But only a handful of these rulings have ever been used. A number of US organizations want the White House to push for the UK to be tougher on this.
Various difficulties for the West
Western countries have mapped out plans for coordinated and severe sanctions should Russia launch an all-out invasion of Ukraine.
But what if it was just a "little hit," as Joe Biden put it?
It is also possible that Russia will keep its troops around Ukraine for months to threaten it, while launching cyberattacks to weaken it.
Some countries with closer ties to Russia – such as Hungary, Italy and Austria – may not want to implement sanctions unless after a full-blown strike.
Russia can also lessen the impact of Western sanctions by seeking support from China and other allies.
The point is that the most effective economic sanctions often come at a heavy price for those who enforce them.
There are consequences to bear and not everyone in the West is willing to admit it.