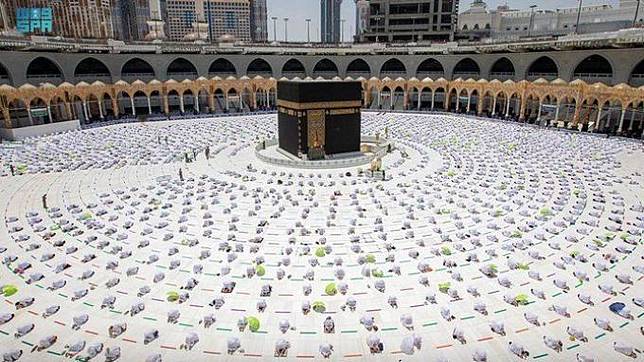 TRIBUNNEWS.COM, JAKARTA – Saudi Arabia revoked rules regarding precautionary measures related to the Covid-19 virus pandemic.
The country's Interior Ministry said the measures being lifted included social distancing and wearing masks outdoors which were no longer mandatory.
As reported by the Tribune of Arab News, the Ministry also said that the social distancing in the two holy mosques and all other mosques in the Kingdom of Saudi Arabia will end, but worshipers must still wear masks.
Then, the government of Saudi Arabia will no longer require travelers to undergo mandatory Covid-19 quarantine upon arrival in the country.
Passengers also no longer need to provide a PCR test upon their arrival.
xxx
"All arrivals in the Kingdom of Saudi Arabia on a visit visa of any kind are required to obtain insurance that covers the cost of treatment from coronavirus infection," read a statement from the Ministry of the Interior of Saudi Arabia, Sunday (6/3).
However, the Ministry stressed the importance of continuing to adhere to the guidelines of the national plan for immunization, which includes obtaining a booster dose and implementing procedures to verify health status on the "Tawakkalna" application for entering facilities, activities, events, planes and public transportation.
"This explains that the actions taken above are subject to continuous evaluation by the competent health authorities in the Kingdom of Saudi Arabia, in accordance with the development of the epidemiological situation," said the Ministry of Interior of the Kingdom of Saudi Arabia.
The Director General of Hajj and Umrah of the Indonesian Ministry of Religion, Prof. Hilman Latief said that his party would immediately coordinate with related ministries regarding the decision from the Kingdom of Saudi Arabia to revoke the rules regarding preventive measures related to the Covid-19 virus pandemic.
"I think this has to be compromised because friends who go there are no longer required to have a PCR check and even that. So later there must be a policy of mutual recognition, don't stop there, there is no need for quarantine, we are forced to quarantine or I mean don't When we get there, we don't need PCR, we have to use PCR for departure and so on," he said.
From March 21 to 23, 2022, the Indonesian government was also invited by the government of the Kingdom of Saudi Arabia to discuss further regarding the repeal of the COVID-19 protocol, including the implementation of Hajj and Umrah.
"At the congress, which will be held from March 21 to 23, 2022, there is much clearer information that is more certain regarding the implementation of the 2022 or 1443 Hijri Hajj," said Hilman.
He also hopes that the cost of hajj can be reduced from the previously proposed Rp 45 million.
Because, Hilman continued, the previously proposed hajj costs took into account the costs of the COVID-19 health protocol.
"Yes, later the decision from the DPR and the President will be in accordance with people's expectations, namely the cost of hajj will not increase again even though it is not guaranteed," he said. (Tribune Network/ism/arabnews/fah/wly)