Lembang Bandung is one of the locations that is suitable as a tourist attraction or tourist destination when on vacation. In Lembang, there are so many interesting Natural Places in Bandung that can be explored with various concepts. Lembang is indeed located in a beautiful natural area and has a cool temperature. No wonder so many tourist attractions have sprung up. One of the attractions in this area that can be visited is Orchid Forest Lembang. Here are some explanations.
The beauty of the Orchid Forest
As the name suggests, this tourist attraction is one of the natural attractions that displays various plants with orchids being the center or main concept. This tourist spot is the center of an orchid nursery in Bandung. So this location is certainly very suitable to be visited by tourists who like plants, especially orchids. Even this natural tourist attraction is one of the international standard tourist attractions in Bandung, especially in terms of orchids.
Orchid Forest Lembang is also known as the largest orchid forest area in Indonesia and Asia and is also included in the Most Beautiful Flower Garden in Indonesia. Inside there are various types of orchids of various types and variants and arranged very beautifully. At least there are approximately 157 collections of orchids imported from various regions and from various countries. Not only are there local Indonesian orchids, there is also a collection of orchids from Venezuela, America, and Peru.
The types of orchid plants that are superior are black orchids and semar bag orchids. This type of orchid is superior because it is quite rare. So you can see orchids that are rarely found.
Not just an orchid nursery, Orchid Forest Lembang is also a geotourism and ecotourism center in Bandung. Where there also applies the concept of ecotourism with the presence of green spaces as tourist sites. Visitors will be invited to get to know nature more closely complete with concern for the preservation of the flora around it. This tourist attraction can combine a tourist destination with nature without having to damage the natural wisdom around it. Suitable as an alternative to Begonia Flower Gardens.
Orchid Forest Facilities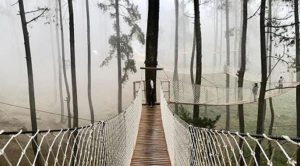 As an orchid nursery center as well as an ecotourism center in Bandung, Orchid Forest Lembang certainly has many interesting tourist facilities and can accommodate the activities of its visitors. In general, the facilities in Orchid Forest are divided into several main functions, including:
Outbound gatheringOne of the facilities in Orchid Forest is an outbound and gathering area. There are indeed several outbound facilities that serve to accommodate the activities and excitement of the tourists.
entrance building, the part that is used as an entry area and also a ticket purchase counter.
coffee corner, which is a suitable location to enjoy coffee and enjoy some culinary delights while traveling to this place.
food courts, there is also a place to eat that sells a variety of local and international cuisine for lunch.
children's reading park, which is one of the places or facilities that accommodate educational tourism activities, especially for children.
teahouse corner, besides the coffee corner there is also a suitable place to enjoy tea drinks from Bandung.
rabbit park, which provides space for visitors to play with the rabbits and interact with these cute fauna.
green house, which is a facility for caring for orchids.
Orchid sales center, specifically for visitors who want to shop for orchids directly from this tourist attraction.
camping ground, which is suitable for visitors who want to stay by way of camping.
deer breeding, which is a deer breeding location and can be observed by visitors.
picnic area, for visitors who want to gather with family or friends by way of a picnic.
various photo spots, which is a suitable place for visitors to take pictures such as the sky bridge, tree house, amphytheater, and so on.
Those are some of the facilities available at Orchid Forest Bandung. Complete enough for a tourist location that is suitable for families and can also be visited with traveling companions.
Orchid Forest Location
To reach this tourist attraction, you only need to drive to Jalan Tangkuban Perahu kilometer 8 Cikole, Lembang, West Bandung. Orchid Forest Lembang tourist attractions are close to several other tourist attractions, such as Cikole Jayagiri Resort, Cikole Graphic Tourism Terminal, or Bandung Treetop Adventure Park.
The distance of this tourist attraction from the center of Bandung is about 20 km which can be visited in about 2 to 2 hours depending on the situation and condition of the highway. From Bandung, direct the vehicle towards Mount Tangkuban Perahu. Then you will find the Orchid Forest entrance gate quite easily because the entrance gate is on the side of the road.
Orchid Forest Entrance Fee
To enjoy the tourist facilities at this attraction, visitors need to pay an entrance fee of only IDR 30,000 per person. Cheap enough right? However, please note that if you bring a DSLR camera, visitors will be charged an additional entrance fee of IDR 50,000 per person. Those who bring two-wheeled vehicles will be charged a parking fee of IDR 2,000 and those who bring four-wheeled vehicles will be charged IDR 5,000 per vehicle.
You can visit there every day. If you come on weekdays, the opening hours are from 9.00 to 18.00 WIB. Meanwhile, on weekends (Saturday and Sunday) the opening hours are from 08.00 to 19.00 WIB. So that on weekends the travel time is a little longer. Visitors who want to enjoy the atmosphere around Lembang can also stay because in Lembang there are so many inns that can be rented.
Those are some explanations about Orchid Forest Lembang which is a natural tourist attraction in Lembang Bandung with the concept of an orchid nursery. Also know some other tourist attractions in Lembang that you can visit while in Lembang. Hopefully useful for you, especially those who want to travel to the Lembang Bandung area.