Beauties, of course, still remember the appearance of Meghan Markle when she attended an interview with Oprah Winfrey in March 2021. Yup, at that time, their video interview immediately went viral and was often the subject of conversation by many people around the world.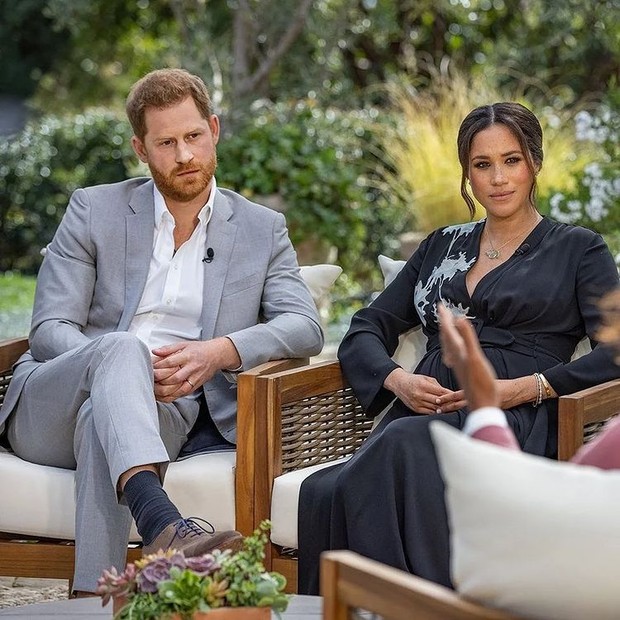 The dress designed by Giorgio Armani that Meghan Markle wore as Dress of The Year 2021 by Fashion Museum Bath/ Photo: Instagram.com/meghanmarkle_official
This is because in the interview, Meghan Markle seemed brave to reveal various things that happened to her and she felt during her life in the British Royal family. In addition, she also revealed that when she was pregnant with Archie, many people were worried about Prince Harry about the color of their baby's skin.
Oprah Winfrey's interview with Meghan Markle and Prince Harry immediately became the focus of many people, one of whom was host Piers Morgan who said that what Meghan Markle said was a lie, and Meghan Markle was a person who experienced delusions.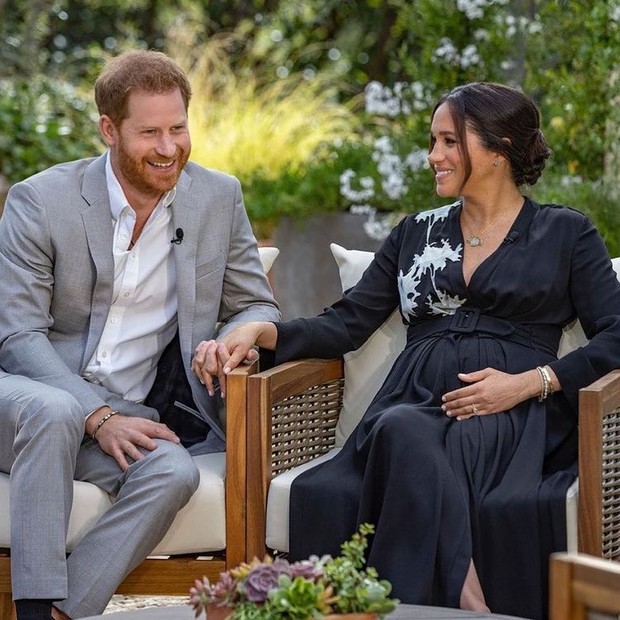 Meghan Markle's look at an interview with Oprah Winfrey/ Photo: Instagram.com/meghanmarkle_official
Apart from this, behind the popularity of the interview session between Oprah Winfrey and the couple Prince Harry and Meghan Markle, recently the clothes that Meghan Markle wore when attending the interview were actually chosen and crowned as dress of the year by a fashion museum in England.
On Tuesday, February 22, 2022, the Fashion Museum of Bath announced that the title of 'Dress of the Year 2021' went to the dress by Giorgio Armani. The dress, which is made of silk with a lotus motif and is priced at 3300 Pounds Sterling or around Rp. 63.5 million, appears to be worn by Meghan Markle when she was pregnant with her second child, Lilibet.
"We think Meghan and Harry's interview with Oprah is an iconic moment that shows the anti-system movement that has always been a part of British history. The clothes that Meghan wears are definitely engraved in our pop culture," Ibrahim said as quoted from the page. People.
As is well known, most members of the royal family, such as Kate Middleton and Princess Diana in the past have used clothing as a means of sending messages and during interviews, speculation among the audience became widespread. Even so, there are also those who say that the lotus flower motif on the dress used by Meghan Markle during the interview seems to have the meaning of the ability to survive, considering that lotus flowers are able to bloom even though they live in harsh conditions.
Visitors to the museum today can also see first hand another variant of the black dress with a model v-neck the. This dress installation is also part of an exhibition entitled 'A History of Fashion in 100 Objects'.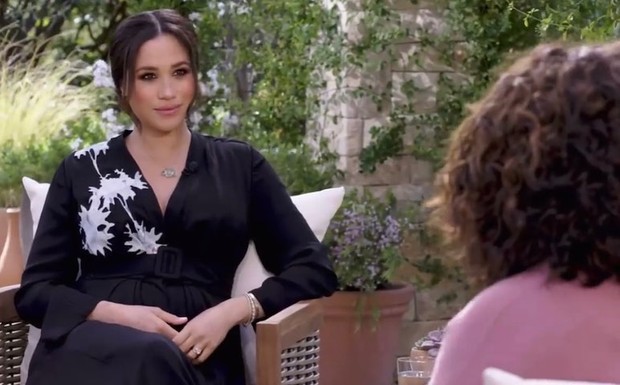 Meghan Markle in a dress from Giorgio Armani/ Photo: Instagram.com/meghanmarkle_official
During the interview with Oprah Winfrey, Meghan Markle wore a dress model v-neck which features a black belt detail from Giorgio Armani combined with a pair of Aquazzura 'Simply Irresistible' Black Suede 105 Pumps which sold for 565 Euros or around Rp. 9 million.
Meghan Markle also wore an accessory in the form of Pippa Small Aquamarine Collette Pendant Cord Necklace which is priced at IDR 26.9 million, as well as a pair of earrings Birks 'Bee Chic' Blue Topaz Silver Earrings which was sold for USD 650 or around Rp. 9.3 million. Meghan Markle also doesn't forget to wear a bracelet accessory like Cartier 'Love' Bracelet In Yellow Gold, Jennifer Meyer Gold Mini Bezel Tennis Braceletand bracelet Diamond Tennis of Princess Diana.
[Gambas:Video Beautynesia]
Want to be one of the readers who can take part in various exciting events at Beautynesia? Let's join the Beautynesia reader community B-Nation. How to REGISTER HERE!
(raf/raf)