Traveling to East Java is certainly a dream for many people, where East Java has several cities that are suitable to be called tourist cities. This is indeed interesting because East Java has natural and cultural diversity which is quite different from Yogyakarta and Central Java. One of the tourist cities in East Java is Malang. Malang is interesting because it has various natural attractions such as beautiful beaches and mountains.
In fact, this city is also one of the best cities to start climbing to Mount Semeru. However, in addition to the natural beauty of the city of Malang, this city also has other attractions in the middle of the city. For example, by visiting a tourist attraction near Malang Station, Jodipan Malang Colorful Village which is also suitable for Children's Tourist Attractions in Malang. Here are some explanations.
The History of the Colorful Village of Jodipan
Before seeing the uniqueness and other interesting things from Jodipan Colorful Village, it's good to see the history of the formation of this tourist attraction. Jodipan village has always existed in the city of Malang and occupies an area in the Malang Brantas watershed, precisely under the main road of Malang city. Jodipan village used to be a village known as slums.
However, a few years ago an idea emerged to make this village more attractive. Considering this village will be seen directly from the main road above it. To make this village attractive, one way is to change the color of the paint in the houses with beautiful colors. Since then this village has become popular on social media.
Along with the popularity of this village on social media, this village has become a tourist attraction. Of course, with the addition of various interesting facilities and also various unique photo spots. So at this time this village will always be visited by tourists both from Malang itself and from outside the city of Malang. Suitable for all ages, from children to adults, so this location is also suitable for Lebaran Tour in Malang for those who want to spend time with family.
The Uniqueness of Jodipan's Colorful Village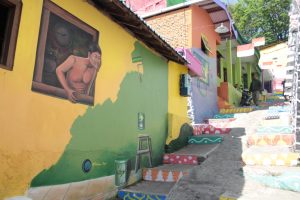 As described above, this village is unique from the colors in people's homes. Where this village is already interesting when viewed from above. But even when you enter this village, it is still interesting and unique. To the extent that in several other areas also appeared villages with a similar concept to this village.
Visitors who come to the Colorful Village of Jodipan Malang can take pictures in the village and explore every alley of the village with joy because the colors there are bright colors. In addition, there are various interesting tourist spots to be visited by tourists, for example:
Colorful walls, where the walls of houses and buildings there will have interesting colors
Umbrella aisle, where there are many colored umbrellas above the visitors
Embong Brantas Bridge, which is the main road above Jodipan village to observe the village from a height
Various 3-dimensional paintings that can be used as 3D photo spots
The colorful stairs in the village are also suitable for photo spots
and many more
Jodipan Village Glass Bridge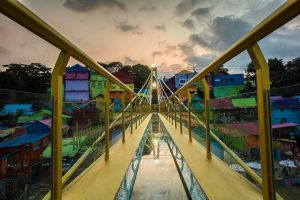 Not only the spots above that have been described, since the end of 2017, Kampung Jodipan has a new facility for tourists, namely the glass bridge. This glass bridge is claimed to be the first glass bridge in Malang, as well as in Indonesia.
Of course, the existence of this glass bridge will be more attractive to tourists. Inaugurated by the Mayor of Malang, this glass bridge is the work of Civil Engineering students from one of the campuses in the city of Malang. As for the construction, it was assisted by a paint company from Malang.
The design of this glass bridge is similar to the glass bridge in Zhangjiajie, but smaller and smaller in size. However, it still attracts tourists. Maybe this bridge can also be used as an alternative for Prewedding Places in Malang for those who are curious and interested.
Locations and Routes to the Colorful Village of Jodipan
For those of you who come from Malang, you must be familiar with the location, because the Colorful Village of Jodipan Malang is in a very easy to reach location and most of the residents of Malang always pass by when doing their daily activities. For those of you who come from outside the city of Malang, you also don't need to worry, because this location is one of the tourist attractions near Malang Station that is easily accessible. The distance is only about 500 meters from the entrance of Malang Station, so you can walk. Even if you want to take public transportation from the station, it won't take you 10 minutes to get there.
If you have just exited Malang Station, take the road to the left of the exit. Then just go straight until you come to a fork in the road. At the crossroads, turn right. But please be careful because the intersection will always be full of vehicles. When you have taken a right turn, you have arrived at the Embong Brantas Bridge and can already see the view of Jodipan Malang's Colorful Village from above. To get there, just go through the village gate.
Jodipan Colorful Village Entrance Ticket Prices
For visitors who don't have an excessive travel budget, this Photo Spot in Malang is perfect for you to visit. Because basically the price of admission to enjoy the tourist atmosphere there is only Rp. 2,000 per person. Very cheap isn't it? The entrance fee is already in the form of a sticker that can be used as a souvenir. Meanwhile, tourists who use motorbikes will be charged Rp. 2,000 per vehicle, Rp. 5,000 per car, and Rp. 15,000 – 25,000 per large tourism vehicle.
Those are some explanations about the Colorful Village of Jodipan Malang that you need to know. Also know some of the attractions in Malang and Batu Tourism City which are interesting to visit while in East Java. Hopefully useful for you.