East Java, this province seems to have a magnet for domestic and foreign tourists. Starting from Mount Bromo whose beauty is already worldwide, Ranu Kumbolo, Jatim Park, Museum of Transport, and there are still many tourist attractions that you can find here. In addition to beautiful mountains, there are also many exotic beaches in East Java that can refresh the eyes.
These beaches are scattered in the city of Malang, Jember, Banyuwangi, and other cities. For those of you lovers of beach tourism, here we will review the 10 most beautiful beaches in East Java that are a pity to miss.
1. Papuma Beach, Jember
Papuma Beach is located in Lojejer Village, Wuluhan District, Jember Regency. The trip from Jember city to Papuma Beach can take quite a long time, so it is recommended for you to stay overnight here. The management has provided several inns and cottages with quite affordable prices, around 150,000 – 450,000 Rupiah per night. The price of admission to the beach itself is 5,000 to 7,000 Rupiah.
Papuma Beach has a very beautiful view. The combination of white sand and rocks that spread on the beach. One of the characteristics of Papuma Beach is the seven large corals towering on the beach. Their large size makes these reefs resemble an island. The seven corals also have their own names. Here you can feel the sensation of being hit by the waves from the top of the reef. This beach is also often used as a location for pre-wedding or landscape photos by photographers from various cities.
Read the full review: Papuma Beach, The Most Beautiful Beach on the Island of Java
2. Red Island Beach, Banyuwangi
Pulau Merah Beach is located in Sumberagung Village, Pesanggaran District, Banyuwangi. You need about three hours to get to this beach from downtown Banyuwangi. What is special about this beach is the view when the sun begins to set and the sky turns orange. Many have commented that Pulau Merah Beach has characteristics like most beaches in Brazil and has earned the nickname the Kuta of East Java.
Besides sitting and relaxing enjoying the beach view, another activity you can do here is surfing because this beach has become a world-class surfing destination on the island of Java. You only need to pay 25,000 – 50,000 Rupiah to rent a surfboard that has been provided by the manager. The condition of the waves here that reach a height of 4 to 5 meters is very suitable for surfers of various levels.
Also read: Red Island Beach, Second Kuta on the Island of Java in Banyuwangi
3. Sempu Island, Malang
Sempu Island is a small island that is still in the same location as Sendang Biru Beach, precisely in Tambakrejo Village, Sumbermanjing Wetan District, Malang. This island is under the protection of the Natural Resources Conservation Center (BBKSDA).
Initially officially since 1928, Sempu Island is a nature reserve that has a variety of ecosystems such as coastal forests, mangrove forests, and lowland tropical forests.
However, as time goes by, many nature lovers who visit Sendang Biru Beach go camping on Sempu Island by crossing using fishermen's boats. What makes Sempu Island special is the Segara Anakan lagoon located on the island. To reach Segara Anakan, you have to do a two-hour tracking through the forest and steep roads.
This trip will pay off once you see the white sand wrapped in blue super clear sea water and also the view of the coral that protects Segara Anakan. The sea water here is very calm so it is safe for swimming. To maintain the beauty of this island, it is hoped that you do not throw garbage and damage the existing ecosystem.
4. Klayar Beach, Pacitan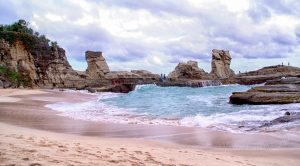 Klayar Beach is located in Donorojo District, approximately 35 km drive to the west of Pacitan city. The length of time you need to arrive at this beach is about an hour's drive. This beach is still natural, so the road to this beach is quite difficult.
Klayar Beach is one of the leading tourist attractions in Pacitan. The specialty of this beach in addition to the milky white sand, here there is a rock that looks like a Spinx and a natural fountain with a height of up to 10 meters. The color gradation of the sea water from blue to turquoise green combined with the white sand of the beach will surely make you fall in love. Sturdy and overhanging rocks make this beach almost the same as Tanah Lot Bali.
Also read the full review at: Klayar Beach, Interesting Pacitan Tourism For You To Visit
5. Teluk Ijo (Green Bay), Banyuwangi
The beach, better known as Banyuwangi's Green Bay, is located in Pesanggaran District, Sarongan Village, Banyuwangi. From downtown Banyuwangi you can take the route to the south for approximately 90 km. The specialty of this beach is its soft white sand, clear turquoise sea water and an 8 meter high waterfall.
To get to this beach you have to track down the path for approximately 2 km. In some parts of the road there are ropes available to make it easier for visitors to follow the road. Due to the tiring journey, it is recommended for you to camp overnight here. You can relax enjoying the clear water, get wet in the waterfall or try the sensation of fishing for fish and shrimp.
6. Three Colors Beach, Malang
Tiga Warna Beach is still in the same area as Sendang Biru Beach, precisely in Tambakrejo Village, Malang Regency. This beach is classified as a new beach in the Malang area because it was only inaugurated as a tourist spot in mid 2014. It is recommended to bring a private vehicle when visiting here because road access & public transportation are not perfect.
You only need to pay 6,000 Rupiah per person to enjoy the beauty of this beach and also you have to hire a guide to get to this beach. One of the activities you can do here is snorkeling. There are still many natural coral reefs that inhabit this coastal sea. This is because Tiga Warna Beach is a coral reef conservation location. The cost to rent snorkeling equipment is only 15,000 Rupiah per person.
7. Banyu Tibo Beach, Pacitan
Banyu Tibo Beach is located in Widoro Village, Donorojo District. This beach is one of the beaches in Pacitan that you deserve to make as a reference for your main tourist destination.
It is called Banyu Tibo because Banyu Tibo in Javanese means falling water. This waterfall on Banyu Tibo Beach comes from a small river that flows over a cliff. The flow of the river water plunges into the sea and blends with the waves in a small bay. This river is never dry during the dry season and the water is very clear.
Also read other beaches in Pacitan: 8 Beaches in Pacitan that are a pity to miss
8. G Land Beach, Banyuwangi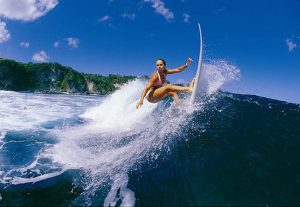 The Javanese name of G Land is Plengkung Beach which is a famous beach in Banyuwangi and is known as The Seven Giant Waves Wonder. This is because G Land has a wave height of 4 to 6 meters along 2 km with tiered wave formations. The beauty and ferocity of the waves of Hawaii's class is what makes surfers from all over the world flock to come here.
You lovers of surfing sports can enjoy surfing against the backdrop of the natural green scenery of the forest. The best time to surf at this beach is between April and September. The stretch of white sandy beach in this area is covered in unspoiled forest, still in the Alas Purwo National Park area. So you will really feel the fresh air and mind, away from the hustle and bustle of the noisy city.
9. China Cave Beach, Malang
The location of Gua Cina Beach is in Sitiarjo Village, Sumber Manjing Wetan District, Malang Regency. Because it is still classified as a natural beach, to take this beach you have to bring a private vehicle. You only need to pay 4,000 Rupiah per person to enter this beach resort in East Java and the vehicle parking fee is 5,000 Rupiah.
Although this beach is not wide enough, this beach has a characteristic in the form of three islands in the middle of the beach, namely Bantengan Island, China Cave Island and Nyonya Island.
Although it is still classified as a natural beach, facilities in the form of food stalls, toilets, baths, and prayer rooms are already available here. The waves on this exotic beach are big enough to reach the shoreline, so you are expected to be careful. When the beach water recedes, you can cross to one of the islands in the middle of the beach just by walking. Because the sand on this beach is very white and soft, you can feel the sensation of sleeping on the sand while enjoying the blue sea.
10. Buyutan Beach, Pacitan
Buyutan Beach is located in the Donorojo sub-district, Pacitan. The location of this beach is not far from Klayar Beach. From the city of Pacitan it is about 44 km and can only be reached by private vehicle, because there is no public transportation operating around this beach.
If you like quiet nature tourism, coming to this beach is the answer. Buyutan Beach is still a virgin, not many tourists come to this beach. thus making the condition of this beach very clean, with milky white sand.
So, those were the ten exotic beaches in East Java. Because these beaches are still classified as natural beaches, it is hoped that you do not pollute the environment by littering or destroying the existing ecosystem. It would be better if you bring a special plastic bag to dispose of garbage. Let's keep the beaches in East Java still exotic and beautiful.