Bandung is an interesting city to visit as a tourist destination. Apart from having advantages in nature tourism, Bandung, which is a big city, is also attractive for tourism other than nature. For example, child and family tourism based on games and other recreational vehicles. After the emergence of Trans Studio Bandung a few years ago, now Bandung is increasingly developing itself as a tourist city.
One of the signs is the emergence of various places to eat with natural nuances in Bandung which carry the concept of tourism as well. In addition, there are also several tourist attractions that offer various interesting and unique foo spots for visitors. For example Upside Down World Bandung. One that just opened recently is Amazing Art World Bandung. Here are some explanations about this one tourist spot.
The Uniqueness of Amazing Art World
Basically, today's tourists may have different tastes from ancient tourists. If ancient tourists preferred to explore the natural and cultural attractions of a particular city, nowadays tourists will be more interested in unique places and also offer many interesting photo spots. One of them is Amazing Art World.
Amazing Art World is actually the largest 3D Art Museum in the world that has occupied several cities and even countries in the world. The founder is a company from Korea and was founded in 1999. This company focuses on matters related to art or works of art. So that this company becomes one of the center companies in the field of design. With the intention to introduce Korean art to the world, Amazing Art World Bandung was formed.
As described above, Amazing Art World, which is located in Bandung, introduces arts from Korea with the concept of high quality 3D art. The artworks there were made by 20 professional and well-known painters in Korea themselves. They have succeeded in making more than 500 works spread in Amazing Art World all over the world.
The emergence of Amazing Art World as a Photo Spot in Bandung itself has previously been in Hainan China which opened on September 1, 2013. Next, in Manila the Philippines has also been there since December 25, 2014. Meanwhile, the one in Bandung currently only opened on January 1, 2017. . Although recently opened, this tourist attraction is quite popular, especially among young people.
Amazing Art World Fasilitas Facilities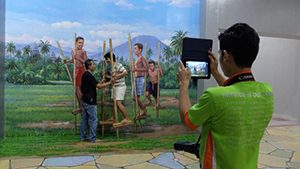 Amazing Art World Bandung is the largest 3D art museum in the world which occupies an area of ​​approximately 2 hectares. There are at least 6 galleries with 13 photo zones. From the 13 photo zones, there are at least 150 photo spots with different images. Each zone has its own unique and interesting concept.
This 3D museum with a fun museum concept will make visitors satisfied to enjoy all the existing works of art. Visitors will be invited to tour the museum and create their imagination so that their photos become more interesting. Suitable if visited with fun friends and family.
In addition to the various photo spots, there are also other facilities that can be used. For example, there are restaurants, souvenir shops, and cafes. There is also a large parking area and a prayer room for places of worship. Another facility is a rest area to rest if you are tired of exploring the tourist area. Here are some of the galleries in Amazing Art World.
Gallery A – In this gallery there are several zones, including Aqua Zone, Dinosaurs Zone, Animal Zone, Painting Zone, Roma Italia Zone, and Daily Zone.
Gallery B – In this gallery there is a Video Art Zone which displays artwork from various artists in the form of interesting videos. Visitors can also learn about the history of 3D painting.
Galley C – In this gallery there are several photo spots with horror themes because the zone here is the Horror Zone.
Gallery D – This zone is the Main Hall which is the largest zone in this 3D museum. The interesting thing from there is the Egyptian theme, fantasy theme, nature theme, and several others.
Gallery E – In gallery E there is a Black Art Zone which provides photo spots that glow in the dark so that it is similar to a fantasy world like in a movie.
Gallery F – Inside this gallery there are several zones, such as the Fantasy Zone, Winter Zone, and also the Love Zone.
Those are some of the facilities available at Amazing Art World along with the existing zone divisions.
Price of admission
Amazing Art World Bandung as a 3D Photo Spot in Indonesia can be visited from 09.00 to 21.00 WIB. If you want to visit there, the ticket price varies depending on the day and the status of the visitor. For Monday to Friday, general visitors are charged Rp. 130,000 per person, while students are charged Rp. 100,000 per person. As for Saturday and Sunday, general visitors are charged Rp. 170,000 per person and students Rp. 130,000 per person. You can also book a group ticket of at least 20 people for study tours and gatherings. For more information, visit the website or contact the telephone listed there.
Amazing Art World Location
The location of Amazing Art World Bandung is actually quite easy to reach. The exact location is on Jalan Setiabudhi Number 2993 Isola, Bandung, West Java. This location is quite easy to find. Here are some routes that can be taken to get there.
From Jabodetabek
If you use your own vehicle, exit Pasteur Toll Road and head to Jalan Sukajadi. Follow the road until you reach Setiabudi. The location is quite close to Terminal Ledeng, which is approximately 800 meters.
If using public transportation, visitors who exit the Pasteur Toll Road can ride Mount Batu – St. Hall. The tariff for now is IDR 4,000). get off at Jalan Cicendo. From there, take public transportation from Lembang – St. Hall for around IDR 5,000 and you will arrive at Amazing Art World.
From Husein Sastranegara Airport
If you use your own vehicle, exit from Jalan Padjadjaran and head towards the Istana Plaza mall. From there take a turn to Jalan Pasir Kaliki to head towards Jalan Setiabudhi.
If you take city transportation, you can take Cibogo – Eagle at a rate of Rp. 3,000 and get off at Jalan Padjadjaran. Then take the Lemang – St. Hall at a rate of Rp. 5,000. You will get there.
Those are some explanations about Amazing Art World Bandung that you need to know as a modern tourist attraction full of artwork and photo spots. Also know Tours Near Bandung Station for those of you who want to travel fast in Bandung. Hopefully useful for you.