Aceh has a myriad of natural charms that may not be known to many people. Aceh can be one of the exciting holiday destinations for you nature lovers. There are quite a number of waterfall tourist attractions in Aceh and it can be said that they are very impressive and are part of the waterfalls in Indonesia, and here is a list that can be used as a reference.
Akang Siwah Waterfall
This tourist attraction is still very natural and can be the right place to feel the coolness and tranquility to get away from the hustle and bustle of the city. If you go to Aceh, don't forget to visit tourist attractions in Aceh, namely the Akang Siwah Waterfall which has three levels; the first is 8 meters, the second is 14 meters and the third is 40 meters.
The cool air and the roar of the falling water will really dispel all your fatigue, but be careful when approaching the waterfall because it is quite slippery. Located in Aceh district whose capital is Blangkejeren, this waterfall can be accessed by car or motorbike.
Kuta Malacca Waterfall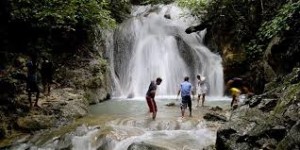 This tourist location is actually still not very well known and is only popular among local residents. To get to Kuta Malacca Waterfall is not easy because the terrain is quite difficult and has not been paved. But when you arrive in this area, you can tour nature to your heart's content and the difficult access will be paid off with all the natural beauty that is here.
Requires good energy and physical strength to get to this waterfall because there is a steep hill that must be passed. This is a waterfall that has many levels with different heights. Not only the waterfall spot that you can enjoy, but the peak of Kuta Malacca is also fun to visit, but be prepared to attack the winding, uphill and slippery roads in the rainy season.
Visitors only need to pay around Rp. 10 thousand.
The entrance ticket price includes enjoying a waterfall tour or visiting the peak of Kuta Malacca which is right at the top of the Bukit Barisan mountains, or both.
Krueng Ayon Waterfall
Another waterfall tourist spot that will make your vacation more complete is the Krueng Ayon Waterfall which has a height of about 30 meters. Because of its location in the middle of the wilderness and oil palm plantations on Mount Idieng, access is indeed quite difficult and to get to this waterfall you need to take an oil palm truck or take a motorcycle taxi.
Located in Aceh Jaya Regency, this waterfall can be found in Sampoiniet District, especially if you visit Ayon Village directly. To save costs, it is highly recommended to bring your own food supplies.
Kaya Waterfall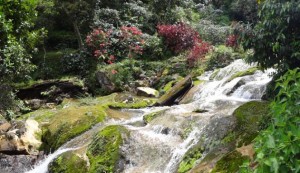 Maybe some of you already know where the attractions of Lake Lut Tawar. If you want to spend vacation time at Mengaya Waterfall, the location of this waterfall is not far from the lake because they are both located in Aceh Regency, which is in Bintang District. You just have to go to the village of Mengaya to be able to enjoy the waterfall.
Fortunately, the terrain that needs to be passed to be able to arrive at the location of the waterfall is already in good condition with paved roads so that tourists will enjoy the trip. During the trip to this place, you will definitely feel satisfied and refreshed because of the cool air and the beautiful panorama of the forest.
Keabuhan Waterfall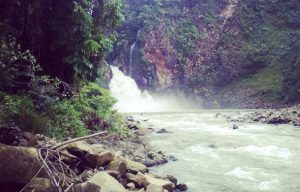 Waterfall tourism in Aceh which is no less beautiful than those mentioned previously is the Kedabuhan Waterfall in Aceh Singkil Regency. Almost like the average waterfall location in Aceh which is still very natural, so is the Kedabuhan Waterfall.
Those of you who are interested in visiting while on vacation in Aceh may go directly to the Penanggalan District, precisely in a village called Lae Ikan Village. If you are from downtown Subulussalam, then the distance that must be taken is about 7 kilometers. Take the western route to get to this place if you decide to go to North Sumatra and this waterfall can be found on the right side of the road.
Suhom . Waterfall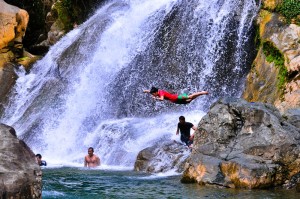 If you go to the Greater Aceh area, Suhom Waterfall must be on your list of vacation destinations which are tourist attractions in Aceh Besar. Its location which is relatively close to the capital of Aceh, Banda Aceh, will make it easier for every visitor to reach the location.
You will take approximately 1 hour drive to arrive at this waterfall because the terrain is very good so there will be no problems during the trip. This one waterfall is quite popular so it is not surprising that every holiday this place is filled with tourists who want to relax to get rid of their burdens and thoughts.
Mount Pandan Waterfall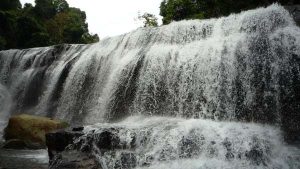 Another waterfall tour that will spoil you while in Aceh is the Gunung Pandan Waterfall with its many levels. This is one of the waterfalls that offers a challenge for those of you who are thirsty for an adrenaline rush. Located in Aceh Tamiang Regency, the waterfall area itself is not far from the parking area under the Mount Pandan bathing place.
However, you are still required to be physically strong and fit because to be able to arrive at the location of the waterfall you need to take about 45 minutes by foot from the parking area. True nature lovers will love activities trekking this, and it is advisable to smear the feet with salt first because during the trip there will definitely be a lump.
Blang Pool Waterfall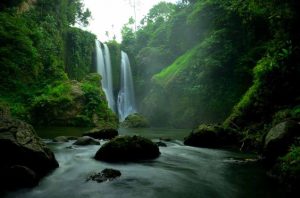 Located in North Aceh Regency, this one waterfall will amaze you with all its charm. Visit Kuta Makmur District, precisely in Sidomulyo Village to be able to enjoy the panoramic view of Blang Pool Waterfall, which is about 21 kilometers from downtown Lhokseumawe. With a height that reaches 75 meters, tourists will be amazed by the panorama and pleasant rural atmosphere that will soothe the eyes. However, facilities such as ropes, toilets and prayer rooms are not yet available.
Visitors are charged Rp. 2 thousand per person as the cost of cleaning this tourist attraction.
Visitors who bring their own vehicles need to pay a parking fee of Rp. 5 thousand to 10 thousand per vehicle.
Terujak Waterfall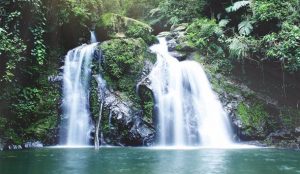 Do not miss the Terujak Waterfall which can be visited by those of you who are ready to explore the East Aceh Regency area. Located in Serbajadi Subdistrict, precisely in Terujak Village, this one tourist attraction provides extraordinary coolness for every tourist. The view of the waterfall is not the only one because you will be amazed by the beautiful natural forest scenery. Access to this place is so easy just by relying on a motorbike or even a car. On the slopes of the mountain you can relax to your heart's content because there is a hot spring with a sulfur source as well as a cold water bath that you can try.
Those are some waterfall tourist attractions in Aceh that are not only worthy to be included in the list of destinations, but also deserve to be visited immediately. These locations would be a pity to miss, so prepare physically to be able to visit all of these places.