Who doesn't know Indonesia? An archipelago that is vast, beautiful, stretching from the west to the east and has more than seventeen thousand islands. The beauty of Indonesia is already famous to various parts of the world. Lots of people come to Indonesia to enjoy its extraordinary natural beauty.
These people are not only fellow citizens of Indonesia, but also citizens of foreign countries. Indonesia is indeed beautiful. Beautiful nature, beautiful ethnic groups, beautiful culture, and beautiful friendly citizens. This is one of the wealth of Indonesia. The nature is still very beautiful and green, it is not difficult to find rice fields, fields, forests and various green trees in Indonesia, because the rural nature is still maintained sustainably by the people and is a suitable tourist spot for young people to visit this place.
The natural beauty of Indonesia is not only in the form of green trees, but there are also many other beauties. The natural beauty of Indonesia is in the form of a wide stretch of beach, as wide as the coast of every island in Indonesia, a large number of mountains, both active and inactive, fertile and green valleys, cool and beautiful mountains and hills, water beautiful and cool waterfalls, long stretches of rivers, lakes, to savanna meadows and steppes, and so on. All that Indonesia has is a majestic beauty that must be preserved and preserved.
Indonesia's nature is indeed very beautiful, not only at one point, but in every corner of Indonesia is an extraordinary sight. The nature of Indonesia, which stretches from the western end to the eastern end, always keeps various secrets of beauty in every corner. From western Indonesia, we have the island of Sumatra with its dense forests and rare animals that must be protected, the Riau Archipelago which holds a lot of beauty, the beautiful Bangka Belitung Islands with its extraordinary island characteristics, the island of Batam, the island of Nias, Natuna, to We, all its beauty can not be counted on the fingers. Indonesia also has Java which is famous for its Mahameru, the peak of Dieng with its color lake, to the Puncak area in Bogor which has always been a prima donna.
Furthermore, Indonesia has Bali whose beauty is recognized by the universe. The islands of Kalimantan, Sulawesi, Maluku Islands, Nusa Tenggara to Irian Jaya which cannot be described one by one because they are so beautiful. All this belongs to Indonesia.
Flores
One of the areas in Indonesia that should be proud of its beauty is Flores. The name Flores comes from the Portuguese language which means "Flower". Flores is located in the province of East Nusa Tenggara, Indonesia. Flores is included in the Lesser Sunda Islands group, accompanied by Bali and West Nusa Tenggara (NTB). Flores has an area of ​​about 14,300 square kilometers. In Flores, there is the second highest peak in East Nusa Tenggara, namely Mount Rankah which has a height of about 2350 meters.
In the East Nusa Tenggara region, Flores is included in the four largest islands along with Timor Island, Sumba Island, and Alor Island. Ujing bara, Adonara, and Solor. While in the west there are clusters of Komodo Island and also Rinca Island. The Flores community is a cultured and traditional society. The Flores ethnicity is a mixture of Malay, Melanesian, and Portuguese ethnicities. Because Flores was once a Portuguese colony, the culture in the region is very much in touch with its Portuguese culture, both genetically, religiously, and culturally.
One of the areas in Flores that is worth exploring is on the southern coast of Flores. The name of the area is Ende Regency. Ende is one of the largest cities in Flores. Lots of tourist attractions, culinary, to the culture that is still very thick and unique we can find in this place. Here are some tourist attractions in Ende Flores:
1. Lake Kelimutu
Lake Kelimutu is an extraordinary natural wonder. This lake is famous for its beauty. Many people recognize its beauty, so that Kelimutu Lake has been used as an image object in the Indonesian Rupiah denomination of Rp. 10,000. This lake is not only beautiful, but also unique. The uniqueness of this lake is the color of the water is different. Lake Kelimutu has three different colors. Kelimutu Lake is located in Koanara Village, Wolowaru District, or about 66 kilometers from Ende City, or about 83 kilometers from Maumere. Lake Kelimutu is precisely located at the top of the Kelimutu National Park.
2. Wolotopo Traditional Village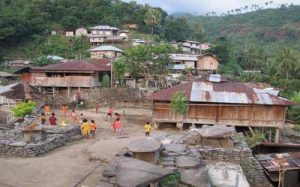 This traditional village is located in an area of ​​14 kilometers from the center of Ende City. This traditional village is a megalithic traditional village with very strong customs. In this traditional village we can see traditional houses and stone graves. and if the afternoon comes, we can see the beauty of Sawu Bay and Table Mountain.
3. Bung Karno's Devotional Park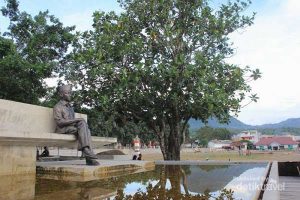 Do you still remember that the first president of the Republic of Indonesia, namely Ir. Soekarno was exiled in Ende for four years? Namely, from 1934 to 1938. In addition, Pancasila which became the basis of the philosophy of the State of Indonesia was the fruit of Bung Karno's thinking who was under a five-branched tree in this area.
4. Bung Karno's Exile House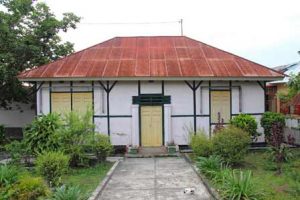 Bung Karno's exile house in Ende is located on Jalan Perwira. Bung Karno and his family's exile house is small and simple. This exile house is now used as a historical tourist attraction in Ende Flores. If we go there, then we will be able to see the contents of this exile house.
5. The Ikat Weaving Museum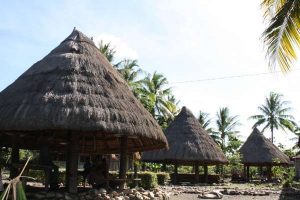 Each region in Indonesia has its own culture and customs. These customs include not only language and traditions, but also clothing to homes. One of the customs that East Nusa Tenggara has is the Ikat Weaving Fabric. This ikat museum is located in Ende. In this museum we can learn about the patterns of ikat woven fabrics, learn the origin of each color, and also the meaning of each woven fabric motif.
6. Ria Beach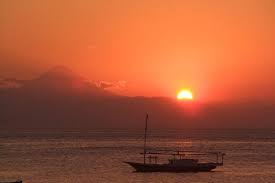 Like the territory of Indonesia in general, Ende also has a tourist spot in the form of a beach. Ria Beach is her name. Ria Beach can be said to be the most slang place in Ende. The white sand and blue sea water are typical of the east coast of Indonesia. On this beach has provided a lot of facilities for visitors. When the afternoon arrives, we can enjoy the sunset while sitting on the beach and enjoying a serving of young coconut ice. Along this beach, huts have been built for visitors and many are selling seafood there.
7. Jopu Traditional Village
This Jopu traditional village is one of the tourist destinations in Ende. Although there is only one Sao Ata Mosa traditional house that still survives in this village, it is enough to treat the curiosity of visitors. There, we were given a story by Mama Maria (the only person who can communicate in English). Mama Maria is known by every tourist who comes to Ende. His skill in storytelling will tell every detail of the meaning of every object and every stroke in this traditional house.
8. Ende Traditional Market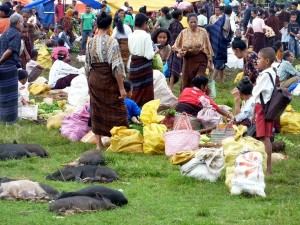 It doesn't feel complete if you don't take a vacation with souvenirs or souvenirs typical of the area that is a tourist destination. One of the areas where you can shop for typical Ende souvenirs is at the Ende traditional market. In this traditional market, we can hunt for various colorful woven motifs of Ende. Because there are many traders in this market, we can choose and bid so that we will get a fair price.
Those are some tourist attractions that we need to try in the Ende area, Flores. There are still other interesting places that we can visit. Ende, who is still thick with culture and customs, will make us realize the diversity of Indonesia, and will make us love this country even more.
Also read articles on other unique tourist attractions: