Yogyakarta seems to be getting cooler with new tourism objects. Not only museum buildings or galleries as well water parkYou can also find waterfall tourist sites, especially when you visit Kulon Progo. Here are a number of recommendations for waterfall attractions in Kulon Progo which will certainly make your visit more memorable and are part of waterfalls in Indonesia.
Kembangsoka Waterfall
Having a number of levels, this waterfall offers so much beauty. Kembangsoka Waterfall has the appearance of a river where the flow of water at the top is quite large while it gets smaller when you look at the bottom. Not only can you enjoy it from afar, tourists can also play in the water because this waterfall is guaranteed to be safe. Even those who want to swim can.
Fun, supporting facilities have been provided, including food stalls that can be visited when you need to fill your stomach and quench your thirst. If usually during the rainy season, many waterfalls become murky and dirty, Kembangsoka Waterfall has water that remains jernin during the rainy season so that it invites the admiration of its visitors. For those who are confused about the direction to the waterfall, there are reliable signposts. The condition of the stairs and roads leading to this place is not bad so you can reach the location easily.
From the vehicle parking area, tourists are required to walk about 200 meters away to be able to enjoy the waterfall. During the trip, you will also be presented with views of the residents' gardens that you pass, along with steps made of bamboo. Therefore, tourists are expected to have a strong physical condition; tourists who are used to climbing mountains will not find it difficult to go through the available roads to this tourist attraction and is a suitable tourist spot for young people.
Visitors are charged an entrance fee of IDR 3 thousand per head.
Visitors who bring a vehicle can park it and pay a parking fee of IDR 2 thousand per motorbike and IDR 5 thousand per car.
Sidoharjo Waterfall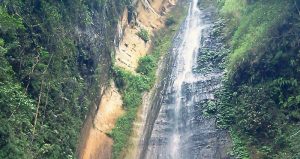 The location of this one waterfall is indeed not too popular and has not been touched by many tourists because of its rather remote location. Located in remote Samigaluh, this one tourist attraction has a myriad of beautiful waterfalls that will make the hearts of visitors melt. With a height of about 75 meters, this waterfall is also called the Virgin Waterfall where its exotic side can be seen when the rainy season arrives because the water discharge becomes heavier than usual.
The joy of being at Sidoharjo Waterfall is because indeed you will be able to capture the combination of the swift flowing waterfall with the high rock cliffs. Be prepared to bring a change of clothes because even if you stand for a few tens of meters you will still be exposed to the water and you can get soaked. Another attraction in this place is that there are flowers that grow wild and lush around the waterfall, even if you are lucky then a number of monkeys hanging in the trees will accompany you to enjoy the beautiful panorama at Sidoharjo Waterfall.
Kedung Pedut Waterfall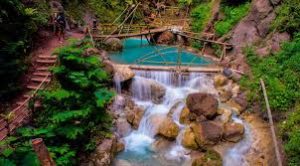 Visiting Kulon Progo, don't forget to enjoy a waterfall location called Kedung Pedut which can be found in Girimulyo District, precisely in Jatimulyo Village. The uniqueness of this waterfall is that there are two colors, namely clear white and turquoise green which are certainly different from other waterfalls. If you just look at the photos, maybe you think it's just an edit, so please prove it yourself because the colors produced by Kedung Pedut Waterfall are original and natural.
From the parking area, tourists are required to descend the valley along the path on foot. Don't worry because the terrain you have to go through is a land that has been made hard, but what needs to be considered and watched out for is the valley which is a bit slippery when it rains. And tourist attractions suitable for backpackers, Trekking it's tiring, but there are a number of shelter which can be used to rest while drinking or eating at the surrounding stalls. Only about 15 minutes, you will arrive at the river that originates from the waterfall. Continue the journey by crossing the river and you will arrive.
Apart from the two unique colors that visitors can enjoy, there is a natural pool that is as deep as an adult's neck. This pool is safe to be a place to play water or swim because it is not so deep. If you are observant, you will also see the presence of bamboo sticking to the cliff wall which is used as a place to sit to rest while sitting after playing in the water. This waterfall area is still relatively new, but it has attracted the attention of tourists so that it is starting to get very crowded.
Grojogan Sewu Waterfall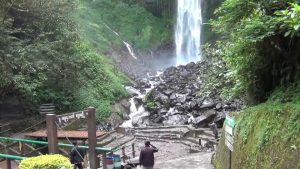 Traveling nature in Kulon Progo is certainly not complete if you haven't arrived at Grojogan Sewi Waterfall in Beteng Village, Girimulyo. This tourist attraction is also fairly new because it was opened about 2 years ago. After entering the Beteng Village area, you only need to follow the directions and from the main road, it only takes about 15 minutes to arrive at Beteng Tourism Village.
From the entrance, tourists need to cover a distance of 200 meters on foot and during this trip you will be able to see the condition of the residents' plantations. The terrain is still relatively natural and only wood and stone are used to make road conditions stronger. Plantations that are similar to forests will make you feel another sensation. After walking for a while, when you hear the sound of gurgling water, that is a sign that you have arrived at the Grojogan Sewu Waterfall.
Visitors are not charged an exact entrance fee, but the form is a voluntary donation that can be filled when you will pass through the entrance.
Visitors who bring their own vehicles are expected to park their vehicles by paying a parking fee of only Rp. 2 thousand.
Grojogan Watu Jonggol Waterfall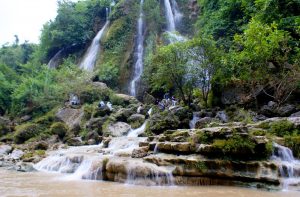 Another waterfall tour that will make a vacation in Kulon Progo even more perfect is a waterfall located in Samigaluh District, precisely in Nglinggo Hamlet. Grojogan Watu Jonggol Waterfall is indeed located near a resident's village and is in a village so it is not easy to access this location. For nature lovers who like challenges and adventurous explorations, a visit to Grojogan Watu Jonggol Waterfall is a must try.
In order to arrive and enjoy the waterfall and the surrounding scenery, tourists must be willing to spend their energy to go through several stairs and walk through plantations owned by local residents. The condition of the road itself is still from the ground, so wear comfortable footwear so that while walking you will feel comfortable. Fortunately, the manager of this waterfall has installed a guardrail that makes it easier for visitors to arrive because the fence can be used as a handrail when walking. The parking area provided is also very adequate.
Visitors are not charged an entrance fee to this tourist spot.
Visitors are only charged a parking fee for motorbikes of Rp. 2 thousand.
Always be careful because when you enter the Nglinggo Village area, the road conditions are winding and up and down.
Bring a vehicle that is good and ready to go up and down the mountain.
Sigembor Waterfall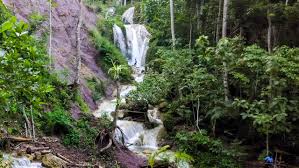 Kulon Progo has a waterfall called Sigembor which is also not to be missed because this place will make you satisfied and happy during your vacation. Beautiful panoramas and a soothing atmosphere can definitely be obtained upon arrival at the location of the waterfall. Around this area there are also a number of stalls that can be visited to fill the stomach when hungry and thirsty. It's also not difficult to access this place because there is a signpost on the right side of the road right after you climb to the top of Kiskendo Cave.
The fun thing about this place is that visitors can enjoy a rainbow panorama. For this reason, tourists are advised to come in the morning so that they are more comfortable. Because the facilities are not yet complete, such as the absence of trash cans, visitors are advised to bring their own plastic bags to collect snack wrappers that have been eaten. Throw it away when you find the trash can.
It turns out that the waterfall tourist spot in Kulon Progo is so charming, right? Hopefully some of the recommendations for the location of these waterfalls can make it easier for you to make holiday plans in Kulon Progo.