The Indonesian region is an area that can be said to be very famous for its tourism diversity. There are so many tourist attractions in Indonesia that have their own advantages. These advantages are what make many of our tourist destinations famous.
Many Indonesian tourist attractions are worldwide, this is because there are no tourist attractions in Indonesia that can compare them. We can see the natural beauty in Indonesia, from exotic underwater scenery to mountain views that make us fall in love. Many of those who come to visit Indonesia fall in love after seeing our amazing natural beauty. So don't be surprised if some of these tourist attractions in Indonesia get the nickname as heaven in the world.
The diversity of types of tourism in Indonesia is one of the added values ​​that we have. Indonesia itself has various types of tourism such as cultural tourism in Jogjakarta, cultural tourism in Bali, then there are also many historical tours that are no less interesting. Maybe not all tourist attractions in Indonesia have received world recognition. However, there are several tourist sites that have received such recognition, such as:
1. Raja Ampat
Raja Ampat Papua tourism is one of the tourist spots that has received world recognition. This location is very famous for its stunning underwater scenery, it is also supported by the development and full attention of the government.
The added value of Raja Ampat tourism is its underwater beauty. There are so many diving spots that will offer underwater beauty for those who really like these activities. Raja Ampat itself is one of the world's scuba diving spots in Indonesia. More than that, the diversity of marine life in this place is also very much. even the variety of coral species in Raja Ampat is one of the best coral clusters in the world.
Another selling point owned by this place is the culture of its inhabitants which is still well preserved. This culture is one of the things that quite a lot makes tourists who come from abroad feel at home and happy to visit this location. An area that is able to maintain the authenticity of the surrounding culture will be very possible to become one of the attractive tourist destinations. that is one of the advantages of cultural tourism.
2. Bunaken Marine Park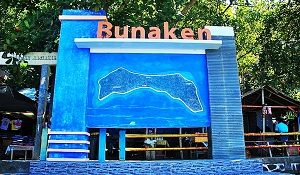 It is very certain that Indonesia will never run out of marine tourism resources. There are so many marine tourism spots in Indonesia that have amazing beauty.
One of the most famous marine tourism in Indonesia and the world is the Bunaken Marine Park, this location is one of the best scuba diving spots in Indonesia that we must visit. Since it was first discovered until now Bunaken itself continues to experience development and development that is getting better.
A lot of infrastructure and supporting facilities are getting more and more improved. This is used to facilitate access and make tourists more comfortable and calmer in enjoying the beauty of Bunaken.
In addition to its amazing underwater beauty, Bunaken itself also has very beautiful beaches and has the best sunset views in Indonesia. So, if you feel tired of underwater activities, you can relax while enjoying the amazing beach views. In addition, at certain times the Bunaken area itself often holds a very lively festival, namely Sail Bunaken. A festival that is not only national but also international
3. Borobudur Temple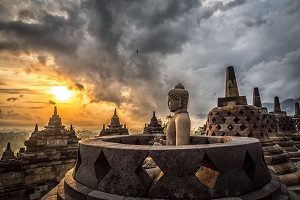 Borobudur temple is one of the pride of the Indonesian people. This temple has been included in the list of 7 wonders of the world.
Borobudur Temple itself is one proof of how advanced and how great our ancestors were in the past. Borobudur temple itself is also one of the most famous tourist attractions in Central Java.
Even the fame of this one temple is not only in the local community. As one and only the largest Buddhist temple in the world. Borobudur temple itself is also often one of the centers of Buddhist activities. At certain times this Borobudur temple is often used as the center of religious events.
One example is during Vesak Day, a lot of Buddhists and Buddhist leaders from various countries come and celebrate Vesak at Borobudur. The event is one of the attractions that Borobudur has and even some people have been waiting for. Every day now many people come to see the splendor of Borobudur. Some come because to see its beauty, some come for religious matters.
4. Komodo Island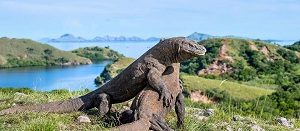 The existence of the island of Komodo is one of the most significant gifts for Indonesia. The island which has become one of the centers of tourist attractions in East Nusa Tenggara is starting to get the attention of a lot of foreign tourists.
The main thing that is interesting is the existence of one of the endemic animals, namely Komodo. This reptile itself is an endemic animal that only exists in the Komodo island area. If we see Komodo dragons in zoos in other countries, we can be sure that these animals come from Komodo Island.
In addition to the existence of the Komodo dragon which is unique and distinctive, another thing that makes this island also famous is its amazing natural beauty. If you visit here, you will be greeted with beautiful beaches. Then the typical ecosystem of the Komodo island which is also very interesting and amazing. The local residents are also very friendly and welcome the arrival of tourists who visit their place. In addition, the existing facilities and infrastructure are very indulgent and very supportive for the Komodo island which is also one of the wonders of the world.
In addition to the tourist attractions mentioned above, there are still several other locations that you can visit such as
Lake Toba
Mount Kerinci
Semeru Mountain
Baluran National Park
Kalimutu lake
Dieng
Ujung Kulon
Krakatoa Island
Mount Bromo
dark hill
Thousand Islands
Karimun Jawa
Bali Island
Tangkuban Perahu Mountain
Dreamland Beach
Gili Trawangan
Derawan Island
Wakatobi Marine Park
Tana Toraja
Misool . Island
Kei Islands
Banda Neira
Puncak Jaya
Lake Sentani
Paniai Lake
Lombok
Those were some of the world's top Indonesian tourist attractions. The existence of these tourist attractions is something that can be said as a gift for Indonesia. So if we visit these locations, we must take care of them. Hopefully the information was useful.