Jakarta, which is a metropolitan city, certainly has many places to explore. However, maybe most people who live in Jakarta don't have enough free time during the day, so they can only explore at night. Don't worry, because there are still some interesting night photo spots in Jakarta to be used as hunting spots as well as a place to spend time with fun.
1. National Monument
Who said Monas was boring? Monas at night is also interesting to visit at night. At night, the lights that are lit will make the Monas view more shining and attractive to be used as photo objects.
The Monas Monument itself is a memorial monument which has a height of 132 meters. This monument was built to commemorate the struggle and resistance of the Indonesian people during the colonial period.
In addition to the monument, Monas also has a large enough open area so that many activities can be done there. You can also meet with friends to enjoy time together while hunting photos.
2. Jakarta Old Town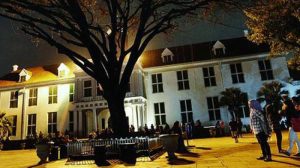 Besides Monas, Kota Tua Jakarta Tour is also a night photo spot in Jakarta that is interesting to visit. This old city is actually only a small area in Batavia. But in the past, this place was a trading center.
Until now, there are so many Dutch colonial heritage buildings that still exist. These buildings have now become Jakarta's cultural heritage sites as well as historical tours that are always crowded with visitors.
At night, this place is very charming. Where the old building there is lit up by lights and it will certainly be very interesting for photos and photo objects.
3. Taman Ismail Marzuki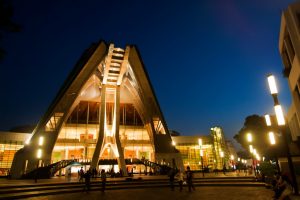 Night tours in Jakarta while hunting for photos can also be done around Taman Ismail Marzuki. This place that is suitable for art tourism is also often used as a meeting place or an appointment place for connoisseurs of the night atmosphere in Jakarta.
Ismail Marzuki Park itself was once the Raden Saleh Zoo. However, over time it was turned into a place of art and culture in Jakarta. So, it finally changed its name to Taman Ismail Marzuki in 1968.
Visitors can enjoy various art performances that are usually held there. In addition, there is currently a cinema and a planetarium which is suitable for those of you who want to learn about the astrology and other celestial bodies.
4. Diamond City Bridge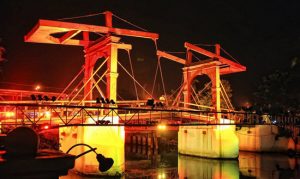 Not far from the Old City of Jakarta, there is a bridge which is also an interesting spot for night photos in Jakarta. Its name is the Kota Intan Bridge. This bridge is an interesting place for photos because of the attractive lighting.
This place is often used as a night tourism location for the people of Jakarta. In addition, it is often used as a place for various events such as cultural observations, historical tours, and photo hunting locations.
Another interesting thing about this place is that it is free, so visitors can freely take photos with the best camera without being charged anything.
5. Segarra Beach Club Ancol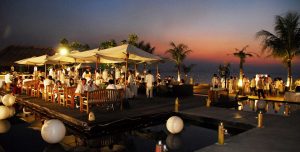 Want to find a night photo spot that can be enjoyed at sunset? Maybe this place is recommended. Segarra Beach Club is one of the interesting places in the bay of Jakarta which is suitable for looking for sunset views.
You can enjoy the view of the sunset accompanied by the cool air and breezy breeze from the beach. This atmosphere will certainly be interesting to capture with a camera. In addition there are also various menu choices of food that can be ordered at a fairly affordable price.
You can all go on a culinary tour at night. This atmosphere is also a romantic atmosphere, so it is often visited for Romantic Dinner Places in Jakarta.
6. Setu Babakan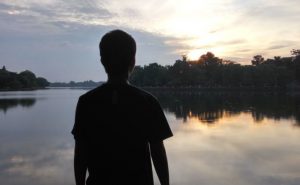 Jakarta also has an interesting lake for night photo spots in Jakarta, namely Setu Babakan. The location is in Srengseng Sawah, Jagakarsa, South Jakarta.
In the past, this place was known for its quite haunted atmosphere. Because there are many issues stating that this place is quite haunted. In addition, it is also poorly maintained so that there are rarely tourists who want to visit there.
However, currently Setu Babakan is becoming a more attractive location with improvements made by the government. There is also a Betawi Cultural Village which is suitable for night tours. And now, the atmosphere there has become more suitable for a photo hunting place.
7. Hotel Indonesia Roundabout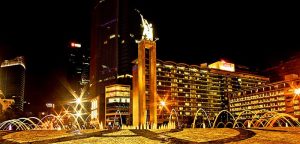 Remember, Jakarta must remember the HI Roundabout. The HI roundabout is an area that has become an icon of the city of Jakarta in addition to the National Monument. Hotel Indonesia, which is the first grandest hotel in Southeast Asia, makes the surrounding area also interesting to visit.
You can visit there to just hunt for photos at night. Because the atmosphere at night at the HI Roundabout will be very interesting. Apart from having a fountain there, the city lights that illuminate the center of Jakarta will also look beautiful.
Moreover, this place is quite often used as a hunting location for photographers. The lights reflected in the fountain are also interesting to capture with a camera. Also at the end of the year, this place is often used as a place for the New Year in Jakarta.
8. RPTRA Kalijodo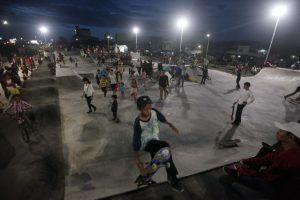 Looking for a night photo spot in Jakarta is not far from the city parks that can be visited for free. Besides being free, city parks in Jakarta also certainly have their own charms, such as RPTRA Kalijodo.
Kalijodo is one of the places in Jakarta that is suitable for you and your family who want to enjoy the atmosphere while taking pictures. This park has a variety of games for children that are interesting and even test the adrenaline.
Not only that, this place also has a library, skateboarding area, and also a fairly large field. So you can make people who are skateboarding as unique photo objects.
9. Menteng Park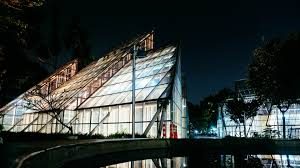 Besides RPTRA Kalijodo, there is also Menteng Park which is also interesting to visit as a Photo Spot in Jakarta at night. Menteng Park is located in Central Jakarta and is one of the places that Jakartans often visit at night.
You can take pictures there. In addition, this park is also a gathering place for communities in Jakarta. So you can get new information from these communities.
Not only that, there are a number of places to eat across from Menteng Park. So if you feel hungry, just try to eat around there without having to find a place to eat far from the park.
10. Dufan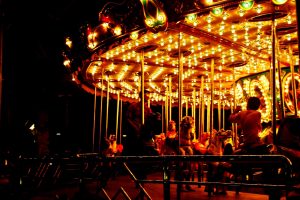 Dufan, which is a place full of rides, is also a night photo spot that can be visited. Although this attraction is only open until 6 pm on weekdays, on weekends, you can visit until 8 pm.
Of course, the atmosphere at night in Dufan is quite different from the atmosphere during the day. The lights that are lit around tourist attractions as well as in various rides will be interesting to capture with a camera.
Even at night, there are various interesting decorations in Dufan which are like a garden of lanterns. So this place will look more charming and attractive.
Those are some interesting places for recommended night photo spots. In addition to some of the places above, there are other locations that are also interesting to visit at night as a place to hunt the splendor of Jakarta, including the following.
Prosecutor Street culinary tour
Pasar Baru culinary tour
Big Mango
Sunda Kelapa Harbor
Cafe Batavia
Plot 9 Glodok Jakarta Chinatown Tourism
Istiqlal Mosque
Kampung Kemang Foodcourt
Ayodya Park
Suropati Park
Those are some of the night photo spots in Jakarta that are recommended for those of you who like photography. Hopefully the information above is useful for you.