Are you still confused about finding a suitable tourist destination for a vacation? If you haven't found a reference, it would be nice to see this article, tourist attractions in the small coastal town of Banyumas: Cilacap. Some of you may still be in shock and confused, where is Cilacap? Yep, Cilacap is located in Central Java, precisely in the Banyumas Residency, along the southern route. Its location which is directly adjacent to the Indian Ocean makes Cilacap rich in beaches and epic natural attractions. The city which has the largest area in Central Java also has extraordinary cultural potential, because this city is a place of transition between Sundanese and Javanese culture, that combination makes Cilacap a widow city (Javanese and Sundanese) hehe..
Besides the cool beaches and charming natural attractions, tourist attractions that are suitable for young people and Cilacap are also rich in historical tourism, want to know more, what tours are must-visit when in Cilacap, let's see!
Here are tourist attractions in Cilacap that you must visit:
Turtle Bay Beach
Turtle Bay Beach can be said to be a beach that is the mainstay of Cilacap City. It is about 2 kilometers from the city center. This turtle bay beach stretches from the Cilacap ocean fishing port to the famous Nusakambanga island. The waves on this beach are quite fierce, because it is located in the Indian Ocean, but don't be disappointed, in this place you can swim, dive, sunbathe and play banana boat, and see the waves rolling beautifully.
When satisfied playing with the sea, the stomach must be hungry, right? Well, on the coast of this bay there are also seafood restaurants that sell a variety of foods that serve delicious dishes that will increase your stomach's hunger, such as squid and grilled fish that are delicious. And to buy souvenirs for relatives, friends, or family, along this beach there are also stalls selling various dry and wet salted fish which are ready to be processed into delicious food at home, there are also various shell crafts as souvenirs and souvenirs typical of Cilacap. .
Nusakambangan Island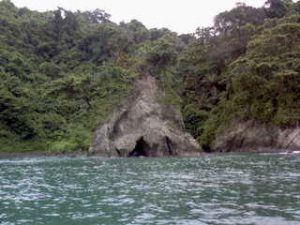 Some of you must be surprised again, what? Nusakambangan is a prison for heavy class convicts? Yep.! One hundred for you, this island is indeed a place of exile for convicts with big cases in Indonesia. This island is located south of Cilacap, to get here you can use a fishing boat from Turtle Bay for about 10 minutes.
But make no mistake, even though Nusakambangan is a place for high-class convicts. However, this island actually presents an amazing natural panorama, seriously! Although image This island sounds very scary, but actually this island has its own tourist attraction. There are many tourist attractions on this island, including nature reserves, beautiful coral reefs, wilderness, caves, forts, and beaches. Here there are Karang Bolong forts and Pendem Forts, while for the beach, there is Karang Pandan Beach. Everything is exotic and still looks beautiful and natural.
Pendem Fortress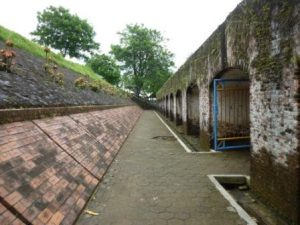 Fort Pendem is a historical tour that is a pity to miss if you are in Cilacap. The fort which is located on 6.5 hectares of land is still standing firmly as a witness to history, how the Dutch power was very strong in Indonesia. Pendem fort in Dutch called "Kusbatterij Op De Lantong Te Tjilatjap" is located about 0.5 km from the beach of the turtle bay. This fort was built by the Dutch government in the range of 1861-1879. After the Dutch ended, this fort was used by the Japanese army as a headquarters, then after the Japanese left, this fort was also used as a TNI headquarters and was used as a headquarters for the training of the notorious KOPASSUS troops.
Now, the Pendem Fort Building is still standing strong, surrounded by a moat. Inside the Pendem Fort has 60 rooms/barracks, surveillance forts, armory, tunnels, prison rooms, meeting rooms, ammunition rooms, shooting rooms and 13 important places for defense which are surrounded by fences and trenches and buried in the ground as deep as 1- 3 meters. And it is said that in this Pendem fort there is also a tunnel that penetrates to the Indian Ocean. This tunnel can be used by soldiers to escape if the situation is desperate.
Karang Bolong Fort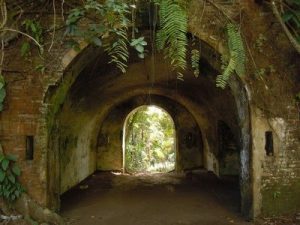 Karang Bolong Fort has an area of ​​about 6000 m2 and has 4 floors. 2 floors are above ground level while the 2 floors below are underground. The appearance of the Karang Bolong Fort looks very haunted, but the splendor is still clearly visible, with 3 main forts, one of which is a three-story fort that has a large meeting room.
When you enter Karang Bolong Fort, you will find Dutch cannons that are still intact, because in the past this fort functioned as a defensive fort, to attack enemy ships at sea. In addition to cannons, inside the fort there are also torture rooms, prison rooms, weapons rooms, soldiers' rooms, and logistics rooms. And this fort also has holes that serve to spy on the enemy. Karang Bolong Fort is now one of the most historic heritage sites, a silent witness to the seconds of Indonesian independence. So there is a lot of knowledge and historical insight that you will get if you visit this Pendem Fort. Come on, what are you waiting for..!
Widarapayung Beach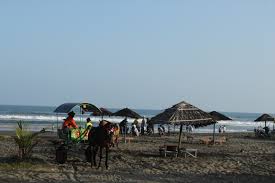 This beach is located in the village of Widarapayung which is about 35 km to the east of Cilacap in the district of Binangun, Cilacap Regency, Central Java. Although small, Widarapayung Beach is so charming. Moreover, with various facilities that have been built, in the form of roads that have been hotmixed so that your vehicle can smoothly navigate the streets on this beach.
The beach, which was ravaged by the Tsunami on July 17, 2006 has a sloping beach condition, which makes this place very charming with coconut trees standing firmly and waving. In addition to being a suitable place for you to relax, it turns out that this beach is also very suitable for those of you who like to surf, because the waves on Widrapayung beach are quite high. So what are you waiting for, enter Widarapayung Beach as a tourist destination that you must visit!
Pandan Coral Beach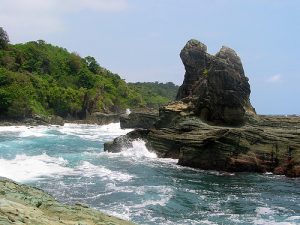 From Karang Bolong Fort, to get to Karang Pandan Beach, you just have to walk for about half an hour. Because the location is close. At Karang Pandan beach the waves are big, so you have to be careful, but don't be disappointed first, at Karang Pandan the beach is very beautiful, the sand is white with a charming view of the open sea.
When you are on the coral view beach, you should always maintain politeness and ethics, because at Karang Pandan it is used as a place of pilgrimage, here there are several places that are considered sacred. Especially on Thursday Wage or the day before the sea alms (arung offerings), Karang Pandan beach is very crowded with people who want to make pilgrimages.
Permisan Beach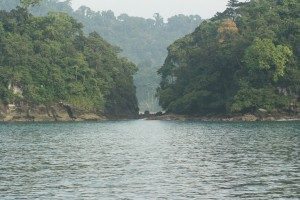 Permisan Beach is located on Nusakambangan Island, this beach is still maintained its beauty and naturalness. With white sand, breezy beach breezes and big waves add to the comfort of being on this beach.
To get to the beach of this game, you have to cross to the island of Nusakambangan from Lo Manis Harbor to the port of Sodong by ferry. From Sodong Harbor then visitors can go to Permisan Beach by using public transportation land transportation such as buses or others. On the Permisan beach you can see a range of charming small islands.
Jetis Beach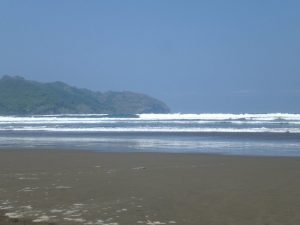 Jetis Beach is located in the village of Jetis, Nusawungu District, Cilacap Regency, this place is at the eastern end of the Cilacap area which is the border between Cilacap Regency and Kebumen. So do not be surprised if this beach stretches for almost 3 km with the east door which is also the entrance to the Jetis Fish Auction Place with views of the limestone mountains of the Kebumen area.
From this beach you can also see and enjoy the panorama of the Bodo River estuary which is the border between Cilacap Regency and Kebumen Regency. With the natural panorama and the waves of the south coast, Jetis beach is a tourist destination that you should not miss if you are exploring the city of Cilacap.
Srandil Mountain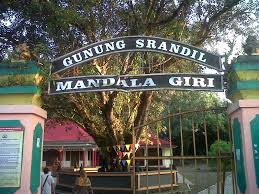 Apart from the natural panorama and stunning beaches, as well as several historical tourist destinations that are rich in knowledge. It turns out that Cilacap is also rich in spiritual tourism, one of which is Mount Srindil. This mountain is located in Glempangpasir, Adipata District or 30 kilometers from Cilacap City. You can use public transportation, namely buses with the majors Cilacap-Jatijajar-Kebumen. According to stories circulating and believed by the public, the first person to settle on Mount Srandil was Sultan Mukhriti, the second son of Dwi Sari Banon Ratu Sumenep, East Java.
The arrival of the sultan to Mount Srandil is said to have been imprisoned, however, Sultan Mukhriti then Murca (disappeared) only to have his remains located in the east, and is known as Embah Gusti Agung Sultan Mukhriti. can confirm. Because in addition to the story of Sultan Mukhriti, on Mount Srandil there is also a folk legend, that the first to settle on Mount Srandil were two people named Kunci Sari and Dana Sari, they were both soldiers of Prince Diponegoro who did not want to surrender to the Dutch army. They decided to flee to Mount Srandil to hide and in the end died here. The graves of the two soldiers are located to the east of Mount Srandil in a complex fenced around which later, the name Kunci Sari is better known as Sukma Sejati.
From that story, Mount Srindil was visited by many pilgrims, both from the Cilacap community itself and from outside, some even came from Sumatra, Bali, Kalimantan and Sulawesi. Pilgrims come with various kinds of their respective destinations, and usually there are those who meditate on Friday Kliwon or one shura night. Because they think this place has a supernatural aura from mandraguna figures. Therefore, it is not surprising that this place is very sacred. Because many petilasan-petilasan considered to have charismatic. These include Mbah Kanjeng Gusti Agung, Nyai Dwi Tanjung Sekarsari, the foot of Semar Tunggul Sabdojati Dayo Amongrogo, Juragan Dampo Awang, Kanjeng Gusti Agung Akhmat or Langlang Buwana Petilasan which is located on a hill and the Hyang Sukma Sejati Petilasan. That's why, Mount Srindil to this day is very sacred.
Cilacap Typical Sea Alms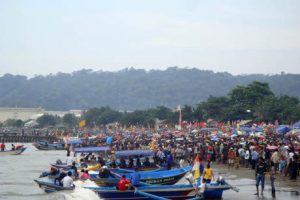 In addition to the tourist sites that have been described above, Cilacap also has a tradition that is still preserved to this day, namely sea alms or commonly known as larung offerings. It is said that the Alms of the Sea is one of the cultures in Cilacap that has been passed down from generation to generation since the reign of Adipati Cakrawerdaya III in 1817. However, this tradition was stopped and revived during the Regent of Poedjono Pranjoto in 1982 until now. annually by making offerings in the form of food and buffalo heads to the middle of the sea. This event is usually held at the turtle bay, usually before the offerings are made in wine along the way to the turtle bay.
Then when will the sea alms be carried out? Well, usually sea alms in Cilacap are done in October, in 2015 yesterday, sea alms were held on Kliwon Friday, 23 October, so if you go to Cilacap that month, you can witness the festive annual culture of Cilacap.
Those are some of the tourist and cultural destinations that you can find in a small southern coastal town called Cilacap. So, come on, when do you want to visit the city of Cilacap? Wait yaa..!! Hope it is useful!
Also read articles on other unique tourist attractions: