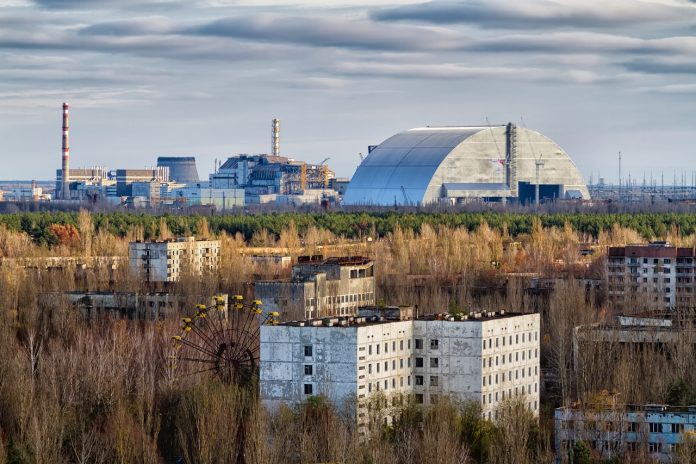 A dead city without inhabitants is not a destination that most people want to go to, but a few travelers are made curious, even deliberately visiting these unique cities to seek a different tourist experience. These are a number of cities in the world that have been abandoned by their inhabitants but are full of interesting historical stories.
1. Pripyat, Ukraine
Located on the north side of Ukraine, Pripyat was the residence of the Chernobyl Nuclear Power Plant workers in the 1970s. At that time the population reached about 49,000 people and had to evacuate in 1986 when reactor number four exploded and was called the worst nuclear reactor accident in history which caused large amounts of radioactive isotopes to be scattered into the atmosphere throughout the Soviet Union at that time. Safe tours are available for pedestrians to explore the city, seeing the remaining buildings that were abandoned by their inhabitants.
2. Bodie, United States of America
In 1859, William S. Bodey (aka Waterman) discovered gold near an area called Bodie Bluff. Not long after, gold mining was built nearby, around 1861 the town of Bodie began to develop with 20 minings in the beginning and reached a population of up to 10,000 people in 1880. Because of the development of Bodie at that time, anything can be found there, from the best shops , a salon with 65 outlets, a place for prostitution, places to enjoy opium and nightlife. Bodie's glory did not last long, depression, high crime rates, closure of a number of mining companies, fires, became a number of reasons for the decline of Bodie's civilization. It is written that when people leave Bodie, they only pack the essentials that are placed in carts or trucks, which is why there are still many items left when visiting the buildings of the town located in the Bodie Hills, on the north side of the Sierra Nevada Mountains in California.
3. Hashima Island, Japan
Nagasaki Prefecture in Japan holds a dead city that had its glory during its time, which was around the 1800s to 1970s. Its name is Hashima Island which was once filled with coal mining workers under the sea, which at that time was estimated at around 5,000 workers living on the island which was also called Gunkanjima (Battleship Island) because of its shape. When coal stocks began to run low and oil began to be replaced, mining closed and people began to leave Hashima and become an island that was forgotten for three decades. During World War II, this island also intersects with a dark history, when Japan had to mobilize prisoners from Korea and China who were forced into slavery. It is estimated that around 1,000 of these prisoners of war died at Hashima in the 1930s and post-war years due to unsafe working conditions, malnutrition, and exhaustion from overexploitation. Appreciated as a World Heritage Site by UNESCO in 2015, Hashima Island can be visited by tourists if they are around the city of Nagasaki.
4. Kolmanskop, Namibia
On social media there are often photos of unoccupied houses filled with piles of sand, some corners look artistic to be photographed. This is an iconic view from Kolmanskop in the desert of Namibia, which once had a population of up to 1,300 people, even though it was once a prosperous city and its hospital was the first to have an X-ray device in the southern Hemisphere. The Kolmanskop was built by the Germans in the early 1900s and is full of diamond miners. According to the story, when it was easy to find diamonds, not infrequently can be found under a pile of sand. However, over time, these precious stones were depleted and the inhabitants moved and this city has been uninhabited for more than 40 years, like a haunted city.
5. Varosha, Cyprus
Before Turkey invaded Cyprus in 1974, Varosha was a getaway set in the exotic Mediterranean waters. The invasion left Varosha abandoned and is now under the tutelage of the Turkish Armed Forces, without allowing visitors to enter it. As a holiday destination, in Varosha there were hotels, restaurants, and tourist attractions that at that time were able to attract world celebrities, such as Elizabeth Taylor, Richard Burton, Raquel Welch, and Brigitte Bardot who came to vacation there.
6. Balestrino, Italy
Located in the Savona Province in the Liguria region, Balestrino is located near Genoa, which features an old town on a hill. Unfortunately, this medieval-style antique town scene had to be abandoned by its residents in 1953 due to hydrogeological instability, which made the city experience frequent earthquakes. A new city was built with the same name, which was under the old city. Visitors cannot enter Balestrino for safety reasons, but can still see St. George and St. Andrew if exploring the area around the city.
7. Humberstone, Chile
The former mining town in Chile's Atacama Desert was originally called La Palma in the late 1800s, then named after British engineer James Humberstone in the 1930s. He is associated with Santa Laura Saltpeter Works – a supplier of nitrates to the fertilizer industry. The closure of the Santa Laura Saltpeter Works also resulted in the death of the city of Humberstone, which also fell in 1960. At that time Saltpetre was very important for Chile, especially when it was needed during war. When World War I broke out, the British blocked Saltpetre's exports to Germany and since then no one seems to need nitrates from Chile anymore. Humberstone is a UNESCO World Heritage Site that has been a dead city for more than half a century, however, its buildings still stand and can be seen up close.
8. Oradour-sun Glane, France
Gloomy stories hit the city of Oradour-sun Glance which is in the center of France when World War II occurred. This city that has no population left in ruins in some areas, where on June 10, 1944 642 of its inhabitants were massacred by Nazi military forces and only six people survived. After the war, a new city was built which was close to the old location and the old city was used as a memorial area on the instructions of the French President, Charles de Gaulle. In addition to visiting the city that brought grief to France, tourists can also visit the Center de la mémoire d'Oradour, a museum that will show the history and bloody events that occurred decades ago.
9. Thames Town, China
When viewed, the appearance of Thames Town reminds beautiful villages in England, but in fact this city is in China, precisely in the Songjiang District. Only 30 kilometers from Shanghai, the city became a thriving suburb in the early 2000s, aiming to relocate residents who were centralized in the city center. Unfortunately, the property industry in this city has not progressed due to the high cost of houses on offer and now Thames Town has become an artistic area for photographers.
10. Kitsault, Canada
Mining cities can be said to be easy to build and easy to leave, such as Kitsault in British Columbia, Canada which was developed in the 1970s as a residence for natural gas miners. It takes 43 million US dollars to build a city equipped with the best facilities and infrastructure, ranging from houses, apartments, swimming pools, ice skating rinks, libraries, schools, hospitals, and various public spaces built to create a city that is comfortable for the miners who come with their families. However, the city only lasted 18 months as the mining company went out of business and Kitsault was just a memory.