Tourist objects in Indonesia are very diverse. Starting from cultural tourism, historical tourism, to nature tourism, everything is there and is available in all directions. One of the tourist cities that is currently famous for cultural tourism is Yogyakarta. Indeed, there are many tourist attractions in Yogyakarta. Not only there are Prambanan and Borobudur temples that can be used as cultural and historical attractions, but there is also the Ratu Boko Palace or more commonly referred to as Ratu Boko Temple. The area is also very beautiful to visit as a tourist attraction. Here's the information you may need.
Privileges of Ratu Boko Temple
Ratu Boko Palace is thought to have existed since the eighth century. From the structure and formation of the existing buildings, historians believe that the Ratu Boko Temple building is the king's palace or palace. This is because the formation of the building does not display the impression of a certain religion or ritual, but is in the form of a palace that has a fort, even though the fort itself is now only at the bottom. In addition, in the vicinity were also found the remains of ancient settlements at that time.
The name Ratu Boko Temple is taken from the story of the local community, who took the name of Loro Jonggrang's father whose story is closely related to Prambanan Temple. People believe that Ratu Boko Temple and Prambanan Temple are related. The location of Ratu Boko Temple and Prambanan Temple is indeed close, which is both in Prambanan District, Sleman Regency.
This temple is a little different from other temples in Yogyakarta. In the Queen's Palace there is a gate, living area, pavilion, bathing pool, to a protective fence (it is assumed to be a fortress). The location is also in a high hill area (approximately 195 meters above sea level), so it has a cool air and beautiful natural scenery. Therefore, many tourists are interested in coming there to enjoy historical tourism as well as natural tourism. In fact, this location is also one of the best places to enjoy the most beautiful sunset views in Indonesia.
Location and Access to Ratu Boko Candi Temple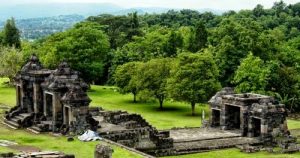 Ratu Boko Palace is located in two hamlets, namely Dawung Hamlet, Bokoharjo Village and Sumberwatu Hamlet, Sambireja Village. Both are administratively located in Prambanan District, Sleman Regency, Yogyakarta. If you visit Prambanan Temple, don't forget to stop by Ratu Boko Temple too.
From the center of Yogyakarta, Ratu Boko Temple is 18 kilometers to the east. To get there from Yogyakarta, tourists can take the direction to Jalan Solo, precisely on Jalan Solo at the 17th kilometer. Then take directions to Piyungan Market. After about five minutes, look for a parking sign or an entry sign for the Ratu Boko Temple tour.
If you want to take public transportation, you can take Trans Jogja and get off at Prambanan Terminal. Then from there, just rent a motorcycle taxi, wagon, or rickshaw (if any) to take you to the Ratu Boko Temple tourist area. Or, if you want to be more practical, you can buy a ticket from Prambanan Temple (a ticket to Ratu Boko Temple). Later, special facilities will be provided for tourists who buy the canal ticket from Prambanan Temple.
Ratu Boko Wisata Tourism Facilities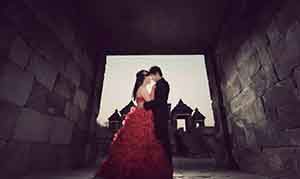 Ratu Boko Palace is divided into several parts, namely the palace on the eastern hill and the western hill. The palace complex to the west are waterways, ponds, walkways, and pottery fragments. Meanwhile, the part of the palace located on the eastern hill is further divided into 3 main parts, namely east, west, and southeast. The rest of the magnificent palace is to the west. There are also other relics such as talut, water reservoirs, kilns, gates, white stone temples, umpak, and batur paseban. While in the southeast, there is a pavilion building, a miniature temple, a pond, and several batur temples. To the east, there are holding pools, tanga, lanang caves, and wadon caves.
In addition to the several tourist complexes above, the Ratu Boko Palace tourist area also has a number of facilities, including the following:
Restaurant
Plaza Andrawina (open space for a meeting capacity of 500 people)
Campground
Trekking
Archeology educational package
Tour guide
Toilet
Parking lot
Price of admission
If you want to travel to Ratu Boko Palace, then pay attention to the time, because ticket prices differ based on the time of the tour or visit. For tourists who come from 06.00 until before 15.00 in the afternoon, the ticket price is only charged Rp. 25,000 (adults) and Rp. 10,000 (children). The ticket for Prambanan Temple and Ratu Boko Temple is IDR 45,000.
Meanwhile, if you want to enjoy the sunset there, you automatically have to come after 3 pm. For that, the ticket price will be more expensive, which is IDR 100,000. But the beauty of the scenery that will be obtained is of course interesting. In fact, this location is also often used as a Prewedding Place in Jogja because of its beauty.
Lodging Around Ratu Boko
If you are a tourist from outside Yogyakarta and want to explore the Sleman area, you can decide to stay there. Around Ratu Boko Palace there are several inns with various facilities that you can choose according to your wishes and costs. In addition, around Prambanan Temple there are also several good hotels with relatively affordable prices. Prices for hotels or lodging in the area start from hundreds of thousands to millions of rupiah. Choose according to your wishes and travel budget.
Travel Tips
If you want to visit Ratu Boko Palace which is also one of the Cultural Tours in Yogyakarta, then here are some tips to consider.
The tourist area of ​​Ratu Boko Temple is very wide, even reaching 250,000 square meters. Therefore, prepare to be physically fit before visiting.
Since the weather is quite hot during the day, bring a hat, umbrella, or sunglasses to protect your eyes from glare. Also use clothes and shoes that fit so that the tour is not disturbed.
Pay attention to visiting hours for different purposes of visit, because ticket prices are also different.
If you want to enjoy the sunset, bring the best camera to capture the best moments.
Tips for a Day Vacation in Jogja, if you don't want to be complicated, just use a pass from Prambanan Temple and Ratu Boko Temple.
Bring your own mineral water to quench your thirst during the day.
Those are some explanations about the tourist attraction of Ratu Boko Palace in Yogyakarta which is worth a visit when in the Sleman area. Prepare all your travel needs, and happy holidays. Hopefully useful.