Comedy drama film about fashion it is very rare in the film industry Hollywood or local Indonesia. Most of the themed films fashion many raise stories about the lives of famous designers or fashion houses and magazines such as Vogue. But there is one film that caught the attention of experts fashion and lovers fashion world. Yup, in 2001 Ben Stiller released an industrial-themed comedy-drama film fashion. The film is called Zoolander and in this film Ben Stiller also invites other comedic actors namely Owen Wilson and Will Ferrell as co-stars in the film he also directed.
In his first film, Ben Stiller, who played Derek Zoolander, became one of the most famous male models at that time, he got a male model competitor whose name began to rise and began to replace Derek. This male model is named Hansel. In the first sequel, Derek is offered a job by one of the famous designer Jacobim Mugato (Will Ferrell) to appear in his fashion show and get the task of assassinating the Prime Minister of Malaysia.
whowhatwear.com
Derek who is known as a famous male model and also the pioneer of 'duck face' which is being talked about at the moment. In 2016, Derek and Hansel returned with a comedy story with their allies. This time Penelope Cruz joined Derek and Hensel's herd. In the second sequel, Derek still brings fashion style which was featured in the first sequel. The use of clothing materials such as leather, spandex, and wool there are still many in the collection fashion in the second film.
The movie Zoolander 2 caused an uproar in the industry
fashion
internationally, especially during Paris Fashion Week. At one of the fashion shows held by Paris Fashion Week, at Valentino's performance these two comedic actors appeared as models in this fashion show. This is one of the promotional steps for the film Zoolander 2. Derek (Ben Stiller) and Hansel (Owen Wilson) appear wearing patterned suits combined with coats and expressions.
duckface
which becomes
trademark
from the movie Zoolander.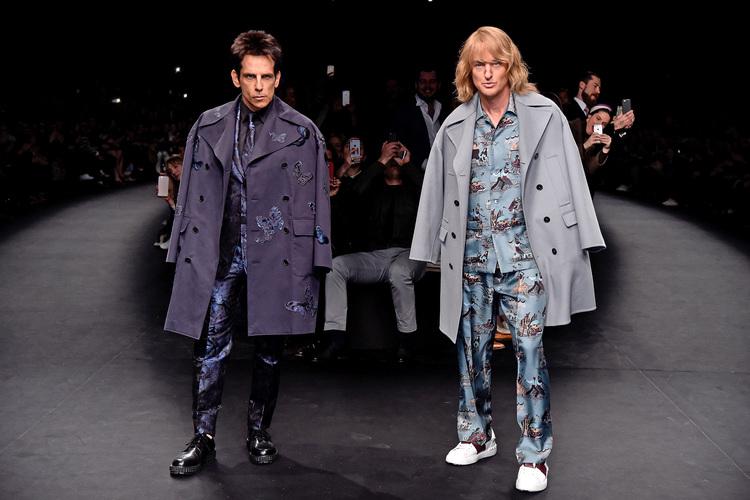 latino-review.com