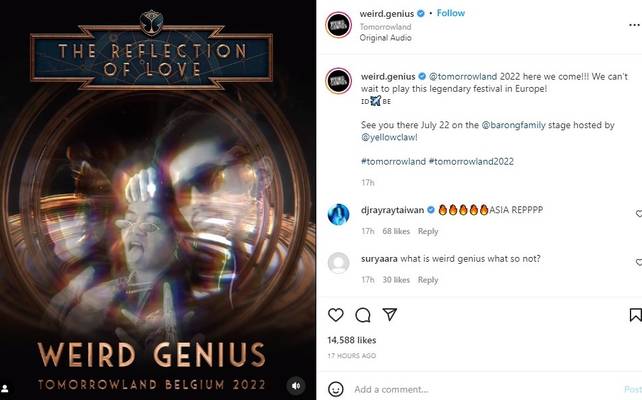 KBRN, Jakarta: Weird Genius will represent Indonesia on the stage of the world music festival, Tomorrowland Belgium 2022.
"Weird Genius in Tomorrowland – Belgium 2022. This is for you. I love you Indonesia," wrote Reza Arap, as seen Friday (11/2/2022).
This was reported by one of the Weird Genius personnel, Reza Oktovian or known as Reza Arap on his Twitter account.
He also uploaded a video clip showing Weird Genius will appear at the event.
Reza also announced the line up for Tomorrowland 2022 and featured the name Weird Genius at the event.
It is known, Tomorrowland 2022 will be held from July 15 to August 1 by featuring more than a hundred EDM musicians around the world.
Weird Genius will also perform on Friday, July 22, 2022, along with Green Tree, Moksi, Nonsens, Psycho Boys Club, and Sky Sky & Dysomia.