Bandung is a city with its own charm that is suitable to be a tourist destination for tourists from various regions. Moreover, this city also has an attractive geographical condition surrounded by highlands and mountains. So that apart from being a big city that is easily accessible by public transportation, Bandung also still has charming natural elements. That is the reason why when on vacation, Bandung will be increasingly congested by tourists from various regions, especially from the island of Java.
The tourists who visit the city of Bandung may be interested in some tourist attractions in Bandung such as natural attractions or cultural tourism in the urban center of Bandung. Maybe there are also those who already plan to visit shopping tours in Bandung or culinary tours. But Bandung does not only have beautiful nature and cities. In Bandung, there is also one interesting tourist attraction with a modern and unique photo spot concept, namely Upside Down World Bandung. Here are some explanations about this one tourist attraction.
The Uniqueness of Upside Down World in Bandung
Currently, tourism activities are no longer just a stress reliever, but also a lifestyle that is often done on weekends or long vacations. Many people will go to interesting tourist objects in the vicinity. And the attractiveness of each tourist is also different. There are those who like nature tourism and there are those who like tourist objects that can provide their own excitement.
One of the attractions that can provide fun and unique is Upside Down World Bandung. This place has a variety of photo spots that present the concept of somersaults. The concept is indeed the same as Upside Down World Bali and Upside Down World Jogja, namely the photo is upside down so the photos will be very interesting. Suitable for tourists who have unique travel tastes and like social media. Because the photos from this tourist attraction will indeed look interesting to share on social media.
Upside Down World in Bandung, which is one of the most interesting photo spots in Bandung, opened after Bali and Jogja, around October 2016. Since it opened as a tourist attraction, this place has been quite busy. Moreover, with the information that quickly shot to social media which indirectly also disseminated information about this new tourist attraction. For those of you who are photography lovers or really like looking for unique photo spots, this is the right place.
Upside Down World Attractions in Bandung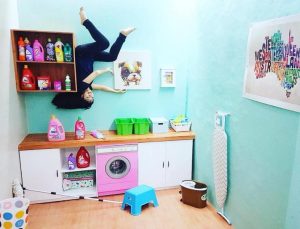 As explained above, the attraction of this tourist attraction is the upside down photo spot inspired by the Upside Down movie. This concept displays various rooms with complete furniture, most of which are arranged in the ceiling area so that when taking pictures there, visitors feel like they are in a room that is completely upside down.
There are also quite a lot of rooms that are used as photo spots. There are at least 10 photo spots with different space concepts that can be used as your best photo locations. You can take pictures in a room that is designed to be a bedroom, family room, kitchen, and so on. Of course, there is no need to worry that the furniture there will fall because everything has been adjusted to the safety of the visitors themselves.
Like Upside Down World Bali and Upside Down World Jogja, at Upside Down World Bandung there are also officers who serve as guide assistants. So that visitors who are confused about the pose or style when taking pictures can ask the officers for directions. The staff will help direct the style that is proportional and ideal for visitors. How? Interested in visiting this place?
Upside Down World Entrance Ticket Prices in Bandung
Because this tourist attraction is fairly complete with facilities, then of course there will be an entrance fee. The price of admission for adults is IDR 100,000. As for children whose height is less than 120 cm, half the rate will be charged, which is IDR 50,000. You can visit from 10.00 to 20.00 WIB from Monday to Saturday. While on Sundays it is only open from 11.00 to 21.00 WIB.
Travel Tips
For those of you who want to visit Upside Down World Bandung, you can read some of the following travel tips so that tourist activities there are more interesting and smoother.
You should prepare photographic equipment, especially cameras, because the concept of this tourist attraction is an interesting and unique photo spot to be immortalized with a camera.
You are advised to come on weekdays to avoid overcrowding on weekends or holidays.
If you only have time to travel on weekends or holidays, try to come early in the opening hours to be more flexible and more comfortable in exploring this tourist attraction.
If there are too many visitors, be patient in waiting in line to take pictures because you need to take turns with other visitors.
Use your imagination and creativity in finding styles and poses so that the photos can look more like real.
Because the tourism concept of this place is a unique and exciting concept, it would be better if you invite your traveling companions or family, because it will create a more memorable and enjoyable travel atmosphere for you.
Upside Down World Location in Bandung
Upside Down World Bandung is located at Jalan H. Wasid Number 31 Lebakgede, Coblong Bandung. This location is close to Jalan Dipatiukur. You can reach it by public transportation or by private vehicle. Because of its strategic location, you can take the Damri Bus on the Leuwipanjang – Dipatiukur route. Or you can also use the city transportation majors Ciccaheum – Ciroyom, Panghegar – Dipatiukur, or Riung Bandung – Dago. If you use a private vehicle, it will also be easier to get there.
Those are some explanations about Upside Down World Bandung that need to be visited, especially for those of you who really like photography or unique and interesting photo spots. If you like natural attractions, you should also know about some Natural Places in Bandung that might suit your travel tastes. Hope it is useful.