Enjoying the holiday atmosphere will indeed make your mind more fresh. So do not be surprised if there are so many people who travel to a place to release the existing fatigue for a moment. One of the tourist destinations frequently visited by Indonesian and foreign tourists is the Island of the Gods. The advantages of Bali tourism are indeed interesting from all aspects. Apart from being a thick culture, Bali also has beautiful scenery.
However, not only that, Bali is also attractive for tourists who want a new concept in traveling. One of them is by visiting tourist objects that offer various interesting and unique photo spots. For example, Upside Down World Bali, which is a suitable place for tourists to enjoy some somersault photo spots. For more details about this tourist attraction, here are some explanations.
The Uniqueness of Upside Down World in Bali
Actually, in Bali there are several tourist attractions or Photo Spots in Bali that are unique with a 3-dimensional concept. For example, the 3D DMZ Bali Three-Dimensional Museum located in Legian, or the Bali Trick Art Museum located in the Seminyak area. However, this Upside Down World Bali tourist attraction is quite unique and different from other 3D photo spots in Bali so that tourists will still come there.
Why is Upside Down World so different and unique? The answer is because the photos obtained will display photos like somersaults against the direction of Earth's gravity. And this will make the tourists can also enjoy the fun when taking photos. Of course the process of taking photos will also be a little different and more challenging. This tourist attraction just opened in March 2016 and so it is still relatively new.
This is because the room or photo spot at Upside Down World is very well laid out. The furniture is arranged upside down, so that the furniture is either on the wall or on the ceiling. Visitors can take pictures with unique and strange poses so that the photos have more character and look good. In addition, the interior arrangement of the photo spot also displays a room with original furniture so that the photos will look real. Uniquely, you will look like you can walk on the wall or somersault from the ceiling.
Upside Down World Photo Spot in Bali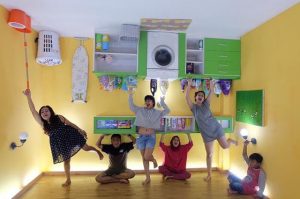 Like Upside Down World Jogja, this tourist attraction also has various separate photo spots with different concepts. Some of the photo spots that are there include the following.
Living room, which is the object of the photo like a family room with complete furniture upside down.
Master bed room, which is a photo location with an inverted and unique bedroom concept.
Kids room, upside down and featuring a children's room with several other play equipment.
3D room, which is filled with 3-dimensional photo objects with various characters and atmosphere.
The kitchen, which presents the kitchen space with its furniture and arranged upside down.
Laundry, which is a laundry room with a reverse concept as well.
Bathroom, with an inverted concept complete with all the furniture and atmosphere.
Room with Balinese concept and also the garden.
Those are some photo spots in Upside Down World. For those of you who are coming to this tourist attraction for the first time, indeed when you first come, your perspective in looking at this photo spot will be a little strange. But over time, while looking for the right style and looking at some of the photos, you will be able to adapt to the pattern or concept of this photo spot itself.
In addition, for those of you who have difficulty finding a pose or style when taking pictures, there is no need to worry because there is guest assistance or a guide who will help you determine the style or pose when taking pictures. This guide will direct the photos to be satisfactory because they are also experts in the field of photographers. Maybe this concept is also suitable for Prewedding Places in Bali with quite impressive photos.
Upside Down World Location in Bali
Upside Down World Bali is located at Jalan By Pass Ngurah Rai No. 762 Pemogan, Denpasar, Bali. So the location is fairly easy to reach, especially for people around South Denpasar. If from central Denpasar, the distance to this tourist attraction is about 20 minutes by vehicle. However, from Ngurah Rai Airport, the distance is only about 8 km via the toll road. For parking facilities, it is also quite spacious and can accommodate dozens of cars so it is quite safe for those of you who bring a 4-wheeled vehicle.
Upside Down World Entrance Ticket Prices in Bali
The entrance ticket price to Upside Down World Bali is slightly different from Upside Down World Jogja. But basically the ticket price is in accordance with the facilities and also the uniqueness that will be obtained from this tourist attraction. You who are adults need to pay IDR 100,000 to be able to enjoy the various photo spots that are there. Meanwhile, children under 12 years old need to pay half of it, which is IDR 50,000 to be able to enjoy the complete photo spots in it. So that this tour is also suitable as a Children's Tourist Place in Bali at a fairly affordable price.
Although slightly more expensive than Upside Down World Jogja, the facilities provided do not disappoint. In addition, considering that Bali is a tourist destination for foreign tourists, it is not surprising that the entrance ticket to Upside Down World in Bali is more expensive than in other cities. You can visit there from 09.00 WITA to 20.00 WITA. It's better to come when it's not the holiday season so you can be more flexible in taking photos at the photo spot and don't have to queue. If there are too many visitors, it will likely be necessary to alternate with other visitors.
Those are some explanations about Upside Down World Bali which is one of the unique tourist spots with various photo spots that are head over heels for those of you who like satisfying photos. Hopefully useful for you.