Cartil or stands for Caringin Tilu is a tourist attraction in East Bandung. This location is perfect for those of you who like tranquility. Cartil is touted as one of the best highland tourist attractions in Bandung. Like other popular natural attractions in Bandung, including Bukit Bintang and Dusun Bambu Lembang, Caringin Tilu also has a charm or attraction that makes many tourists visit there. First, of course, the natural beauty in the form of mountains that are interconnected with one another and have steps.
Second, from this tourist area, we can see the beauty of the city of Bandung from a height. Especially if you come at night. You will definitely be amazed to see what is in front of you. From above, the city of Bandung looks beautiful. The lights are twinkling like stars, just feel at home, it's been a long time on Cartil's tour. Traveling to Cartil with family is also highly recommended. Well, the Cartil tourist spot is also suitable for those of you who want to refresh, relax, refresh the body and mind from daily activities. Caringin Tilu is highly recommended as the best location for those of you who want to see the beautiful natural panorama of the mountains in the Bandung highlands, namely the Manglayang Mountains. Through Caringin Tilu, the skyline of Bandung City which stretches from the east to the west, surrounded by stunning mountains will look so clear and is a tourist spot with beautiful views in Bandung.
History of Caringin Tilu
Caringin Tilu or more popularly known as Cartil is now transformed into one of the new tourist locations that are very attractive to travelers when visiting Bandung. The air is so cool with a calm and peaceful atmosphere because it is far from the hustle and bustle of the big city. Enjoying a vacation here really makes your mind refreshed and ready to welcome tomorrow with a fit body and new spirit.
The name Cartil or Caringin Tilu which in Indonesian means three banyan trees is attached to this tourist location because there are 3 banyan trees there. Why is Cartil so popular and phenomenal? This is because the banyan tree in Caringin Tilu itself, according to a widely circulated story in the community, is a tree that was planted by the first president of the republic of Indonesia (Ir. Soekarno) during the independence era. So that Cartil feels so special and shrouded in a mystical smell for the residents. If you are still curious, especially curious about the mystical story of Cartil, just visit it, okay?
In addition to the story above, there are also those who believe that the banyan tree in Cartil is hundreds of years old. The banyan only had 1 left. Because one falls and the other dries up. As a substitute for the 2 banyan trees, local residents took the initiative to plant 2 more banyan trees.
Facilities at Caringin Tilu
In fact, Caringin Tilu has long been a tourist attraction visited by many local people for refreshing, relaxing, and unwinding. Along with the rapid growth of the city of Bandung, natural tourism objects are also decreasing. So Caringin Tilu or Cartil has become the new idol of East Bandung's natural tourism which offers alluring beauty and calming locations.
To the extent that a native Sundanese musician named Darso also perpetuated Cartil's exoticism and the romance of the tourist spot into a tune or strains of Sundanese music that was so beautiful. By taking the same title as the name of the place, namely Caringin Tilu. If you are curious about the song, you can immediately go to Mbah Youtube. Caringin Tilu, an area that used to be quiet, is now increasingly crowded with tourists, especially families and young people. This place is lively, more and more sparkling, and enchanting, many stalls have started to stand up, adding to the lively atmosphere. Witnessing the beauty of Bandung from a height, just come to Cartil.
Travel to Caringin Tilu
Cartil is not too far from Jalan PHH Mustofa or better known as the sacred area. You have to enter Padasuka Street which is close to Cicaheum Terminal, from there go straight. At the beginning of the journey, you will not feel anything, but until midway, you will feel the road starting to rise and climb up to the Cartil location. Motorists are advised to be more careful because the road is narrow and only fits 2 cars. Even in some sections, only enough for 1 car. When entering the Caringin Tilu area, you will be greeted by stalls selling various foods, cafes and restaurants, Warung Daweung, including Puncak Bintang/Bukit Bintang tours.
Well, here are the tourist attractions in Bandung Cartil:
1. Manglayang Caringin Tilu Mountains
Caringin Tilu is geographically located in the highlands of the Manglayang Mountains. To be precise, it is in Cisayur Village, Cimenyan Village, Cimenyan District, East Bandung. If taken from the famous Saung Angklung Udjo, the distance is approximately 5 km.
Caringin Tilu has the allure of the beauty of its natural panorama that makes many tourists amazed, but what's interesting about Cartil is not only the natural beauty, you know. In accordance with the name of the village, namely Cisayur, in Indonesian it means vegetables. Kampung Cisayur is the center of vegetables in Bandung. Caringin Tilu is a supplier of various vegetables for the city of Bandung and its surroundings. The expanse of vegetable gardens stretches along the highlands of the Manglayang Mountains which indicates that the area has fertile soil and is suitable for farming.
2. Bukit Bintang
One of the most romantic hills in Paris Van Java is Bukit Bintang. Bandung is a city located in West Java and has a myriad of interesting and fascinating attractions, one of which is Bukit Bintang tourism. It can be said that Bukit Bintang tourism object has a strong attraction or magnet, especially for nature lovers and tourists so that more and more people come to visit. Some say that if you want to see the twinkling stars up close, coming to Bukit Bintang is the best choice. This hill is indeed located very high about 1,442 meters above sea level with an area of ​​​​approximately 11 hectares.
At the top there is also a fairly large star statue. In fact, when you visit Bukit Bintang, you can not only see the sparkling stars in the sky, but also the twinkling city lights below that resemble the sparkling stars. No wonder this location is called Bukit Bintang. During the day, Bukit Bintang is just an arid field located in North Dago, but towards the evening it seems like Bukit Bintang has turned itself into a charming and very romantic tourist attraction. It's no wonder that many young people from Bandung express their love here. Bukit Bintang is like a Cinderella story. Day is nothing, night turns into an exotic, beautiful, and romantic location. There is minimal lighting here, and that is actually the main attraction.
Route to Bukit Bintang
This tourist location is quite easy to reach using a private vehicle, either a car or motorbike. For public transportation itself, you can't. This is because public transportation does not operate until late at night and public transportation cannot go directly to Bukit Bintang. Using a private vehicle, you must pay attention when you reach the T-junction towards Stone Café, take the road to Stone Café, until you reach that place, choose the right corner. There will be a levy of IDR 2,000 to IDR 3,000 depending on the day of visit. If you want to capture the beauty of Bukit Bintang, make sure to bring a tripod, because it's cold, don't forget to bring a jacket or sweater. In Bukit Bintang we can taste delicious and cheap culinary with a romantic atmosphere. If you want a cafe atmosphere, around the location there are also Café Stone and Café The Valley that can be an option. This tourist spot will be more crowded on weekends.
3. Moko Hill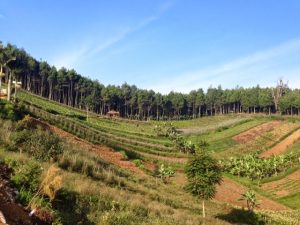 Moko is the name of a hill in the Carigin Tilu area, East Bandung. Well, you definitely know about Saung Angklung Udjo. From the Saung location, you can travel for approximately 30 minutes to get to Moko Hill. Many travel using private vehicles and not a few also choose to walk to Moko Hill. Along the way from Caringin Tilu to Bukit Moko the roads are steep and rocky, so you have to be more careful. For food, you don't have to worry that it will be difficult to get it when you get to Moko Hill because there are many food vendors selling various types of food at the location. The atmosphere at Moko Hill and Caringin Tilu is a bit different.
This is influenced by the location of Moko Hill which is much higher than Cartil, so that the natural panorama is even more beautiful. From Cartil, it is very easy to reach Moko Hill, it only takes a few minutes. Well, for places to eat here, there is only 1 named Warung Daweung. This stall is usually called Moko Hill, because the shop is very spacious, has indoor and outdoor dining areas, as well as a field for camping and bonfire locations.
Also read articles on other unique tourist attractions