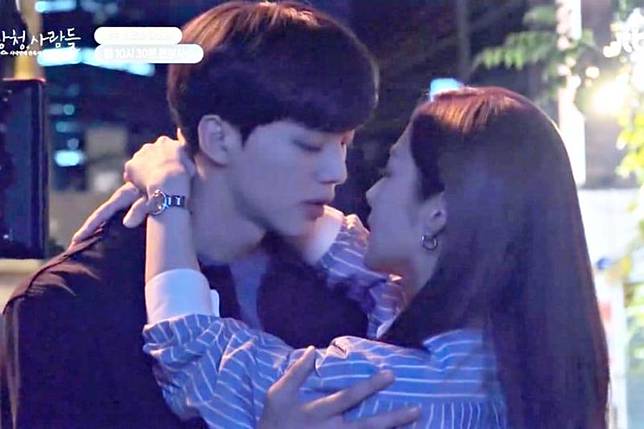 SEOUL, celebrities.id – JTBC has released behind-the-scenes footage of Song Kang and Park Min Young filming a kiss in the hallway that makes viewers' hearts skip a beat!
Reporting from Soompi, Sunday (27/2/2022), Forecasting Love and Weather is a romantic drama about the work and love lives of people who work at the Korea Meteorological Administration, Korea's national weather forecasting service. Park Min Young plays the cold Jin Ha Kyung, while Song Kang plays his free-spirited colleague, Lee Si Woo.
The making of the video begins with Song Kang and Park Min Young filming a scene where their characters are caught eating together by their co-workers. As Song Kang practices reaching out to check Park Min Young's temperature by touching his forehead, Park Min Young jokingly observes that it looks like he's about to hit her.
He then showed his considerate side by asking, "Am I going too far?" Song Kang says he can manage the distance, Park Min Young seriously suggests that Song Kang leans forward slightly while drinking his beer, so he can reach his forehead more easily.
Chae Seo Eun, Moon Tae Yoo, and Yoon Sa Bong then arrive to interrupt their date and the director makes everyone laugh by suddenly pretending to be a real waitress at the restaurant and asking them.
"How many people are in your party? Are you three? What will you order? We're a bit crowded right now," he said.
Then, after Park Min Young burst out laughing while filming, she filmed the part of the scene where her character hides under a desk, then cheerfully runs away from her coworkers while crouching down.
Lastly, the clip ends with Song Kang and Park Min Young filming their romantic kiss outside a restaurant, marking the official start of their relationship. The actors also discussed their kissing emotions during their break, with Park Min Young telling Song Kang.
"Until now, you thought that you were the only one who had feelings for Ha Kyung, but in this scene, you realize, Oh, he likes me too, that's what caused the kiss," he said.
All that careful planning paid off once they mapped out all the details. The two main leads went on to actually film the kiss, and their chemistry was so visible, they also burst out laughing after splitting up at one point, which somehow only heightened the romance at the time.