Central Java is an interesting province to visit. Apart from its location in the middle of the island of Java, so it is very strategic to visit from tourists outside Central Java, this province also has various unique attractions. Apart from culture and history, Central Java is also inseparable from its natural beauty. So if you want to find a Honeymoon Place in Central Java, you will find many.
Currently, the phenomenon of new tourist attractions may be very widespread with the concept of presenting various interesting photo spots. Whether it's from unique formations, or from the background of photos that show natural panoramas combined with unique formations. In Purbalingga, Central Java, there is also a tourist attraction with such a concept, namely the Love Pring Wulung Purbalingga Bridge. Here are some explanations.
The Uniqueness of the Pring Wulung Love Bridge
As explained above, recently there has been a lot of new tourism phenomena with the concept of various photo spots. And the Love Pring Wulung Bridge, which is one of the tourist attractions in Central Java, is one of them, where there is a unique photo spot with a theme close to nature. As the name suggests, the Love Bridge, the photo spot there is a heart-shaped bridge which is suitable for group photos or self-portraits.
Even this tourist spot is one of the hits in Purbalingga at this time, so both Purbalingga residents and tourists who are in Purbalingga will come to this place. The main attraction of this tourist attraction is not only from the heart-shaped wooden bridge, but also from its natural beauty located in the terraced hill area and the surrounding rice fields. So it will be very spoil the eyes and refresh the mind.
Green rice fields and hills will combine with wooden bridge facilities and sunlight so that visitors will feel a slightly different sensation. Most tourists who come are young people because photo spots are identical to social media where young people spend a lot of time.
Another interesting thing about the Pring Wulung Purbalingga Love Bridge is that there is a fountain in the middle of the heart symbol, so it is quite unique in terms of decoration. Although improvements will continue to be made at this tourist attraction, visitors can still explore it when visiting there.
Panusupan Tourism Village Facilities
Of course, tourist attractions need to have various attractive facilities in order to complement the tourist activities of the visitors. The Pring Wulung Purbalingga Love Bridge is the same way. This bridge is located in Panusupan Tourism Village and there are also several other interesting facilities, such as the following.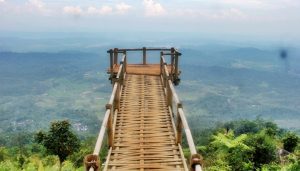 One of the spots in the Panasupan Tourism Village where there is a wooden Love Bridge is Sendaren Peak. If you visit the bridge of love, don't forget to take the time to stop by there.
This peak is a peak in the hills surrounding the village. There is also a bridge and there is also a viewing post that can be used as a photo location or a location to view the city of Purbalingga from a height.
Sunset atmosphere is recommended if you want to visit there. Twilight atmosphere will be very charming if enjoyed from there. And this is one of the advantages of Indonesian tourism where there are so many interesting places to enjoy the most beautiful sunset in Indonesia.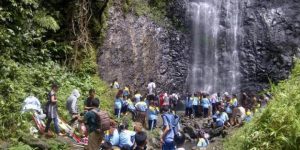 As described above, visitors can also visit Curug Wana Tirta which is near the Love Bridge. This waterfall has officially become a new attractive tourist attraction for tourists since 2015.
This waterfall has a height of approximately 16 meters. The interesting thing from there is that the waterfall can be drunk directly because it has been researched that the water is safe to drink directly.
The view of this waterfall is indeed interesting. Although this waterfall does not have a heavy discharge, the water that descends through the piles of rocks will look very beautiful. The cool temperature of the water will make visitors feel at home for long there.
As explained above, that Panasupan Village has one of the typical arts that can be enjoyed, namely Dayakan Art. Dayakan art is an ireng mask art that is found in the slopes of Merapi and Merbabu villages.
The uniqueness of this art is that it is performed by children and done with relatively natural materials. For example, a face mixed with charcoal, or wearing dry leaves or grass as a costume.
Then they will perform a dance that is taught from generation to generation from their predecessors. This will provide a unique show that only exists in the Panasupan Tourism Village and is suitable for Cultural Tourism in Indonesia that may not be available in other villages.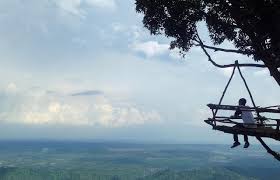 In addition to the Love Bridge and Sendaren Hill, there are other interesting photo spots in the vicinity that can be used as locations to observe its natural beauty, namely the existence of a tree house called the Igir Wringin Tree House. This tree house is one of the places with beautiful views.
From there you can see the view of Mount Slamet which stands firmly and majestically. If you like typical mountain views, then this place is perfect for you.
In addition, the cool atmosphere around the village will make you feel at home for long there. The beautiful scenery will also look green and sturdy with Mount Slamet in front of you.
Location and Route to Love Pring Wulung Bridge
The location of the Pring Wulung Purbalingga Love Bridge is in Panusupan Village Rt 03 RW 04, Rembang, Purbalingga, Central Java. This one place is about 40 km from the center of Purbalingga city. To get there is quite easy because when you get to Panusupan Village there will be a signpost around there.
Price of admission
For those of you who want to visit there, the entrance ticket is very cheap and affordable, which is only IDR 5,000 per person. In addition to the entrance ticket price, visitors who bring two-wheeled vehicles will be charged a parking fee of Rp. 2,000 per vehicle and Rp. 5,000 for four-wheeled vehicles. Very cheap isn't it?
Those are some explanations about the Pring Wulung Purbalingga Love Bridge tourist attraction that you need to know. Hope it is useful.