Kondang Merak Beach is one of the beaches in South Malang that can be visited as a tourist attraction. The popularity of this beach has been known since ancient times. However, along with the development of tourism, this beach is increasingly favored by many Malang residents and outside Malang.
There are already many tourists who enjoy the typical atmosphere of this beach. Even some nature lovers also often camp there. If you intend to travel to Malang, stop by this beach. Some of the following explanations might help you.
Read also:
General information
This beach is located in Sumberbening Village, Malang Regency, East Java. The distance from Malang city center is approximately 64 kilometers and can be reached by private vehicle, either car or motorbike for 2-3 hours depending on road conditions.
Although this beach is popular, but when visiting there, tourists will not feel crowded, because the popularity of this beach is still inferior to other southern Malang beaches such as Balekambang and also Goa China. So, to travel here, of course it will be quieter and tourists can enjoy it more.
The name of the famous peacock is taken from the condition of the beach itself. Famous is an estuary which is a meeting between fresh water and sea water. While the peacock is the name of a bird that used to live around the beach. The famous name Merak is still preserved until now, even though now the peacock habitat around the coast is gone. Peacocks around the beach have started to disappear since the 1980s.
Read also:
Accessibility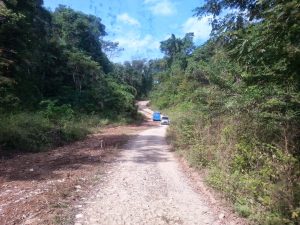 If you are planning a vacation in Malang and its surroundings, don't forget to stop by this pristine beach. For the natives of Malang, probably many already know the route to this beach. However, for those of you who come from outside Malang, there are two routes that can be used.
From Malang City, drive towards Kepanjen Regency. From Kepanjen, look for directions to Pagak. Then continue the journey until you find Bantur District. From the district, look for the beach. If you like, just ask the residents around Bantur.
From Malang City, drive towards Bulu Lawang direction, then continue to Gondang Legi. Then head towards Bantur, and look for the intended beach location.
The trip to the beach is the same as the trip to Balekambang Beach. So, follow the signposts to Balekambang from the fork in the south coast route. From the T-junction, the road will be faced with Makadam Street. But the beach is very close, only about 20 to 30 minutes from the T-junction of the south coast.
To reach the beach it is better to use a private vehicle because it is more flexible. If tourists come from outside Malang, just rent a vehicle such as a car or motorbike to get there.
Around Kondang Merak there are also other tourist beaches that can be visited at once. So, don't miss the opportunity to travel to the beaches in South Malang while visiting the Kondang Merak.
Facility
Because it is a tourist beach, of course this beach already has good facilities. Some of the public facilities that can be obtained include parking lots, several restaurants or food stalls by the beach, a prayer room, and several inns in the vicinity. In addition, usually this beach is also used as a camping site. The price of admission to the beach is very cheap, which is only Rp. 10,000. While parking at this beach tour is charged Rp. 5,000 for motorbikes and Rp. 7,000 for cars.
Read also:
Beach Beauty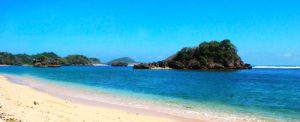 The beach area is very wide and lush because it is surrounded by many large and green trees. From the counter, you will see the houses of local residents, most of whom are south coast fishermen. There are also many people's houses that are used as public toilets.
Kondang Merak Beach has white sand that is slightly brownish. The coastline is also quite long, reaching 800 meters. This is what causes this beach to look wider and quieter, even though tourists may be busy.
From this beach, you will be able to see other South Malang beaches opposite, such as Goa Cina Beach, Bajul Mati, and other beaches. This beach also has stunning coral reefs. There are several coral islands near the shoreline.
Although this beach is not the right beach to enjoy sunrise or sunset views, but if you visit on the right month, tourists can get sunrise or sunset views beside the beach. And of course the scenery is very interesting to capture.
The biodiversity on this beach can be seen from the many shells that color the underwater world. On the beach, even tourists often find stranded marine animals, such as sea urchins, octopuses, lobsters, sea cucumbers, and many more. This indicates that this beach is still very natural and rich in underwater life.
Unlike other South Malang beaches which have very big waves, this beach has quite calm waves. This happens because the waves will break first on a small coral island near the shore. So that tourists can freely play in the water. But you should still be careful, because tourists do not know when the big waves will come.
This beach is also a place for fishing boats to rest. Of course there are various types of fish caught by fishermen that can be seen, such as tuna, kite fish, snapper, and others. Some of the food stalls there also sell coastal specialties such as grilled fish and others.
Food stalls around the beach also sell a variety of snacks and thirst-quenching drinks. So, tourists can enjoy a meal while enjoying the beautiful view from the beach.
Read also:
Travel Tips
If you want to visit this beach, here are some tips you can do to make your trip more comfortable.
Better to come when the weather is sunny or during the dry season. Don't come during the rainy season. In addition to the slippery road to the beach when it rains, this beach will not provide the view as expected when it rains.
Always check the condition of the vehicle before leaving because the journey from the city is very long and passes through tortuous roads and climbs and derivatives typical of the hills of South Malang.
Bring a change of clothes if you visit there. This is of course because tourists are definitely tempted to play in the water. Also bring a plastic bag to store wet clothes. In addition, bring along toiletries to clean yourself after playing in the water.
If tourists want to stay overnight or set up a tent, don't forget to bring mosquito repellent lotion, telon oil, or eucalyptus oil. This is because there are many sand insects and sand fleas that will make itchy. Always wear covered clothing when in a tent to minimize itching.
Bring complete camping needs so that overnight activities there can be smoother and more enjoyable.
Wake up early to enjoy the view of the dawn and sunrise.
That's an explanation of the Kondang Merak Beach in South Malang which can be visited as a tourist attraction. Happy holidays in Malang and have a nice holiday.