Traveling will certainly be a fun activity. Besides being able to enjoy the natural beauty or uniqueness of a city, traveling can also be used as a means of sports. For example by climbing mountains, rock climbing, cycling around the city, and so on. One of them by doing extreme sports such as paragliding or paragliding. Besides Batu Gunung Banyak Paragliding Tour in East Java, in West Java, apparently there is also a location to enjoy this extreme sport, namely Fly Indonesia Paragliding. Here's the complete information.
Privileges of Bogor Paragliding Tour
The location of Fly Indonesia Paragliding is in Bogor, more precisely in the Gunung Mas tourist area. You can visit there to enjoy the excitement of trying this extreme sport. When else can fly like a bird from a certain hill height? Of course this tourist experience will be very memorable and will not be forgotten. And maybe you want to try again at another time. This location can also be visited as a Family Tourist Place in Bogor, especially for families who really like outdoor activities.
For tourists who have never tried this sport, there is no need to worry because there will definitely be an instructor to help. The instructors there must also be very experienced. For your information, this paragliding sport itself is under the umbrella of the Indonesian Hanging Kite Association or PLGI and is under the supervision of the Indonesian Aero Sport Federation or FASI. So it is certain that this sport is not an illegal sport or a dangerous sport.
Before taking off, all tourists who will do this sport will be briefed first so that they will know what to do and what not to do. And once it takes off, the view from above will be very beautiful, plus an unforgettable flying experience. For those who want to record video, of course it is allowed, as long as the camera is held tightly or can be tied so as not to fall. You will fly from an altitude of 1300 meters above sea level to the specified land point.
Bogor Paragliding Tour Locations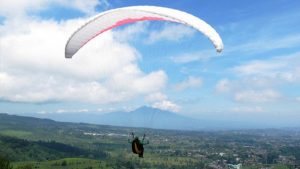 As explained above, this Fly Indonesia Paragliding tour is located in the Gunung Mas Agrotourism area, which is in the Bukit Gantole section. The exact location is on Jalan Raya Puncak, kilometer 87, Gunung Mas, Cisarua, Bogor. To enjoy this sport, you can come from 08.00 to 17.00. To get there is also very easy, because it can be reached from Jakarta and also from Bandung.
For tourists from Jakarta, use the Jagirawi Toll Road and exit at the Ciawi toll gate. Then continue the journey towards the peak of Mount Mas. Meanwhile, tourists who come from the direction of Bandung, can take the route on the Cipularang Toll Road and exit at the Padalarang Toll Gate. Then continue the journey towards Cianjur and continue the journey towards Puncak Bogor.
Bogor Paragliding Tour Ticket Prices
Traveling to Fly Indonesia Paragliding will be subject to an entrance fee and also the price for the paragliding sport itself. When entering, tourists will be charged a ticket worth IDR 13,000 per person (HTM and insurance). Meanwhile, for car parking, a tariff of IDR 5,000 will be charged. for two-wheeled vehicles will be charged a tariff of Rp. 2,000. After that, visitors who want to try paragliding can register or book. Registration will be charged Rp 350,000 per person for local tourists, and Rp 400,000 for foreign tourists.
Bogor Paragliding Sports Terms
Before deciding to travel there and try this sport of paragliding or paragliding, it's a good idea to know in advance the terms and conditions. Here are things to note.
Visitors must be physically and mentally healthy
Visitors do not suffer from heart disease and epilepsy
Minimum visitor weight is 20 kg and maximum is 85 kg
It is mandatory to obtain parental permission for visitors who are under 18 years old
The weather must be sunny and not rain
Maximum wind speed must be 20 km per hour
Visitors use equipment according to instructions
Visitors are required to secure a camera or cellphone that will be used to take video during the sport
Flying time is approximately 10 minutes with views of the tea plantations of Mount Mas
Those are some terms and conditions that you need to know before trying this sport. if you do not meet these requirements, then it is enough for you to enjoy the cool atmosphere in this tourist spot while taking pictures. Don't take the risk if you don't meet the requirements above, because safety is number one.
Bogor Paragliding Sports Tips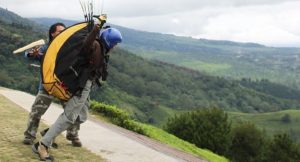 For those of you who have met the terms and conditions above, there are several things that need to be considered. The following are some travel tips that need to be done when traveling to Fly Indonesia Paragliding.
Come as early as possible to prevent traffic jams. Especially if you visit on a busy day like a weekend or a long holiday. Or you can stay at the Resort in Puncak Bogor to be closer to getting there.
Make sure your health condition is really good, especially for those of you who want to try the excitement of paragliding.
When doing paragliding, it is better to use long pants. For women, avoid wearing skirts. Or, just bring a change of pants to make it more flexible for you.
Use the right shoes such as sports shoes.
Avoid using sandals to minimize the risk of blisters when landing and the risk of sandals falling in the middle of a flight.
Pay attention to your weight to match the applicable regulations.
Indeed, there are several websites that offer paragliding booking services at Paragliding Bogor. But actually tourists who have not booked on the website can still do the sport. As long as the weather is favorable.
Bring selfie sticks, camera and other necessary equipment.
Activities in Bogor Paragliding Tour
For tourists who want to visit Fly Indonesia Paragliding but can't enjoy the excitement of paragliding because they don't meet the requirements or don't have the courage, there are other activities that can be done, such as:
Enjoy the view from the top of the hill
Take pictures with beautiful scenery backgrounds at this Photo Spot in Bogor
Visit other nearby attractions and enjoy the existing facilities
Those are some explanations about the Fly Indonesia Paragliding tourist attraction to enjoy the fun of trying the extreme sport of paragliding. Hopefully this article provides the benefits and information you need.