Bandung, West Java, is indeed suitable to be visited as a tourist destination. Apart from its beautiful nature, Bandung also has various interesting tourist attractions for families. One of them is in the Lembang area. In Lembang there are so many Places of Nature in Bandung. For example, there is Dago Dream Park Lembang which can be used as an alternative tour for your family. Here are some explanations.
The uniqueness of Dago Dream Park
Dago Lembang is one area that is already popular with both local and international tourists. This area is often visited by tourists to enjoy the atmosphere of Bandung from a different angle. The Dago Dream Park Lembang tourist attraction itself is relatively new because it only opened in July 2016. So you can visit there to enjoy the atmosphere.
The main concept of Dago Dream Park which is one of the tourist attractions in Lembang is a natural theme where tourists will be able to enjoy rides and games in the middle of the outdoors. Pine trees and streams will provide tranquility and shade for visitors when doing tourist activities there. There are at least about 20 rides that can be played.
Not only that, there are so many rides that exist in Dago Dream Park so that visitors will not get bored exploring this area. Most of the visitors who come are tourists with their families because this tourist attraction is suitable for family tourism. Apart from enjoying the rides, there are also some animals where visitors can interact with them.
Dago Dream Park Game Rides
At Dago Dream Park Lembang, there are indeed many interesting rides. However, some of the game rides below are the most unique and popular that you must try while visiting there, including the following.
Aladin Dago Dream Park Flying Carpet
One of the rides that often makes people curious is the Aladin Flying Carpet. This flying carpet is a very challenging photo spot and is suitable for those of you who like challenges.
Visitors who want to take pictures have to sit on a carpet that floats above the pine forest. So that visitors will feel as if they are really flying and hovering in the sky. That's one of the photo spots in Bandung today.
But don't worry because the security and safety aspects have been guaranteed by the manager. In addition, there will be officers who accompany visitors who want to get on the flying carpet. Complete with straps and waist protector. The photos will also look real because before being printed, they will be edited by the photographer first.
Skybike Dago Dream Park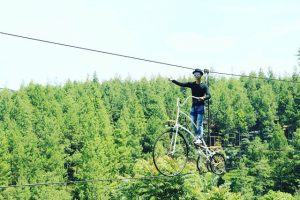 There is another photo spot or a ride that is no less interesting than a flying carpet, namely the skybike. As the name suggests, skybike which means air bicycle, visitors will ride a bicycle and pedal the bicycle in the air.
This ride will be directed by a path from a rope. Visitors will like flying on their bicycles. But don't worry too because the safety aspect of visitors will always be considered. However, if you are afraid of heights, you should think again about going up.
This is because visitors need to pedal their own bicycles and stop in the middle of the lane. Only later will there be a photo session and after that will get satisfactory photos from visitors with a green and shady background of trees.
Lost and Paradise Dago Dream Park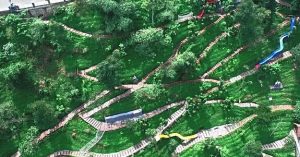 This one vehicle is suitable for those of you who really like adventure. The adventure referred to here is trekking with a certain path so that visitors can reach the top of this game.
However, trekking this time will be more challenging because apart from the incline there will also be other obstacles such as slides. Of course, this one adventure will provide its own excitement for visitors.
Visitors can also take pictures while doing this challenge. You can also rest for a while to release your tiredness and then resume your journey. To enjoy this vehicle, visitors need to pay Rp. 25,000.
Archery Dago Dream Park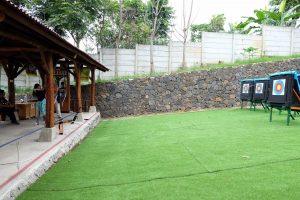 As the name suggests, this archery is an archery game that visitors can try. Visitors can learn to play the bow and arrow and there is a target board that will be installed there.
Uniquely, visitors will play this game with certain rules. Each person will get a share of 10 shots to the target board. Not only children can play this, adults are allowed too.
If you've never tried archery, don't hesitate to give it a try because there will be officers to help teach you throughout the game. The price is IDR 35,000 per person for a one-time package.
Anti Gravity Dago Dream Park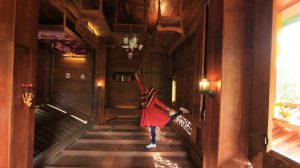 Interesting photo spots will increasingly attract tourists. One of them is in Anti Gravity. If there was already a photo spot from a height and it seemed as if it was floating in the air, this Anti Gravity concept is similar to Upside Down World Bandung where visitors will be in an upside down room.
This will make the photo look like it's upside down or upside down because the photo properties are very well laid out. This photo spot is a Joglo house from Java which has furniture arranged on the ceiling.
There are several spaces that can be used as photo spots, for example the kitchen, bedroom, work space with a sewing machine, and so on.
Those are some of the exciting rides available at Dago Dream Park. Actually there are many other fun rides. For more details will be explained in the ticket price section.
Location and Price of Dago Dream Park Entrance Tickets
The location of Dago Dream Park is at Jalan Dagi Giri km 2.2 Mekarwangi Village, Lembang District, West Bandung. To visit there, you can visit at 09.00 to 17.00 WIB. The price of admission to the tourist attraction is Rp. 20,000 per person. In addition, there will be several other package options, such as the following.
Ticket A: get Handboat, Flying Fox, and Kora Boat facilities with each price of IDR 20,000.
Ticket B: get horse riding, livestock, fishing, rowboat facilities, Cho cho train, Lost in Paradise, Pine house, Gerared up, with each price of IDR 30,000.
Ticket C: get archery or archery facilities at a price of IDR 35,000.
Those are some explanations about Dago Dream Park Lembang which is one of the attractions for families and children that is suitable to be visited to enjoy various exciting game rides. Also know the Tips for a Day Vacation in Bandung for those of you who don't have much time to travel. Hopefully useful for you.