Indonesia never runs out of natural attractions to visit. From beach tourism to mountain tourism, Indonesia can be said as a country that is quite complete and beautiful to explore. All provinces in Indonesia have their own charm to explore their natural beauty. One of them is in Central Java. There is a tourist spot in Central Java which is said to be developed into a world-class tourist attraction because of its natural beauty. This is the Rawa Pening Ambarawa Tour.
The Beauty of the Dizzy Swamp
Rawa Pening is the name of a lake located in Ambarawa, Central Java. This vast lake has become one of the popular tourist attractions in the Semarang area and its surroundings. Rawa Pening is taken from the word "pening" which means clear or clear. This name was taken because this lake has clear or clear water. This lake has an area of ​​2,670 hectares. Its location occupies an area of ​​4 sub-districts, namely Ambarawa, Bawen, Banyubiru, and Tuntang. However, for tourist access, Ambarawa is the most recommended. These four areas are located at the foot of Mount Merbabu, Mount Ungaran, and Mount Telomoyo. It is certain that its beauty will be very stunning. This location is even one of the best locations to enjoy the most beautiful sunset in Indonesia.
In addition to the beautiful natural scenery, this lake is also a land for the livelihood of the local people. Most people around Rawa Pening take advantage of the lake's wealth to find fish. The rest, utilize the surrounding fertile land as agricultural land. If visitors come to spend time at the Rawa Pening Tourism object, they will see the view from the boats or canoes of the local people looking for fish. However, this atmosphere can actually provide a unique atmosphere at the foot of the mountain and pristine countryside.
However, at this time part of the lake is covered by water hyacinth vegetation. Although this plant is not completely a parasitic plant, the existence of water hyacinth that can continue to grow will threaten the existence of the lake itself. Water hyacinth can cause siltation of the lake so it is feared that the lake will narrow over time. This condition is being pursued by the surrounding community by utilizing water hyacinth as one of the materials for making crafts. Although the effort is not fully maximized.
Rawa Pening Tourism Object opened in 2012 and is still popular today. Even the beauty of Rawa Pening will be introduced to the international scene as an international tourist attraction. There are lots of activities to do in Rawa Pening. Some of the interesting activities include doing water sports, fishing, photo hunting, enjoying the beauty of the lake and the surrounding mountains, and many more. Tourists can also do various exciting activities at Kampoeng Wisata Rawa which is an interesting tourist area near Rawa Pening.
Swamp Tourism Kampoeng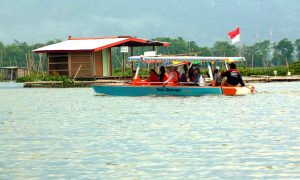 Kampoeng Wisata Rawa is one of the tourist attractions in Ambarawa around Rawa Pening which can provide tourist accommodation for visitors to Rawa Pening Tourism with quite complete. Kampoeng Wisata Rawa was founded by a group of fishermen and farmers around Rawa Pening for accommodation and tourism development so that visitors feel more comfortable. This tourist village has a cool atmosphere. From there, visitors can enjoy views of Rawa Pening, green rice fields, and the surrounding mountains.
Kampoeng swamp tourism also has many tourist facilities that can be enjoyed by visitors, such as:
freshwater fishing location
craft center and gift center
pavilion or gazebo
floating restaurant
water rides
All of these facilities are right on the edge of Rawa Pening. From there, the view of the lake combined with the green rice fields of the local residents will look very natural. This tourist complex is a good location to enjoy the views of Mount Telomoyo as well as Mount Merbabu.
One thing that attracts attention and becomes a tourist icon of Kampoeng Wisata Rawa is the existence of a floating restaurant. The floating restaurant can accommodate approximately 300 visitors. The food being colonized is typical Indonesian food, so that the taste of Indonesia still feels simple with the natural wealth that exists.
The food menu there includes noodles, fried rice, carp, catfish, tilapia, and many more. These types of freshwater fish are taken from the lake itself and are ingredients for local food production. Another interesting thing about this floating restaurant is that visitors who want to eat there must cross by using a raft. The raft will be pulled using a rope. Many tourists come there from all over Indonesia and try this Photo Spot in Semarang.
Swamp Dizziness Location
Rawa Dizziness Tour from Kampoeng Wisata Rawa is located on South Ring Road Ambarawa Kilometer 03, Semarang Regency, Central Java. This road is a road that connects Semarang with Yogyakarta. If traveling from Semarang, the distance from the center of Semarang is only about 34 kilometers. This distance can be reached in one and a half to two hours from the center of Semarang. To reach Rawa Pening, Semarang Backpacker Tips are tourists can take private vehicles, rent vehicles, or public transportation, because the road taken is a large highway that connects Yogyakarta with Semarang. Along the southern ring line, beautiful scenery will be depicted with green hills and rice fields of local residents.
Price of admission
Visitors who want to vacation in Rawa Pening Tourism and Kampoeng Wisata Rawa only need to pay an entrance ticket of IDR 2,500. Opening hours are from 08.00 to 21.00.
In addition, to enjoy the rides and facilities in it, visitors still have to pay again. For example, to ride a water trishaw, visitors can pay Rp. 15,000. Meanwhile, to ride the ATV, per visitor must pay Rp 30,000 in a matter of 15 minutes. In addition, there are also other facilities that can be enjoyed.
For visitors who want to enjoy all the rides in the Rawa Pening area and don't want to be complicated, a pass ticket is also available. The ticket on weekdays is IDR 90,000, while on weekends it is IDR 100,000. By buying a pass, tourists can enjoy all the rides at Kampoeng Wisata Rawa without having to pay again for each ride.
Those are some explanations about the object of Rawa Pening Tourism and Kampoeng Rawa Ambarawa Tourism, Semarang. If you want to travel to Semarang and want to enjoy the natural scenery of the mountains that have cool temperatures, then this location is one that is recommended. Always plan your vacation by seeking information in advance. I hope this information is helpful.