The Bangka Belitung Islands are a province in Indonesia that can be recommended as an interesting tourist destination to visit. These islands are located on the east side of Sumatra Island. The two main islands of Bangka Belitung are Bangka Island and Belitung Island. In addition there are several other small islands that are there. Apart from the charming natural wealth, there are many tourist attractions in Belitung which can be the main attraction. One of them is related to the novel Laskar Pelangi which was popular a few years ago. This is the background for the formation of the Belitung Kata Museum tourist attraction.
The Uniqueness of Andrea Hirata's Word Museum
As explained a little above, maybe the term Laskar Pelangi is no longer foreign to your ears. Laskar Pelangi is one of the novels written by Andrea Hirata and immediately became famous. Even the novel was made into a film a few years ago. The popularity of the novel and film Laskar Pelangi made the location for the film Laskar Pelangi famous as well. Until this is the background for the emergence of a new East Belitung Tourist Place, namely the Belitung Kata Museum or often also referred to as the Andrea Hirata Kata Museum.
As the name suggests, the Kata Museum can certainly be enjoyed by tourists by enjoying the concept of writing or literature. Tourists who come can enjoy the novel by Andrea Hirata by reading it at that location. In addition, there are also many aphorisms and quotes that can inspire visiting tourists to be able to reach their hidden dreams and aspirations.
For the building that is used as a museum itself, it is an ancient building that has reached 200 years old. Of course this will be unique for the first literacy museum in Indonesia.
Andrea Hirata's Word Museum Interior
The museum which was opened in 2010 is a literacy museum in Indonesia which is quite unique. The building is simple. But the interior inside is designed in full color, like a rainbow. This literature museum also contains various literatures that can be used as educational tourism locations for children, such as film literature, children's literature, art literature, music literature, and much more.
In addition, there are also various documentations from the Laskar Pelangi film, ranging from several photos of scenes to photos of the making of the film. Not only about Andrea Hirata, in this museum there are also various famous books or readings from famous literary writers around the world. There are also unique antiques on display there.
One thing that is interesting about the Belitung Kata Museum is the existence of the Kupi Kuli facility. Warung Kupi Kuli provides a variety of local snacks and typical Belitung coffee drinks. Of course, tourists can stop by Warung Kupi Kuli to enjoy a snack and just drink coffee. In addition, there are also many ancient antiques such as radios, televisions, paintings, and also public telephones as decorations. You can also find a spot to buy a postcard with an image of the Andrea Hirata Kata Museum at a price of IDR 15,000, complete with shipping costs and stamps. Suitable for those of you who want to try sending letters to family or friends from Belitung.
Muhammadiyah Elementary School Gantong Laskar Pelangi
Travel Tips to Belitung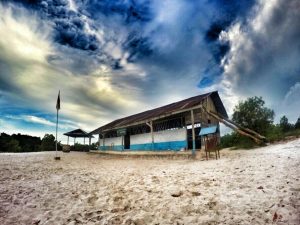 what is cheap is to visit several nearby attractions. In addition to the Andrea Hirata Kata Museum, not far from the museum building you can also stop by the location of Laskar Pelangi Elementary School which can also be visited. The elementary school is a very simple elementary school and has now become a tourist location. This is the place where Laskar Pelangi film was shot. Although this SD is not a real SD and only a replica.
This elementary school building is made of wood and the interior is very simple. There are only small benches and also a small blackboard. The atmosphere of this SD is made as close as possible to the original, namely SD Muhammadiah Gantong. This elementary school building was also made by imitating the original building, complete with beach sand on the outside, considering that the original elementary school was on the beach.
Now around the replica elementary school there are already several facilities such as food stalls and also several souvenir shops. You can travel more comfortably now around the Belitung Kata Museum.
In addition, because the atmosphere of the building is very ancient and also very simple, visitors really like to take pictures there. The school yard and the very simple school entrance gate are also interesting photo spots. For those of you who like the novels and films of Laskar Pelangi, a visit to this place will certainly answer your curiosity so far.
Kata Museum Location
If you happen to be traveling to Belitung, apart from enjoying its natural attractions, a visit to the Belitung Kata Museum doesn't hurt. Who knows, after getting out of there, you can get new inspiration to realize dreams that have not been achieved.
The location is on Jalan Raya Laskar Pelangi No. 7, Lenggang, Gantong, East Belitung. This location is quite famous in East Belitung, so getting there will be very easy. From Tanjung Pandan City, it takes approximately 1.5 hours to drive to this museum. If you have more time to travel in Belitung, don't forget to also stop by some of the beaches in Bangka Belitung which are certainly interesting to visit.
Tickets for the Word Museum and Gantong Elementary School of Muhamadiyah
If you visited there a few years ago, there may not be a special entrance fee or ticket to enter. However, with the development of time and the existing facilities at the Belitung Kata Museum, currently tourists who will enter there will be charged an entrance ticket of IDR 50,000. For children there is no charge or free. Meanwhile, to enter SD Muhamadiyah Laskar Pelangi, you will be charged an entrance ticket of Rp. 3,000 only. It's quite cheap, so it's suitable for Backpacker Tips to Belitung which is not so expensive.
You can visit the Andrea Hirata Kata Museum from 09.30 to 17.00 WIB. Meanwhile, visiting the replica of SD Muhammadiyah Laskar Pelangi can be done from 08.00 to 19.00 WIB.
Those are some explanations about the tourist attraction of the Belitung Kata Museum as the first literacy museum that can be used as a tourist reference when visiting Bangka Belitung. Hopefully this article is useful.