Bali is not only rich in historical buildings and beaches, but waterfalls in Bali are also very diverse and will give you satisfaction. If you need some reference locations for waterfall attractions in Bali, the following recommendations might help you in determining which waterfall destinations you want to visit which are tourist attractions in Bali.
Tegenungan Waterfall
This one vacation location can be found when you walk around the Ubud area, there are several tourist attractions in Ubud Bali called Tegenungan Waterfall, this tourist attraction is already quite famous among foreign tourists, making it rarely empty of visitors. Having another name for Kemenuh Waterfall, the location of this waterfall is in Sukawati District, which is precisely in Kemenuh Village, Gianyar Regency. In order to arrive at Tegenungan Waterfall, there are hundreds of stairs that must be passed from where you parked.
You won't feel tired when you go down the stairs, but when you go home and have to go back to the parking lot, you will feel tired when climbing the stairs. For travelers who like adventure and trekking, this will do nothing. The water discharge from the waterfall which is about 4 meters high is quite a lot and the color is clear and pleasant. Bathing or playing in the water here is allowed because it is fairly safe.
Visitors are free of charge to enter and enjoy the view of Tegenungan Waterfall.
When there was an attraction bungee jumpingvisitors are indeed charged an entrance fee (Rp 4 thousand for adults and Rp 2 thousand for children), but now bungee jumping has been removed.
Gitgit Waterfall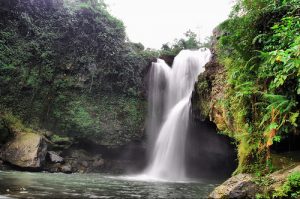 If you are from Kuta, then the distance that needs to be covered is about 80 kilometers with a travel time of approximately two and a half hours. Located in the Buleleng area, the location of this waterfall is easy to reach because it is quite close to the highway that connects the city of Singaraja with Denpasar, Bedugul. For the terrain to get to this place, it's actually quite good with hot mix asphalt. However, because of its location in a mountainous area, visitors are still required to go through various descents and climbs as well as tortuous terrain coupled with fog that can shorten visibility.
This waterfall, which is about 48 meters high, is the tallest waterfall in Bali. The attraction of this tourist attraction is the water itself which looks clean and clear so that many tourists bathe in the lower waterfall pool. There are a number of souvenir stalls that can be visited if you are interested in shopping for souvenirs. There are also plenty of food and drink stalls so you can fill your stomach easily.
Visitors are charged an entrance fee, IDR 5 thousand for adults and IDR 3 thousand for children.
Some coffee gardens and clove gardens can also be visited when heading to Gitgit Waterfall.
Sekumpul Waterfalls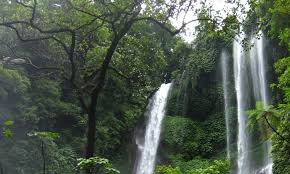 Because it is located in North Bali, from Denpasar city to the location of this waterfall, you have to travel about 76 kilometers, which means you have to travel for 2.5 hours. It is recommended to visit Sekumpul Waterfall in the morning, especially during the rainy season. This is because the morning rarely rains when compared to the afternoon. During or after the rain, the terrain must be slippery so it is more dangerous. If you are interested in getting a close-up view of the waterfall, make sure you have good stamina because there is a trail of about 300 meters that must be passed.
Not only long trails, but hundreds of stairs are also available to be descended with conditions that are quite steep. In addition, there is a river that needs to be crossed with water that is about an adult's thigh high. Although the facilities provided by this tourist spot are still quite inadequate due to the absence of toilets, Sekumpul Waterfall is still one of the best with its beautiful panorama.
Visitors are only charged Rp. 2 thousand for local tourists, while foreign tourists are charged Rp. 5 thousand.
If you are from Kuta Bali, it is recommended to leave from 4 am to the location of this waterfall.
Dusun Kuning Waterfall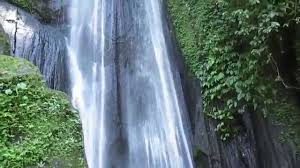 One of the most exotic waterfalls in Bali that can be visited and enjoyed is Dusun Kuning Waterfall. This waterfall is called Dusun Kuning because it is located in Dusun Kuning which you can find when you visit Bangli District, precisely in Taman Bali Village. Various means of transportation can be relied upon to reach this location, but if you are from Taman Bali, the distance that needs to be traveled is about 500 meters through a small road which will also bring you to the clove plantation. and is a suitable tourist spot for young people.
If you are looking for a waterfall tourist location with not many visitors, Dusun Kuning Waterfall can be visited directly. The naturalness of this waterfall is an attraction that needs to be immortalized. The place which is quite hidden makes it less well known by tourists from outside Bali. In addition to the waterfall which is so beautiful, you will also find so many monkeys. It would be nice if you traveled here while bringing snacks, such as nuts or cakes to feed the monkeys.
Les . Falls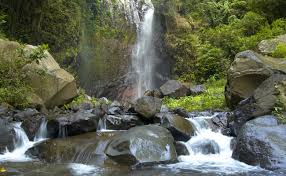 Another natural tourism in Bali that is very worthy of being a holiday destination is the Les Waterfall in Buleleng Regency. Located in North Bali, this waterfall is right in the village of Les and it is on the east side of the city of Singaraja. To get to this waterfall, the distance that needs to be covered is approximately 100 kilometers from Kuta and that means you need to travel for about 3 hours. Because it has asphalt condition, this Les Waterfall is quite good and safe for tourists even though it is a bit tortuous and is a waterfall in Indonesia.
Many tourists may be curious about what charms the location of this waterfall, also known as Yeh Mampeh, has to offer. The clarity and freshness of the fresh water from this 35-meter-high waterfall will fascinate every visitor. From the car park, you need to walk through lush green trees and bushes about 2 kilometers away to reach the location of the waterfall. For tourists who like activities trekking and have a fit physique, it is highly recommended to come to this tourist spot.
Melanting Waterfall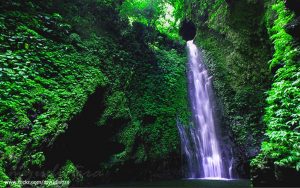 Located in Banjar District, Melanting Waterfall can be found when you visit Munduk Village in Buleleng Regency. The joy of being at this waterfall tourist spot is because you will not only find the waterfall, but you can also take as many photos as you like at coffee plantations and clove plantations. To arrive at the location of the waterfall, walking is enough and you can all enjoy the sound of birds chirping.
Approximately 20 meters high, Melanting Waterfall is low in altitude, especially when you compare it to Gitgit Waterfall which reaches 48 meters high. However, that's precisely why you can bathe and shower safely in this place. For example, if you are from Kuta Bali, the travel time to be taken is about 2.5 hours because you have to travel a distance of 77 kilometers.
Adult visitors will be charged an entrance fee of IDR 5 thousand, while for children IDR 2 thousand.
In the Melanting Waterfall area, there is Munduk Waterfall which only charges an entrance fee of IDR 3 thousand.
Carat Falls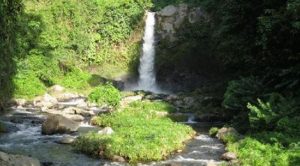 Another waterfall tour in Bali that will pamper you and your family is the Carat Waterfall in Singaraja Regency, precisely in Kubuaddan District. Just visiting Tamblang Village, you can certainly find Carat which has two waterfalls, namely a small and a large waterfall. For a small waterfall, the height is estimated to be around 4 meters and you are allowed to approach and even bathe here.
Especially for the high waterfall, you should enjoy it from afar and even if you want to capture it, you need to walk through the pipes that are there until you arrive at the bottom of a rock cliff that looks like a wall but is steep and high. It is said that local residents believe that Carat Waterfall is somewhat haunted, so it is advisable for tourists not to damage anything or say inappropriate words while here.
Visitors are not charged an entrance fee because the location of this waterfall is still very natural and no buildings have been found around it.
If you are from Denpasar, please go to Kintamani/Gianyar, then continue towards Singaraja until you finally set foot in Tamblang Village.
Nungnung Waterfall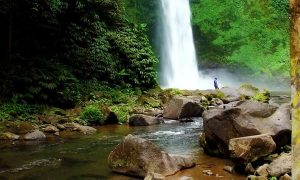 Located in Nungnung Village in the Petang District, Nungnung Waterfall in Badung Regency is approximately 45 minutes from Denpasar and takes about an hour and a half on the way to get to this place. The fun here is when you pass through so many rice fields and plantations that make our vision cooler.
Located at an altitude of 900 meters above sea level, this waterfall has a fairly large water discharge. There are hundreds of stairs that you need to descend to reach this waterfall, but always be careful because the terrain is not easy and quite steep. Even more challenging, most of the stairs that must be passed do not have handrails so that it is more risky.
Visitors are charged an entrance fee of IDR 3 thousand.
It is recommended to wear comfortable and non-slip footwear because you have to go down the stairs which are quite dangerous.
Blemantung Waterfall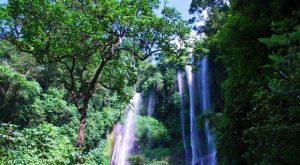 Located in Tabanan Regency, you can find this waterfall in Pupuan District, after entering Pujungan Village. If you are from Denpasar, then the distance that needs to be covered is approximately 70 kilometers or 2 hours drive. Along the road to Blemantung Waterfall, you will be able to capture a very beautiful panorama of terraced rice fields with a dominant green color and this is one of the advantages of tourist attractions in Indonesia.
Because the location is quite remote between a number of cliffs, the distance that must be traversed by tourists from the main highway of Pujungan Village is approximately 1500 meters. It is very exhausting because the journey is quite long with different terrain, so you must be physically prepared to be able to enjoy the beauty offered by this 50 meter high waterfall. Apart from the gazebo, no other place has been built in this place.
Hopefully, with this information about waterfall tourist attractions in Bali, it will no longer make you confused about choosing a holiday destination on the Island of the Gods. Welcome to explore this beautiful waterfall when you arrive in Bali.