The city of Yogyakarta, is one of the cultural tourism cities in Indonesia which is also well known by foreign tourists. If you visit Jogja, don't just visit one place, in Jogja there are lots of interesting spots and make you feel at home for long there.
Jogja does offer a complete package in addition to cultural tourism, there is also a well-known market to remote parts of Indonesia, namely the Malioboro market. When you go on vacation to Jogja, it's not complete if you don't shop for souvenirs typical of Jogja, then you can get souvenirs at this Malioboro market. From typical culinary delights to authentic Jogja knick-knacks, you can get everything as long as you don't forget to bargain.
Jogja is also famous for its natural beauty, currently what is being hit is Kalibiru nature tourism because the scenery it offers is very beautiful, not only Kalibiru waterfall tourism in Jogja is also very mandatory for you to visit. Waterfalls offer unparalleled beauty, especially in Jogja where there are many waterfalls, the following is a list of the most beautiful waterfalls in Jogja:
1. Luweng Sampang Waterfall
Gunung Kidul is one of the areas in Jogja that really needs to be explored, there is a waterfall that spoils the eyes. The origin of the name of the Luweng Sampang waterfall is because in Javanese Luweng is interpreted as a hole, and Sampang is the place where the waterfall is located.
This waterfall is decorated with white rocks, the water itself is blue which adds to the beauty of the Luweng Sampang waterfall. If you want to go to tourist attractions in Gunung Kidul, it's incomplete if you don't explore this Luweng Sampang waterfall. The added value of the Luweng Sampang waterfall is that the atmosphere is still beautiful and not many tourists have come, so even though there will be many tourists visiting, we should keep the waterfall clean so that it looks beautiful and attractive.
2. Sri Gethuk Waterfall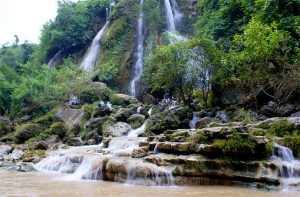 Gunung Kidul seems never satisfied offering its natural beauty for tourists to enjoy, not only Sadeng Beach is famous, in Gunung Kidul there is a Sri Gethuk waterfall. Sri Gethuk is one of the most famous waterfalls in Yogyakarta. The location is in Menggoran hamlet, Bleberan village, Playen, Gunung Kidul, Jogjakarta.
There is something quite unique about the Sri Gethuk waterfall, to get to the main location, visitors are usually taken by using a raft boat which is useful as a tool along the Oya river. The entrance ticket fee is also very pocket-friendly, you only need to spend 7 thousand rupiah per one visitor.
3. Soka Flower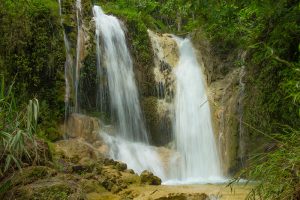 Kembang Soka is one of the waterfall attractions in Kulon Progo which is no less famous than other waterfalls in Jogja. If you want tips for a day's vacation in Jogja with minimal funds but really want to go to beautiful natural attractions, then this Kembang Soka waterfall can be the right answer, because per one visitor is charged only about 3 thousand rupiah, a very expensive price. very affordable.
In addition, visitors will find a uniqueness that exists in this Kembang Soka waterfall, its uniqueness is that the flowing water has two different colors, namely turquoise green and pure white, this incident rarely occurs in other waterfalls.
4. Parangtritis Waterfall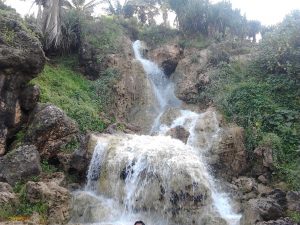 Not only Parangtritis beach which is known to be beautiful, the Most Beautiful Waterfall in Jogja which is often referred to as Parangtritis is also the same. At Parangtritis waterfall, there are large rocks that soar, for those of you who want to climb to the top of the waterfall, you can step on the big rock, but don't forget to be careful because the rocks are quite slippery.
With a location that is quite close to Parangtritis beach, you can invite your family and children to vacation in these two places at once.
If you invite children, you must keep an eye on them, especially if you are on vacation to the beach then you must pay attention to recreational equipment to the beach for children that must be brought. And if you invite your partner, then during the day you visit the waterfall and then when the sun goes down you can take your partner to the beach to enjoy the sunset, making Parangtritis a romantic tourist spot in Jogja.
5. Goa Selarong Waterfall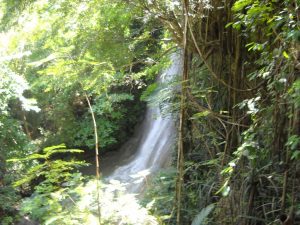 Selarong Cave Waterfall is located in Kembang Putihan, Pajangan District, Bantul. Not only beautiful scenery but you can also add insight because the Selarong Cave waterfall is a silent witness to Prince Diponegoro's struggle against the Dutch colonialists, when Prince Diponegoro's house was burned down he hid in this Selarong Cave.
Therefore, it can be said that the Goa Selarong waterfall can also be one of the cultural attractions in Indonesia. The best time to visit Goa Selarong waterfall is when the rainy season comes, because that's when the water discharge will be heavy, and vice versa if the dry season arrives the flow of flowing water will decrease.
6. Watu Jonggol Waterfall
Jonggol stone can also be called a waterfall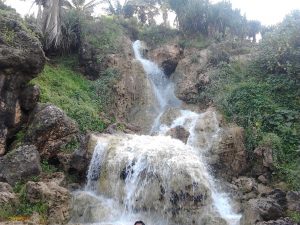 hidden because it is located in remote areas. For those of you who have extra energy and don't get tired easily, you can visit Watu Jonggol waterfall.
Given that it will soon be the end of the year, there is nothing wrong with making Watu Jonggol waterfall one of the new year's holiday spots in Indonesia.
The location is indeed quite far, so it is quite a drain on your time and energy, but there are several facilities built by local residents for tourists so that it can help us to get to the location more easily.
7. Grojogan Sewu Waterfall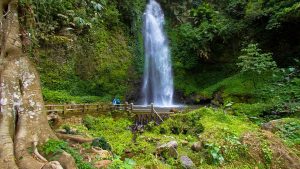 One of the waterfalls that you must visit is the Grojogan Sewu waterfall which is located in Benteng Hamlet, Jatimulyo, Girimulyo, Kulon Progo. If you want to go to the location of the waterfall, then you have to walk about 200 meters, during the trip your eyes will be spoiled by the expanse of the residents' plantations that are still naturally shady.
One of the tips for traveling to the waterfall is that you should bring food and drinks from home, because there may not be traders, even though there are traders, the prices may be many times more expensive. For those of you who are busy looking for a place to vacation on the weekends, this place is one of the most recommended places for you. Guaranteed you are satisfied with the natural beauty that is provided.
In addition, there are some of the most beautiful waterfalls in Jogja that you must visit:
Green Canyon
Kedung Pedut Waterfall
Setawing Waterfall
Gedangsari Beautiful Waterfall
Pulosari Gorge Waterfall
Jogan Beach Waterfall
Above are some lists of the names of the most beautiful waterfall locations in Jogja that can be your reference for visiting one or even all of them. Indeed, Jogja is a tourist spot in Indonesia that must be visited and explored.