Tanjung Pasir Beach is one of the beaches in Tangerang which is quite popular in Indonesia, especially for the people of Tangerang and its surroundings. This beach is a beach that is quite often visited and is one of the most crowded beaches during holidays or weekends. The thing that makes this beach attractive is the easy entry ticket price and the completeness of the facilities it offers. For more details, see some explanations below.
The beauty of Tanjung Pasir beach
Tanjung Pasir Tangerang Beach is located in Teluk Naga District, Tangerang Regency, Banten, West Java. This is what causes many people to also call it Tanjung Pasir Teluk Naga Beach. Why is it called that? Because when viewed from above, this tourist attraction will be seen as a headland, namely land jutting into the sea. Meanwhile, at the end of the headland there is a bay or ocean that juts into the mainland. This is what makes Tanjung Pasir Teluk Naga Beach so unique when compared to other beaches in Indonesia.
The beauty of this beach can be seen from the wide scenery with beaches that have clean white fine sand. Unlike other beaches where the horizon line of the sea can only be seen from a distance, the stretch of white sand around this beach is even visible to land far from the shoreline. With the breadth of this beach, tourists can freely play and spend time on the beach.
On the beach there are also many green trees that thrive and add a calm and cool atmosphere to this beach. This also attracts a lot of tourists because they can take shelter from the hot sun while there. This condition may be quite different from other beaches in Tangerang, Banten.
Read also:
Access and Entrance Fee
From central Tangerang, this beach has a distance of about 25 kilometers and can be accessed by two-wheeled or four-wheeled vehicles. For the easiest access to this beach is through the airport back door (M1). Just follow the road to the north, namely to Kampung Melayu. From Kampung Melayu, take a right turn and look for the Tanjung Pasir signpost. Continue to follow the direction indicated by the sign. The road that must be passed is a fairly narrow village road. But that's the only road that can be passed to get to the beach.
If tourists come from the direction of Kalideres, tourists can head towards the airport and head to Rawa Bokor. If you have arrived at Rawa Bokor, follow the Kampung Melayu route as described above. To enter this beach, tourists also do not need an expensive fee, unlike other beaches where the entrance ticket price may be quite expensive. This beach can be visited by tourists by only paying IDR 5,000 per person.
If tourists bring their own vehicle, then parking the vehicle will be charged IDR 10,000 for two-wheeled vehicles. Meanwhile, for four-wheeled vehicles, a parking fee of IDR 20,000 will be charged. Because of this low price, many tourists come with their families, because this beach is indeed suitable for family tourist destinations while on vacation.
Read also:
Tanjung Pasir Beach Facilities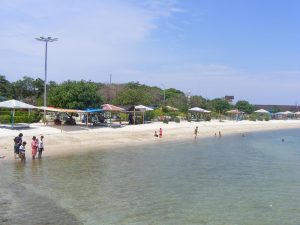 Although the entry ticket price is relatively cheap, don't worry about the facilities it has, because Tanjung Pasir Tangerang Beach will not disappoint tourists. The facilities on this beach are quite complete and suitable for tourists, even tourists from various regions. Here are some of the facilities on this beach.
Parking lot – The parking lot on the beach is fairly wide and definitely convenient for tourists who bring vehicles. There is parking for two-wheeled and four-wheeled vehicles that can accommodate large numbers of tourist vehicles.
Toilet – This beach also has adequate toilet facilities. Tourists can use the toilet to urinate, defecate, even take a shower or rinse after playing on the beach all day.
prayer room The existence of this prayer room will make it easier for tourists to worship. Even though we are traveling, of course we must not neglect to worship.
Umbrella rental – For tourists who don't want to overheat while enjoying this beautiful beach view, there are also umbrella rentals that can be used for their services.
Watersport – One of the attractions of this beach is the existence of watersport facilities, namely banana boats. If you are visiting there, it's a good idea for tourists to try this water game. Tourists will be invited to circle on a banana boat to the middle, then will be plunged into the sea with sharp bends. However, don't be afraid to drown, because it is certain that the officers have life jackets for the safety of tourists.
Ships to cross – Many may ask, where will this small boat on the beach be used to cross? The answer is to cross to Untung Jawa Island. Tourists who want to cross to the island can take a small boat owned by local residents. Just use the services of a small boat or boat.
Places to eat – This beach is also famous for a variety of foods that can be obtained by tourists easily. There are so many choices of food on this beach, ranging from cheap food like street food to luxury food like expensive restaurants. Most of the food menu on this beach is seafood or seafood. There are several menus to choose from and it is seafood that uses ingredients that are still fresh because they are directly taken from the sea. Not only food, there are also many choices of drinks, from soft drinks, to drinks in the form of delicious ice cream.
Read also:
Activities to Do
Tourists who come to Tanjung Pasir Beach, Tangerang can do some exciting and exciting activities during their vacation. Anything? Check out the explanation below.
Enjoy the beach – Tourists who come to the beach surely the main goal is to enjoy the beach. To enjoy this beach, tourists can do it by taking shelter under a tree while enjoying the beautiful scenery with the beautiful open sea accompanied by a breezy wind that makes the heart calm.
Playing with sand – Tourists can also play in the sand on this beach. There are many people who play in the sand by forming several shapes or writing names on the sand. Do whatever is interesting to do with the existing sand.
Doing the game – There are also many tourists playing beach volleyball or beach ball, or also playing kites on this beach. This is in line with the size of the wide sandy beach so that it can be used in many ways.
Doing water sports – As explained above, on this beach there are watersport facilities that tourists can try, namely banana boats. Of course, tourists can enjoy these facilities.
Swim – Although not many people swim on this beach and only play with water and sand on the edges, basically this beach is safe for swimming because the waves are not that big.
Fishing – There is no fishing equipment rental facility on this beach. However, many fishing communities or people who like fishing come to this beach to fish. But those who fish must bring their own fishing rods.
Culinary tour – Tourists can do culinary tours along the coast by visiting places to eat there, from cheap to expensive though.
Sunbathe – If you like sunbathing, this beach is one of the beaches that is suitable for you.
Read also:
Those are some explanations about Tanjung Pasir Beach, Tangerang, Banten. If you want to visit, prepare a change of clothes and complete tourist equipment so that activities there can be carried out in a fun and unimpeded manner. Happy Holidays.