Enjoying tourism in South Sulawesi will certainly be very interesting. Where this province still has extraordinary natural wealth to be explored, especially for nature lovers and outdoor activities activists with adventure. Not only Marine Tourism in Indonesia in South Sulawesi, but there are also tourist attractions with views of green and natural hills. One of the highlights of South Sulawesi is Janeponto Regency, where there is a very stunning waterfall. This is Tama'lulua Waterfall.
The beauty of Tama'lulua
This waterfall is one proof that Indonesia is very rich in natural beauty. Where this waterfall is currently popular and hits as a truly natural natural tourist attraction. Because the natural beauty that is served from Tama'lulua Waterfall is very special.
Located in a hilly area with dense forest, this waterfall is indeed suitable for adventure activists in the wild. Because to travel there, visitors of course need to pass through quite extreme terrain. The trekking path to the waterfall is an incline and descent with quite steep rocks. But that is precisely what makes this waterfall interesting, namely because it is very natural and really shows another side of Indonesia, especially in South Sulawesi.
Because it is still in the forest and natural hills, the cool air will be felt from this tourist spot. You can observe the waterfall from one of the hills, namely Bukit Bossolo, and you can also visit the waterfall up close to explore it.
The debit of Tama'lulua Waterfall is very heavy, especially during the rainy season. Even in the season when it rains often, the water will be brown. Indicates that this waterfall is not just any waterfall. So you need to be careful when visiting there. It's best to come during the dry season.
Bossolo Hill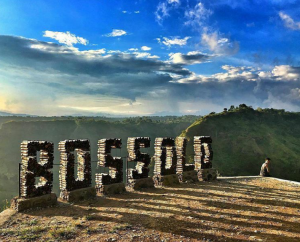 In addition to the existence of a natural and stunning waterfall, apparently in this tourist spot in South Sulawesi, there is also Bassolo Hill, which is not far from the location of the waterfall. This is what makes Tama'lulua Waterfall also often referred to as Bassolo Waterfall.
Bassolo Hill is one of the hills near the waterfall with extraordinary beauty. This place is also one of the best places to enjoy the beauty of the waterfall from a distance.
Bossolo Hill is now easier to reach. There are even some facilities that can be found there. For example, Bossolo's writing is made from bamboo and painted old tires. And there are roads that are quite easy to access. So that visitors will more easily reach it.
From the top of Bassolo Hill, you will not only see the view from the waterfall, but you will also see various other hills that are still very natural and beautiful. In addition, this green view will unite with the cool breeze and breeze so that you can enjoy everything very completely.
Location and Route to Tama'lulua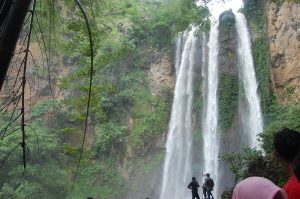 The location of this tourist spot in South Sulawesi, namely Tama'lulua Waterfall, is in Ramba Village, Rumbia District, Janeponto. If you start the journey from Makassar, the distance is approximately 3 hours traveling through about 30 kilometers. When you get to Janeponto, there will be a large horse statue. From there take a left turn, which is Jalan Kelara. Follow the road to get to Rumbia about 30 minutes later. From there you will find billboards or large road signs with the words Tama'lulua Waterfall.
Upon arrival, you need to make quite a long journey from the parking lot. In addition, the terrain that must be traversed is also quite extreme. The duration of the trip is approximately 1 hour by foot. Therefore, you should use suitable footwear and bring your own supplies during the trip.
Even though you have to go through a fairly challenging and tiring journey, the beauty of the waterfall will make you feel at home to linger there. Given the beautiful and beautiful atmosphere of this place is still really felt. For those of you who live in the city every day, maybe a trip there will give the impression of an interesting trip that is rarely found in other places.
Price of admission
Because this tourist attraction is still very simple and even developed by local residents, the entry ticket price is very cheap, which is only IDR 2,000 per person. Meanwhile, those who bring a vehicle will be charged a separate parking fee. So, if you have an agenda to visit South Sulawesi, especially Makassar, try stopping by there to just relax.
Travel Tips
Of course, there are some things you need to pay attention to before visiting this attraction. Considering that this tourist attraction is still natural, here are some travel tips to Bassolo Waterfall, including the following.
Use comfortable footwear and match the terrain you will be traversing. We recommend using mountain shoes or mountain sandals. Especially for those of you who want to go to the waterfall.
Bring your own food and drinks before coming to tourist sites. Even though there are already several food and drink vendors, still bring supplies just in case.
Bring a change of clothes in case your clothes get wet from the waterfall.
It's best to keep the cleanliness of the tourist spot and don't contaminate it with the garbage you brought from outside.
Wear comfortable and appropriate clothes for outdoor activities.
It's best to come during the dry season, because the rainy season is quite vulnerable to travel around this waterfall.
Around Bossolo Hill there is already a guardrail. It's best not to stand outside the fence for your own safety, as this hill is surrounded by steep and high ravines.
Those are some explanations about Tama'lulua Waterfall that you need to know. Also find out various other lists of tourist attractions in South Sulawesi that are interesting for you to visit, both with traveling friends and family. Hopefully useful for you.