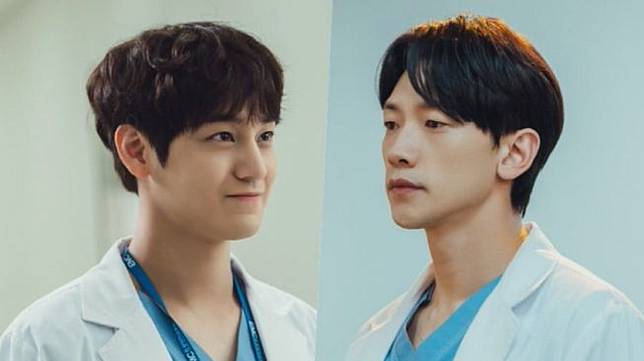 The latest episode of the Korean drama Ghost Doctor, episode 9 to be exact, which aired on January 31, presented a new conflict between two doctors with different backgrounds, but united in a complicated situation.
In the previous episode of Ghost Doctor, Han Seung Wong, played by Tae In Ho, began to feel suspicious about Go Seung Tak who can see ghosts. Episode 8 ends hanging, and it is shown that Cha Young Min, who is in a coma, suddenly responds and shows Doctor Young Min's brain activity.
In episode 9, the story opened with a story between Go Seung Tak and Cha Young Min who exchanged their experiences about the reasons for saving patients. On the other hand, Go Seung Tak's cousin meets Ahn Tae Hyun (Go Sang Ho) and brings him the surgery notes, which Young Min had written before the accident and aroused Go Seung Tak's suspicions.
Doctor Jang Se Jin continues to treat and look after Cha Young Min. However, he almost gave up because Young Min had not shown any signs of recovery. Seeing this, Young Min couldn't bear to be with his girlfriend. When the opportunity arose, Cha Young Min returned to possess Go Seung Tak who happened to pass through the hallway of Young Min's room. Young Min also borrows Go Seung Tak's body to meet Jang Se Jin. But it turns out that Jang Se Jin has fallen asleep. The day ends with Young Min humming and keeping Se Jin beside him.
The next morning, Jang Se Jin was surprised by reports showing Cha Young Min's brain activity. The funny thing is, Young Min who also witnessed himself showing positive changes immediately rushed to give the news to Go Seung Tak who was still asleep at that time. Go Seung Tak with a happy expression immediately ran to the examination room.
Jang Se Jin and Go Seung Tak also discussed the condition of Cha Young Min's doctor who showed signs of the possibility of awakening. But for the time, they could not be sure and could only wait and observe. The reason and cause of Young Min's brain waves have yet to be identified by doctor Jang Se Jin. Se Jin said that the incident could not be explained. However, from the information he got from medical staff in the United States, it was very rare and said it could be caused by happy hormones.
After listening to doctor Jang See Jin's explanation, Go Seung Tak began to think about what happened last night while showing his funny and silly expressions, as if inviting laughter to the audience. After that, Go Seung Tak interrogated Young Min about what he did with his body last night. The audience will be entertained by their funny and silly arguments.
After Cha Young Min and Go Seung Tak found out that Young Min's body had been showing positive signs for the past few days because of the happy hormone. They decide to work together to save the patient in hopes that it will bring positive change, when Young Min's spirit does the things he likes with the help of Go Seung Tak's body. Go Seung Tak also decided to help Cha Young Min perform surgery in thoracic surgery.
In the middle of the story, Young Min who was in Go Seung Tak's body had to meet Han Seung Wong. They discussed about the strangeness experienced by Go Seung Tak who suddenly had extraordinary skills in operating on patients.
The story continues, Cha Young Min and Go Seung Tak also act together to help some ghost wishes that have been with Young Min and have helped him. They also try to save the patient by knowing the history of the spirits who fell into a coma to try to treat the patient.
Not stopping, doctors Ahn Tae Hyun and Han Seung Wong continued to try to prove that Go Seung Tak was Young Min. After completing the operation, surprisingly Young Min who was still in Go Seung Tak's body met Han Seung Wong and said that he was still in his cousin's body.
Episode 9 also closed with a riddle of the story following Young Min's confession to Han Seung Wong that he possessed his cousin's body and helped Go Seung Tak perform the operation.
Will Han Seung Wong be able to reveal it and believe Young Min's statement? We will see the continuation of the next story in episode 10. Ghost Doctor fans must be waiting for the continuation of Go Seung Tak and Cha Young Min's story which is getting more exciting and their secrets are gradually being known by many people.