Our country, Indonesia, is known to have amazingly beautiful and rich tourism potential, and has dozens of types of places that make both domestic and foreign tourists amazed. Among the various types of tourist attractions, waterfalls are one of them. It is said that many waterfalls in the archipelago have been exhibited, their stories told and used for various economic, social, cultural and artistic activities.
Read also:
Of the various names of waterfalls that are scattered in every corner of our country, one that is quite interesting but is rarely promoted is Songgo Langit Waterfall, which is located in Jepara Regency. Apparently apart from Raden Ajeng Kartini, wood and carving products, Jepara has quite promising tourism potential. This waterfall is called Songgo Langit because if we see this waterfall in a position just below it, then the position of the cliff seems to support the sky above it.
Read also:
Legend
Every place in general has its own story, and this waterfall is no exception. Once upon a time, there were two lovebirds where the man was from Tunahan Village and the girl was from Sumanding Hamlet, Blucu Village, making love to the point of marriage.
At that time, it was the women who had to prepare kitchen utensils such as faces, plates, glasses, etc. and brought livestock such as cows, goats or buffalo when a man proposed to a girl and they lived with the girl's parents.
One morning the girl's mother reprimanded her child for being too noisy due to the sound of various kitchen utensils touching each other while preparing breakfast for her husband, fearing that the husband would wake up if he was too noisy. The man actually woke up and apparently heard wrong. He thought his mother-in-law was making fun of him because the kitchen utensils weren't a gift from him and he was offended.
Read also:
Burning with emotion, he invited his wife to leave the house and intend to return to his native village. They left at midnight. Due to the dark road, the cow cart they were riding on went the wrong way. They got lost, until the wagon then fell into a deep abyss, where the location of the Songgo Langit waterfall is located. The husband and wife pair disappeared at that location and their bodies were not found. They are like lost to the earth.
Read also:
The story of this legend is told from generation to generation, until now the local community has taboos for residents from Tunahan Village and Blucu Village to get married because it is feared that their household will experience chaos. They also believe that the missing husband and wife are still there as guardians of the place.
The couple who guard the place are believed to help maintain the safety and comfort of tourists because visitors to this tourist spot are considered as guests who deserve respect and their safety and comfort are maintained. In addition, they also believe that the water that flows from the waterfall has properties that can make you stay young if you wash your face and skin with water from the pool.
Location
Songgo Langit Waterfall is located in Ngelencer Hamlet, Bucu Village, Kembang District, Jepara Regency, Central Java Province. The height of this waterfall reaches 80 meters with a width of 2 meters. Access to places to tourist sites is fairly easy at this time due to the availability of signposts.
If you depart from the city of Jepara, then direct your vehicle towards the city of Pati by passing through Mlonggo District, Bangsri District and Kembang District. This trip covers a distance of about 20 km.
From Kembang Subdistrict you can go to Cepogo Village through the teak forest belonging to Perhutani for approximately 2 km away until you reach a fork in the village road where here you will find a signpost to the location. From here you still have to travel another 11 km through Semanding Village and finally to Bucu Village, the location where this waterfall is located.
This tourist location is equipped with parking lots, toilets and food stalls, so you don't have to be afraid of hunger or worry that there is no toilet when you need to urinate or defecate. It's just that according to the latest news, the available toilets need repairs to make them look better and cleaner so that they are increasingly attracting tourists to come here. Perhaps another drawback that should be improved is that there are no inns or hotels around the location of the waterfall because of its location in a rural area.
Read also:
At this location you will be able to find beautiful colorful butterflies flying around the waterfall area. But even though you are fascinated by the beautiful atmosphere, you still have to be careful when you are in this place because in the pool where the waterfall empties there is a trough of approximately 8 meters deep, where visitors can be dragged into it.
Read also: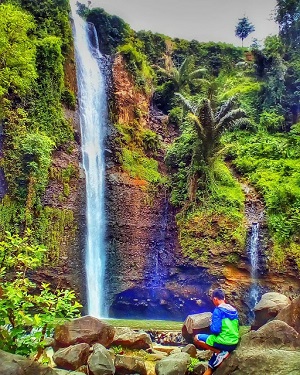 Local residents had told that there had been 5 tourists who had become victims, until then there was a ban on tourists from swimming in this waterfall pool. You should also be careful when looking for a location when you are going to take a selfie or selfie, making sure that there are no slippery steps or fragile grips around you.
It was reported that previously there was a circular fence surrounding the pool to help maintain security for tourists, but unfortunately the iron fence disappeared due to the heavy impact of the flow from the waterfall. Although it looks like logs are scattered around the river flow which makes the environment less pleasing to the eye, but the atmosphere around the beautiful and cool waterfall is able to forget the shortcomings of this tourist location.
For those of you who are interested in visiting this place, it is recommended not during the long dry season because the outpouring of the waterfall becomes very thin in the dry season so you cannot enjoy the beauty of the outpouring which, although dense, soothes the soul.
Read also:
Cost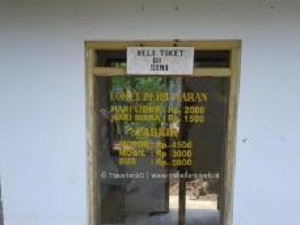 You only have to spend Rp. 1,500 per person on weekdays and Rp. 2,000 on holidays. If you bring a vehicle, then you need to prepare a motorbike parking fee of Rp. 1,500 or a car for Rp. 3,000. As for the tour bus, the parking fee that must be spent is only Rp. 5,000.
For those of you who prefer not to use personal transportation, the fare for an ojeg from the T-junction in the Cepogo Village area is around Rp. 20,000 one way.
Read also:
How? Interesting right? So, what's wrong if more people visit this place, the maintenance will be better, the infrastructure will be more complete and the facilities will also increase. So that in addition to enriching the world of Indonesian tourism, it also helps the economy of the surrounding community.
Read also: