Indonesia, which has many islands, is indeed the largest archipelagic country in the world. As a result, many islands scattered in Indonesia are now used as tourist attractions. One of them is the Thousand Islands which is located very close to the capital city.
Who does not know the Thousand Islands? The islands, which are located near Jakarta, have indeed become a popular tourist location since ancient times. There are many islands in the Thousand Islands that can be explored. One of them is Sepa Island.
Sepa Island is the best panoramic island in the Thousand Islands. This island is also often used as a family tourist destination in the Thousand Islands because it has many cool facilities. If you want to travel to the Thousand Islands and are confused about which island is worth visiting, Sepa Island in the Thousand Islands is a recommended island. Do not believe? Check out the following explanation.
Read also:
Activities on Sepa Island
Many tourists are attracted to this island because of its complete facilities combined with very refreshing natural phenomena.
No wonder the island is quite crowded with many tourists, especially during holidays. In addition, access to this island is also not difficult and quite close from the capital city of Jakarta. This is a special feature of the island of Sepa.
As for some of the tourist activities that can be done on this island, among others, are described as follows.
Enjoy the beautiful beach view
Sepa Island has a very charming view. With soft white sand and blue ocean, this island is dubbed the best island in the Thousand Islands. The nickname is not wrong, because the scenery on this island will indeed provide clarity of mind for tourists who want to spend their vacation time.
This island also has a phenomenal underwater beauty. Therefore, many tourists can spend their time doing snorkeling and diving activities around the island. There will be many fish and underwater coral reefs that spoil the eye.
In addition, this island is also famous for its very attractive and charming sunset views. Tourists can take cool photos when the sun starts to set. Of course the sight would be very cool to capture.
This island already has good facilities for tourists who want to stay. There are several accommodations to choose from.
Apart from staying overnight, tourists can also enjoy delicious culinary delights at restaurants on the island.
In addition to snorkeling and diving, on this island there are also rides and water sports that you can try. There are also canoes that can be climbed. There are also water skis, banana boats, knee boards, and also jet skis. Tourists can also fish there, you know.
In addition, tourists can also cycle through the island with a typical tropical island atmosphere. When else can you cycle on a cool tourist island?
Read also:
Facilities on Sepa Island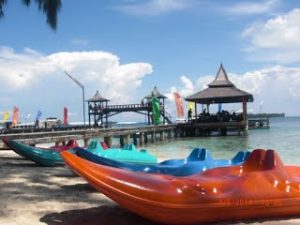 Tourists who will visit this island do not need to worry, because tourist accommodation will be easily fulfilled because the island is already well developed. Some of the facilities that can be enjoyed on this island include:
Most of the food on this island can be obtained from restaurants with very special food menus. There are also several restaurants that provide food with a buffet system. The food on this island is no less delicious than the food on other island resorts in the Thousand Islands.
As explained above, this island already has lodging that can be rented. This inn is a cottage style with buildings made of wood and bamboo. These cottages will certainly add to the naturalness of this island. There are several types of cottages on this island, including turtle types A and B which have a terrace, 1 queen bed and 1 single bed, complete with TV and AC facilities and a shower toilet.
There are also turtle types 1-10 which have the same facilities as 10 cottage units. There is also a type A snapper with better privacy. In addition there is a napoleon type with 2 single beds. Lastly, there is also an octopus type with 2 queen beds facilities.
Read also:
Travel Tips to Sepa Island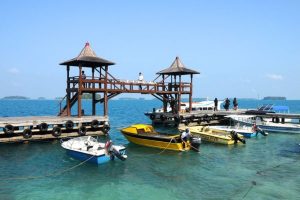 From Jakarta, a trip to Sepa Island can be done by heading to Muara Angke Harbor. From the port, tourists can look for boats that will take them to Sepa Island. Usually to go to Sepa Island, tourists will also depart from Marina Ancol Pier. From the Marina, there will be boats departing every 8 am and 2 pm.
The sea trip takes approximately 2 hours. There are also tourists who visit Sepa Island after spending time on Harapan Island. From Harapan Island itself, it only takes 20 minutes to get to Sepa Island.
Tourists who want to spend time on vacation on this island should read the following tips.
Choose a good boat rental service with good ship quality so that the trip becomes more comfortable. If needed, hire a boat to cross there in advance so you don't get confused when you get to the Thousand Islands.
Pay attention to the capacity of the ship so that there is no loss. If necessary join a group of other travelers to save expenses. No need for prestige.
Tourists are better off haggling the price of the boat in order to get a much cheaper price.
If tourists don't want to bother thinking about a well-thought-out plan to travel on Sepa Island, just use a tour service that has provided many tour packages to Sepa Island, the Thousand Islands.
If you want to stay overnight, choose the cottage that best suits your budget. Always check the price of lodging on Sepa Island, because the price of lodging there is not cheap. Rather than regret it, it's better to check the price first before deciding to take a vacation. Or, just book lodging well in advance of leaving.
Read also:
Thus the explanation of the Thousand Islands Sepa Island that can be visited when traveling to the Thousand Islands. Always remember to plan your trip very well so that no vacation activities are wasted. Happy holidays and hopefully useful.