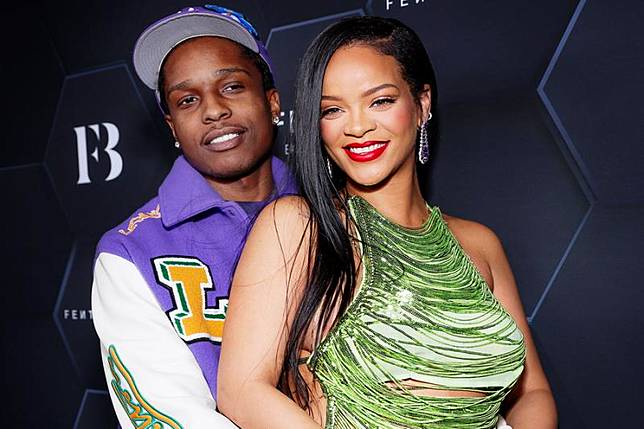 LOS ANGELES, celebrities.id – Hip hop singer Rihanna and her boyfriend, A$AP Rocky attend the Fenty Beauty Universe in Los Angeles, Friday (11/2/2022) night. Despite being pregnant, Rihanna looks attractive posing on the red carpet.
"We dress unbelievably together," Rihanna told People who interviewed her.
This 33-year-old woman chose a dress that exposed her baby bump. She looked elegant in an open green halter top. A similarly styled pant featuring a silver hue at the top and a purple gradient at the leg.
The lover of A$AP Rocky did not want to lose. He wore a purple Louis Vuitton letterman jacket with a matching purple shirt underneath. He completed the look with ripped jeans, a purple hat and a pair of green sneakers.
"I don't know what she was wearing before. I didn't even see her because she immediately left the studio to come here," said Rihanna evasively.
Solidarity in choosing clothes, he admits, often happens between the Grammy Award winner and his girlfriend.
A source confirmed November 2020 that Rihanna and A$AP Rocky are dating after years of being friends. Late last month, Rihanna and the rapper posed for photos in New York City.
At that time, Rihanna's stomach began to bulge. She wears a long pink oversized jacket, but the buttons are left open to reveal her belly which is decorated with a golden cross with colorful gems.
In one photo taken in Harlem, where A$AP Rocky grew up, the rapper kisses his mother-to-be on the forehead as they enjoy snowy walks. Shortly after the photos went viral, a source said that Rihanna was excited to welcome the new baby.
"Having a baby was something she never focused on, but being with Rocky opened her up to the idea," the source said.
Other guests at the Fenty Beauty Universe Show included Tinashe, Evan Ross, Madison Beer, Michelle Young, and Nayte Olukoya.