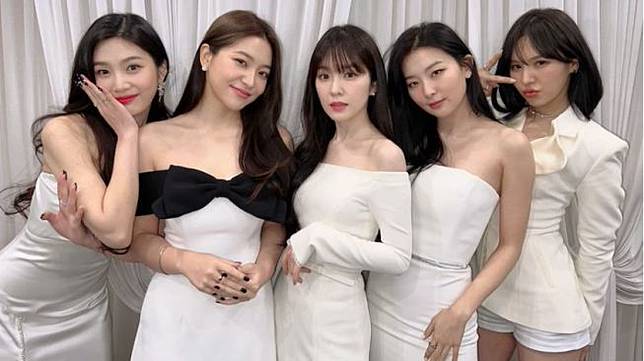 Suara.com – Red Velvet will be holding the '2022 The ReVe Festival: Prologue' concert this March 2022!
Last week, SM Entertainment confirmed that Red Velvet was preparing a new album to be released in March.
Then on February 21, 2020, soompi reports that SM Entertainment announced that Red Velvet will also be holding a special live concert in March.
The concert is titled '2022 The ReVe Festival: Prologue,' and will be held at the SK Olympic Handball Gymnasium from March 19, 2022 to March 20, 2022.
This is Red Velvet's first concert as a full group in two years and three months, since their last concert 'La Rouge' in November 2019.
Especially for the March 20, 2022 concert, it will be broadcast live through the Beyond LIVE platform, so fans who can't attend in person will still be able to watch the concert.
Concert tickets will be available to official fan club members on February 23, 2022, while new non-members can purchase tickets on February 25, 2022.
Red Velvet debuted on August 1, 2014 with the release of the single 'Happiness' with the formation of four members Irene, Seulgi, Wendy and Joy.
The fifth member, Yeri only joined the group in March 2015, after Red Velver released their first mini album, 'Ice Cream Cake.'
Their hit singles 'Red Flavor' and 'Power Up' reached number one on the Gaon Digital Chart. Many of their other songs have charted on both the Gaon Digital Chart and the Billboard World Digital Song Sales chart including 'Happiness,' 'Ice Cream Cake,' 'Dumb Dumb,' 'One of These Nights,' 'Russian Roulette,' 'Rookie,' 'Bad Boy,' 'RBB (Really Bad Boy),' 'Zimzalabim,' 'Psycho,' and Queendom.' They also penetrated the Japanese music scene with the release of 'Cookie Jar' (2018) and 'Sappy' (2019).
Red Velvet has received many awards, including the Golden Disc New Artist Award, the Mnet Asian Music Award for Best Girl Group, the Korean Music Award for Best Pop Song, and the Asian Artist Award for Song of The Year.
Red Velvet's wide influence has been recognized by Forbes Korea Power Celebrity ranked 11th in 2018 and fifth in 2019.
The group has also been named one of the most popular K-pop groups by Time and Billboard and is the fifth most-streamed K-pop artist worldwide on Spotifyper in February 2020.
There is no doubt that Red Velvet's '2022 The ReVe Festival: Prologue' concert in March 2022 will be epic. How about it, are you ready to watch?