West Java does have a million interesting charms to be explored as a tourist attraction. One of them is the Lembang Bandung area, which is an area located in the highlands so that it has a cool and natural atmosphere. No wonder there are so many tourist objects that offer a natural concept for tourists as well as places with a natural feel in Bandung. For those of you who plan to visit Lembang, try visiting a new tourist attraction there, such as Rainbow Garden Lembang. Here are some explanations.
The beauty of Rainbow Garden
Rainbow Garden is a natural tourist attraction that has a concept in the form of a garden or garden. As the name implies Rainbow Garden which means Rainbow Garden, this garden or tourist park does display beautiful colors. Coupled with the cool temperature because it is located in a highland location, visitors will definitely enjoy traveling in this park.
The presence of Rainbow Garden Lembang is a complement to other tourist attractions in Lembang which are also close to nature. For example Begonia Flower Garden, Rizal Flower House, Lembang Orchid Forest or Cihideung Flower Garden. So that Rainbow Garden can be used as an alternative location for gardens or flower gardens that are attractive and also close to Bandung, of course with various facilities that are quite complete.
Rainbow Garden Attraction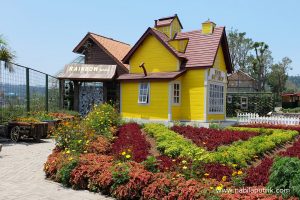 As explained above, the main attraction of Rainbow Garden Lembang is the flower garden or beautiful flower garden. One of them is the existence of a beautiful flower garden in the style of Japan or the Netherlands. This flower garden is designed with a variety of natural colors from the plants and flowers that are there. There are various types of flowers that are arranged or arranged like a rainbow, so that when the flowers bloom, they will create beautiful colors like a rainbow.
The location of Rainbow Garden is on a slope of approximately 45 degrees. So that the arrangement uses terracing techniques. Visitors can also enjoy mountain views from this garden, so the cool atmosphere will be felt even more. What makes this garden atmosphere similar to Japan is the presence of lavender flowers which are similar to cherry blossoms.
At least there are approximately 100 types of flower plants that are arranged well in this one of the most beautiful flower gardens in Indonesia. These plants were obtained from flower farmers in Lembang and its surroundings. So that the existing flowers are the result of local community nurseries. The flowers planted are also chosen which can bloom all the time, both the dry season and the rainy season, so that visitors can come in all seasons.
Another unique and interesting thing about Rainbow Garden is that about 80% of the plants grown there are edible or often referred to as Edible Flowers. Of course this will provide new knowledge or insight for visitors. Children and visitors of all ages are also safe to play and tour in this garden. Especially children who still like to put things in their mouths.
Because Rainbow Garden is also still in the Floating Market area, there are various choices of other tourist locations that can be visited there. So that visitors can enjoy the atmosphere at the tourist location with more complete facilities. Especially for those of you who have enough free time to explore other tourist locations in the Floating Market.
Activities at Rainbow Garden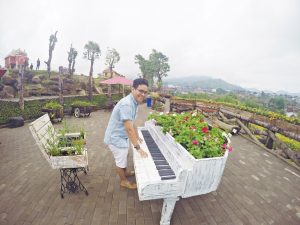 As a tourist attraction, of course Rainbow Garden Lembang needs to have various facilities to accommodate the activities of its visitors. Here are some things to do at Rainbow Garden.
Shopping tour, where visitors can shop for various types of flowers and various other plants. There are also some organic plants and a souvenir shop.
photo spots, where visitors can take pictures in some interesting spots for photo backgrounds. In addition to the park, there are also some interesting spots for photo spots.
Culinary tour, where visitors can enjoy culinary tours around Rainbow Garden with gazebos or huts as a place to eat. Prices for food and drinks also vary, ranging from Rp. 5,000 to Rp. 50,000 which can be chosen according to taste.
Natural tourism, where visitors can enjoy the natural atmosphere in the tourist garden while releasing fatigue and breathing fresh air.
Those are some exciting activities that can be done in this tourist spot. Besides being able to do some of the exciting activities above, visitors can still enjoy the atmosphere of Lembang by staying at several inns or hotels in the vicinity. Especially for visitors who want to explore Lembang from outside the city.
Rainbow Garden Entrance Fee
This tourist attraction is a tourist attraction that is quite cheap and affordable. Even the Rainbow Garden Lembang entrance ticket price is only Rp. 20,000 per person. Even then, it can be exchanged for a welcome drink or drink. In addition, if you want to enter the Rainbow Garden area, you will be charged another fee of IDR 10,000 per person. You can visit there every day. On weekdays this attraction is open from 09.00 to 19.00 WIB. While on weekends it is open from 08.00 to 20.00 WIB.
Location of Rainbow Garden
This tourist spot in Lembang is located in the Floating Market tourist area on Jalan Grand Hotel No. 33E, Lembang, West Bandung, West Java. The location is quite easy to visit because this location is indeed one of the popular tourist attractions in Bandung. The distance from the Pasteur Bandung toll exit is about 18 km or can be reached in approximately 1 hour. You can also look for lodging around this tourist attraction if you really need it. Because in Lembang and around Rainbow Garden there are still other tourist objects that are a pity to miss, especially during the holiday season.
Those are some explanations about Rainbow Garden Lembang that you need to know as an attractive and modern natural tourist attraction and featuring a beautiful garden with blooming flowers. Hopefully the above information is useful for you, especially those who want to travel to Lembang Bandung.