Central Java is a province on the island of Java which is quite popular to visit as a tourist spot. One of them is the existence of Mount Lawu, which climbers often go to when the climbing season begins. Mount Lawu itself does have a stunning natural beauty. In addition, this mountain is also quite friendly for climbers, so that every climbing season, this mountain will still be crowded with tourists from various parts of Indonesia. If you plan to travel to Mount Lawu, there is also another tourist attraction that is quite sacred, namely Pringgodani Waterfall.
Pringgondani Privileges
Pringgodani Waterfall is a Tawangmangu Tourist Place which is quite sacred. Even this tourist attraction is not actually a natural tourist attraction, but a religious tourist attraction, especially for adherents of certain beliefs. However, the atmosphere and scenery of this waterfall is very beautiful. The specialty of this waterfall is that it consists of 2 levels. This waterfall is also very high and the height even reaches more than 100 meters. This uniqueness is what causes this waterfall to be known. Although the name is not as popular as Grojogan Sewu Waterfall, however, the beauty of Pringgondani is still charming.
Because it is on the slopes of a mountain, of course the air temperature around the waterfall is very cool. The typical green scenery of the mountain slopes will spoil the eyes and also soothe the soul. Suitable for tourists who want to unwind and be closer to nature. However, this waterfall cannot be reached from close range and can only be seen from a distance. This is because the forest is still lush and also its existence is considered sacred.
Besides waterfalls, this tourist spot in Central Java is also known for the existence of the Pringgondani hermitage or petilasan. There is a joglo house which is often used as a sacred place by people with certain beliefs. The petilasan belongs to Grandmother Kacanegara. Next to it there is also a bridal spring. It is said that this spring is also sacred. There are seven springs in total and emerge from the hillside. This location is also often used as a location to start rituals.
From the main road, the journey can be started by passing through the surrounding settlements. And because local residents work as vegetable gardeners, the view of the residents' vegetable plantations will look beautiful. Most of the vegetables grown include onions, cabbage, chilies, and carrots. Along the way, if you are lucky, you will find wild forest monkeys that descend into the residents' plantations. Indicates that this location is still very natural. If tourists look to the west, a view of the mountains in Karanganyar and Mount Merapi will appear. Meanwhile, if you look to the east, you will see a view of the waterfall.
From there, tourists can continue their journey on foot on the trail. Currently the path has been given a ladder of cement. Up ahead there will be a fork. If you turn left, you will come to petilasan. If you turn right, you will reach Sendang Temanten and also the location of the waterfall. In addition there is also a lake called Telaga Wali. But to get there, the climbing route is more extreme.
Location of Pringgondani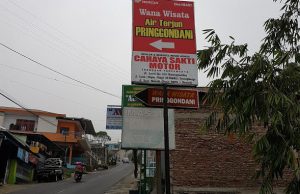 The location of Pringgodani Waterfall itself is in Blumbang Village, which is about 4 kilometers from the Tawangmangu terminal. One of the waterfalls in Indonesia is right at the foot of Mount Lawu with a height of 1,531 meters above sea level. If you want to visit this location, tourists need to walk approximately 1.5 to 2 kilometers from the main road. The road that must be traversed is quite steep and slippery and needs to penetrate the forest.
Tawangmangu itself is a sub-district of Karanganyar Regency in Central Java. Tawangmangu District is indeed famous as one of the tourist areas with the main feature of cool and fresh air temperatures. Tawangmangu can be reached easily by two-wheeled or four-wheeled vehicles from Solo or Surakarta.
In Tawangmangu, there is also another famous tourist attraction, namely Grojogan Sewu Waterfall. There is also an initial position for climbing to Mount Lawu, namely the Cemorokandang Post. Mount Lawu itself is one of the most beautiful mountains in Indonesia that can be climbed. Tawangmangu is also a location that can get to Sarangan Lake in Magetan quite easily. No wonder if in Tawangmangu there are lodging and hotel accommodations for tourists.
History of Pringgondani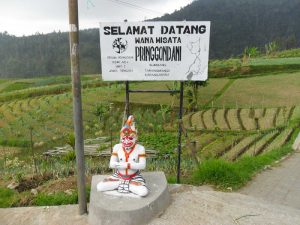 According to stories from local residents, in the past, this location was a hermitage or a place for someone to meditate. That person is the one who can defeat Prabu Baka who lived in the era of the Kaling Kingdom. However, there are also those who believe that the location around Pringgondani used to belong to the power of Prabu Brawijaya V who was also the king of the last Majapahit kingdom. Just from Prabu Brawijaya V, this location was handed over to Grandmother Kacanegara.
People believe that this is where Grandmother Kacanegara is imprisoned. The method of imprisoning Grandmother Kacanegara is to stick a stick in the ground. The goal is to live eternally. It is believed by the local community that the stick of Grandmother Kacanegara will grow into a tree. The tree is now referred to as Kayu Lewung by local residents.
Reportedly, Grandmother Kacanegara's desire to live eternally was not achieved. Therefore, Grandmother returned to imprison. However, the hermitage was carried out at the top of Mount Lawu. This is done on the instructions of the teacher. Such is the history that is believed by the local community related to the legend around this Pringgodani Waterfall.
Pringgondani Travel Tips
If you want to visit Pringgodani Waterfall, here are some Travel Tips to Waterfalls that need to be considered.
It is better to use a private vehicle, because this tourist attraction does not have access if you use public transportation.
However, if you want to use public transportation, try going to Tawangmangu Terminal by bus (from Solo). At Tawangmang Terminal, you can take small city transportation. Ask the angkot driver to drop you off at Pringgondani tours.
This tourist location does not yet have complete tourist facilities, so it is better to bring your own food and drinks.
It's better to come in groups and not alone, considering that this tourist location is still quiet, sacred, and you need to walk in the forest first.
Wear comfortable sandals or trekking shoes.
Bring a rain coat if traveling in the rainy season.
Prepare the stamina to walk, because to walk there takes approximately 1.5 to 2 hours.
Those are some explanations about Pringgodani Waterfall which can be visited as a natural tourist attraction which is quite sacred in Tawangmangu, Central Java. Hopefully this article can provide useful information.