Yogyakarta Province as one of the tourist destinations in Central Java never runs out of tourist sites. Even though the government of the city of Yogyakarta cannot be said to be included in the province of Central Java. However, its location which is still in Central Java makes it can be said to be part of a tourist destination in Central Java. This city never runs out of tourist attractions, ranging from cultural tourism, history, culinary, education, to nature tourism. Pok Tunggal Beach in Gunungkidul is one example of the many tourism potentials that exist in the Jogja area.
We can find a lot of beach tourism in Jogja and every beach in Jogja has its own characteristics that are very different from the others. Likewise with this one beach, there are several things you should know about this one beach, such as,
Origin of the name Pok Tunggal
The name of this beach itself comes from a tree that lives on the beach. The people of Yogyakarta call the tree the Duras Tree. And it can be said that only a single pok beach has this Duras tree. Seeing this situation, many people began to name the beach with the name Pok Tunggal Beach.
In addition to this theory, there are also those who say that this beach comes from the abbreviation of the name of the community group that first managed this beach as a tourist spot. some say that this name comes from the only source of fresh water in this area. There are many speculations and stories about the origin of the single Pok name itself.
This beach itself was first officially opened with various kinds of management, namely in 2012. Since it was first officially opened as a tourist spot, this beach has always been hunted by many tourists. Most of them were curious about the Duras Tree itself.
Pok Tunggal Beach Privileges
Pok Tunggal Beach in Gunungkidul has slowly but surely become one of the tourist attractions in Jogja that cannot be underestimated. tourists from various regions began to arrive since this location was first opened. local residents who also act as managers see this situation, then they play an active role in maintaining the condition of this location. Don't be surprised if we are reprimanded if we litter or do things that lead to damage. sometimes some even get a fine. this is because the manager, namely the local people, wants to maintain the cleanliness and beauty of this beach itself.
The beauty of this beach is indeed a lot. In addition to the clean state of the beach and the wide white sand, there is one more thing that is quite amazing on this beach. The rock cliffs that rise firmly on this beach seem to add to the beauty of this beach. unfortunately this one stone has not been explored by the manager. Of the total length of the beach itself, you could say almost 30% are rocks. If the rock cliffs are used as a new tourist addition, it will further add to the lively state of this single pok beach.
Sunset at Single Pok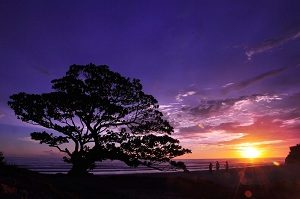 besides its white sand and towering rock cliffs. One more thing that cannot be separated from this one beach, namely the sunset. It has become a common thing that the beach is always associated with the sunset. as well as this one beach. The beauty of the sunset time presented by this beach is one of the most beautiful sunset spots in Indonesia. So don't be surprised if at times before sunset this place becomes crowded with visitors.
The beauty of the sunset on this beach is also supported by the existence of the Duras tree. There are many photos that capture the beauty of the sunset on this beach by including the Duras tree element in the photo. This is what makes the sunset on this beach even more beautiful.
for those who like photos and like a calm sunset atmosphere. then this location is the right place for you. there are several things that support this place to be good, namely very minimal light pollution. This condition allows us to see natural light clearly. for photography lovers, you should include this single pok beach in the list of places to visit in jogja.
Facilities at Pok Tunggal Beach
If we talk about facilities, you could say this beach itself has adequate facilities. although this beach is managed by the surrounding community, they really pay attention to the supporting facilities. although not very complete, but there are some facilities that we can find on this beach such as
public toilet
parking lot
beach umbrella
dome tent
camping area
places to eat
This camping area itself is intended for those who still want to enjoy the beauty of Pok Tunggal beach at night. Although the lighting on this beach is arguably lacking at night. but it makes us feel closer to nature. enjoy the evening breeze, while looking at the rows of stars and milkyways in the sky. Of course, the offer is not something we can ignore for sure.
Route to Pok Tunggal
The distance that must be taken to reach Pok Tunggal Beach in Gunungkidul itself is quite far. The distance from this beach to the center of Yogyakarta is about 70 Km. This distance is quite far, we can recover within 2 hours to 2.5 hours if we use a private vehicle. Don't be afraid to get lost because we just have to take it to the south of Jogja. If you are still in doubt, don't be afraid to ask the locals. or we can rent a rental vehicle and its driver to be more convincing.
Road access to this location itself is relatively good. this is because the road from the city center has been flattened. However, when we approach this beach within 1 or 1.5 kilometers the road will become a bit ugly, because it has not been repaired. so we have to stay alert.
Tips
Well, if we are on vacation to Jogja with a minimal budget and want to go to the single Pok Beach. Here are some vacation tips in Jogja that you can use, including:
if you are on vacation with a group, you should just rent a vehicle
if you want to experience a simpler vacation, you can use the bus
if you choose to use the bus, then from the terminal you can use an ojek service
it's better when you go to a single group to bring your own lunch, because the price can be more expensive
make sure to use the right money in every transaction
Well, that was some info about Pok Tunggal Beach in Gunungkidul, I hope it's useful.