Banyuwangi is a city in East Java which is directly adjacent to the Island of the Gods, Bali. Banyuwangi is currently intensively making improvements to the tourism sector for the purpose of elevating the city's image. The natural beauty of Banyuwangi is not inferior to other tourist cities. After the global tour of Ijen Crater thanks to its blue fire, Banyuwangi also still has another beauty that has the potential to be developed into international tourism, namely Plengkung Beach, Banyuwangi.
Plengkung Beach Privileges
Plengkung Beach is also known as G Land Beach. This beach is one of the favorite tourist destinations for Caucasians who like surfing or surfing. How come? This beach has very big and rolling waves. These waves are what these outdoor surfing sports activists are looking for. In fact, this beach is said to have the best waves in Southeast Asia for surfing activities, and is one of the 7 beaches with the best waves in the world.
Because it has very good waves for surfing, visitors who come are usually those who are involved in this sport. Activities that can be done is surfing with waves that reach a height of 8 meters. Of course, this condition will provide its own experience for surfers. However, if you can't surf and are just trying, it's better not to try on this beach because it's quite dangerous.
For visitors who do not have surfing talent and do not want to surf, this beach can still provide the best views. The beach which is one of the exotic tourist attractions in Banyuwangi is very beautiful and can be explored freely. Even if you want, tourists can also take a boat to see more closely how the surfers perform their attractions on the rolling waves.
Tourists can also enjoy the beauty of this beach by tracking. The beach, which is located in Alas Purwo National Park, has various other spots that can be visited. There are also snorkeling spots, fishing spots, diving, and even caving that can be done. In the vicinity there is also a turtle hatchery that will provide education about turtles.
Plengkung beach is also known as G Land. This name is taken from the philosophy of the formation of the waves that roll up and form a letter like G. There are also those who say that the letter G is taken from Grajagan bay, which is the name of a bay directly adjacent to the beach. That is the origin of Plengkung Beach, also known as G Land by foreign tourists who come there.
Location of Plengkung Beach
Plengkung Beach Banyuwangi is located at the southeastern tip of Java Island. This beach is a beach from the southern coast of Java Island which is directly adjacent to the Indian Ocean. No wonder the waves on this beach are very big and amazing. As described above, this beach is a part of the Alas Purwo National Park Banyuwangi. Alas Purwo itself is one of the tourist attractions in Banyuwangi which is quite wide and also has several other tourist spots.
Route to Plengkung Beach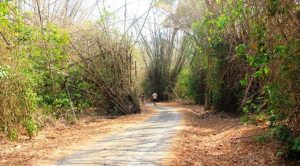 Because it is located in the Alas Purwo National Park area, of course access to Plengkung Beach can be done by going to Alas Purwo National Park. However, access to this beach is still difficult. This is because the location is quite remote and must pass through rudimentary roads. However, this is actually the main attraction of Alas Purwo National Park. Moreover, most of the tourists who stop by there are Caucasians from outside Indonesia.
The first route is a land route that can be reached from the city of Banyuwangi. From the center of Banyuwangi itself, Pantau Plengkung has a distance of 86 kilometers. If you want to go to this beach, you can drive via the Kalipait route to get to Pasaranyar. From Pasaranyar, go to Trianggulasi, Pancur, then look for a route to Plengkung Beach.
Another route is a land route followed by a sea route, namely by heading to Benculuk (from Banyuwangi city) then to the Grajagan area. From Grajagan, tourists can take a speedboat to be escorted to the beach. If you want to visit this tourist spot in East Java, just determine the closest route from your current position.
Plengkung Beach Facilities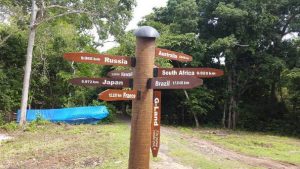 The facilities on this beach are also quite complete. Although it takes a tiring journey to get there, it turns out that the facilities there are suitable for traveling, even staying overnight. There is a hotel that can be rented to stay. Most hotels or inns there cost around IDR 1,000,000. Quite expensive for domestic tourists. But most of these prices fit in the pockets of Caucasians who want to stay overnight. This location will remind you of the Most Beautiful Beach in Bali because it is dominated by foreign tourists.
The facilities at the hotel and inn are also quite good, such as free internet facilities, good food, and comfortable beds. In addition to hotels and inns, on this beach there are also other facilities such as surfboard rentals, restaurants or restaurants, jungle camps, bars, and many more.
There are several activities that can be done besides surfing at this beach, including:
Fishing – There is a fishing spot on this beach which is suitable for tourists who like fishing. While fishing, tourists will be faced with super beautiful views of the Indian Ocean at Plengkung Beach.
Playing with sand – Plengkung Beach has a white sandy beach so it can be used to play around the beach.
Bicycle – Tourists can also cycle around this beach by renting a bicycle around Alas Purwo National Park.
Snorkeling and diving– There are also snorkeling and diving spots that are safe enough to be used for diving to see various unspoiled underwater scenery.
If you want to surf or see the attractions of the surfers, there is a recommended best time to visit, because the big waves at this beach do not occur all year round. The best time to surf at this beach is from April to October. So if you want to see the activities of a reliable surfer with a professional level of ability, come around April to October. Especially in August, where the waves are really big there.
Those are some explanations about Plengkung Beach in Banyuwangi that you need to know for tourist information for tourists who want to visit there. Hopefully useful and happy holidays.