Some guests choose to relax on large pillows (bean bags) while drinking juice, while others prefer to sit at wooden tables and chairs while eating local seafood. There are also those who come here just to play billiards in the main building.
If we travel to West Java or more precisely to Pangandaran Regency, surely the first place we will think of is Pangandaran beach. Pangandaran beach is always crowded with visitors during holidays especially at the turn of the year and school holidays.
Read also:
Pangandaran Beach History
Pangandaran beach just like any other public place has a history. Pangandaran comes from two words "Pangan" which means food and "Daran" means immigrant. So, Pangandaran means a source of food for immigrants.
Before becoming Pangandaran Beach, this Pangandaran beach had the name Pananjung Village. The elders gave the name Pananjung because right next to this area there is a promontory, Pananjung has a meaning in Sundanese Pangnanjungna The meaning in Indonesian is the most fertile or the most prosperous.
Apart from being adjacent to a headland, Pananjung is also the name of a kingdom that once stood on Pangandaran Beach. The king who led the Pananjung kingdom was King Anggalarang. In 1922, Pananjung Village was turned into a park by releasing 1 bull, 3 cows, and several deer by the president of Priangan, Y Everen. Pananjung Village has a variety of rare animals and plants. In 1934 Pananjung was officially used as a nature reserve and wildlife reserve. In 1961 Pananjung turned into a nature reserve because of the discovery of the Rafflesia flower. In 1978 Pananjung Village which had 37.70 HA was used as a tourist park and in 1990 the area of ​​the nature reserve was expanded to 470 HA.
Pangandaran Beach Location
Pangandaran beach is located in the southeastern part of West Java. Pangandaran Beach is located in Pangandaran Regency, Pangandaran District, and Pangandaran Village. Pangandaran has a nature reserve area with an area of ​​470 HA and there are natural caves that are hundreds or even thousands of years old.
Price of admission
Pangandaran beach is one of the tours that the entrance fee is cheap. The rates currently in effect are:
Pedestrian 1 person IDR 5,800,-
Motorcycle Rp.12.500,-
Jeep type vehicle Rp. 32,000,-
Vehicle type carry Rp. 61.000,-
L300 vehicle Rp. 89,000,-
Small bus Rp. 118.000,-
Medium bus Rp. 181.000,-
Big bus Rp.297,000,-
The ticket price above includes the cost of insurance, garbage, and parking.
Tourist Area
In addition to Pangandaran beach, there are many tourist destinations that you must visit:
1. East Coast
Pangandaran east coast is very well known for its underwater beauty. Often used as a spot for snorkeling. There are several water rides on the east coast, namely:
Banana boat
Big mable
donut jumper
Parasailing
and there are many water games that will trigger your adrenaline. In addition to beautiful scenery and extreme rides, the east coast is known as the center for seafood souvenirs and the best fish market in Pangandaran. (Also read: Eid holiday tips)
2. West Coast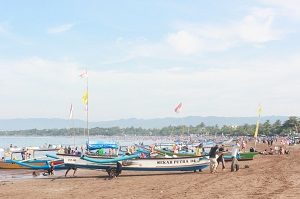 The west coast is a prime spot for swimming and there is a lifeguard on standby at all times. The west coast is also famous for its white sand, where white sand is the most visited spot.
There are many rental service providers for surfing on the west coast and are definitely accompanied by surfing experts. In addition to swimming or surfing, you can enjoy the west coast by riding around on a horse. (Also read: Lebaran tourist attractions in Jakarta)
3. Green Canyon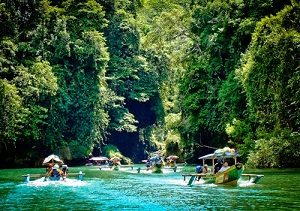 Green Canyon is located in the village of Kertayasa – Cijulang 31 km from Pangandaran. Green canyon has the beauty of the clarity of the water.
You can swim in the river currents with very clear water and can see the animals that are in the river flow. For challenge lovers, you can try jumping from a cliff that has a height of 5 meters.
And one of the favorites of tourists in Green Canyon is Body Rafting. Complete your vacation with a trip to this green canyon. (Also read: Lebaran tourist attractions in Bandung)
4. Batu Karas Beach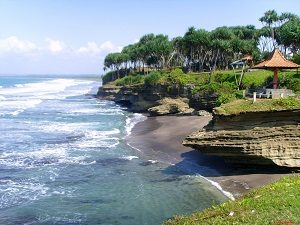 Batu Karas Beach is located in Batukaras Village, 34 km from Pangandaran. Batu Karas beach is still very clean, and has very white sand.
The sea waves are not too big, so it is very safe for swimming and you will definitely want to linger on this karas beach. You can also surf on this Batu Karas beach.
Besides surfing, you can also try jet skis, banana boats, and ride a horse carriage on this beach. Complete your vacation by visiting this Batu Karas beach. (Also read: pre-wedding place in Bekasi)
5. Citumang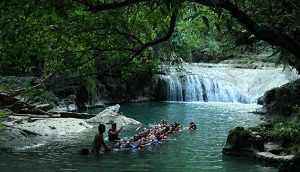 Citumang is located in Bojong Village, Parigi Ciamis District, about 15 km from Pangandaran to the West. This natural tourist spot is a river that divides the teak forest, the river water is bluish.
Along the sides are many lush trees, the sound of river water splashing clearly and rocks with deep relief niches. You can swim at a certain depth.
In Citumang there is Taringgul Cave which now has the name Sanghyang Tikoro. (Also read: pre-wedding place in Jogja)
6. National Park Nature Reserve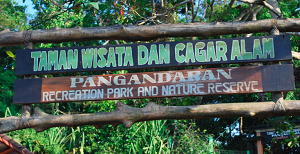 The nature reserve national park is located between the east coast and the west coast. This nature reserve national park has a diversity of flora and fauna, there are also natural caves such as Goa Rengganis, Goa Lanang, Goa Sumur Mudal, and Goa Miring.
Fauna in this nature reserve national park include long-tailed macaques, langurs, deer, bats, kangaroos, Javan porcupines, tando, bison, deer, and many other fauna. While the flora are laban, kisegel, merong, barringtonia, and many more. (Also read: tourist attractions in Kupang)
Dining Area
A vacation without enjoying culinary tastes is incomplete. In Pangandaran is not inferior to other tourist attractions, below are some recommendations for places to eat in Pangandaran including:
1. Karya Bahari Restaurant
Vacationing to the beach is incomplete if you don't eat seafood. The maritime work restaurant is one of the restaurants that is always busy every day. How to order, directly choose the fresh seafood you want, then choose how much and you want it served fried, grilled, or with what sauce you want. (Also read: preparation for a vacation to the beach)
2. Dewala Dawet Hitam
You can find this black dawet Dewala in a traveling car. This black dawet consists of black dawet mixed with shaved coconut ice and palm sugar. Usually Dewala Dawet Hitam II cars go around the west coast. And you don't have to worry about the price, for only Rp. 5,000 you can eat this black dawet. (Also read: tourist attractions in Jogja)
3. Bamboo Beach Bar
This Bamboo beach bar is located opposite the Malabar Hotel close to the end of the west coast. This dining area has regular chairs or sofas. The types of food vary from Indonesian dishes, grilled seafood, to sandwiches. (Also read: tourist attractions in aceh)
4. Tiny Steak House
Tiny Steak House is a busy place when the sun goes down, at this place to eat live music is available accompanied by a bonfire. The recommendation from this place to eat is the pizza, besides pizza, steak is also available and there is also fried rice, gado-gado, capcay, and some seafood. (Also read: culinary tourism spots in Purwakarta)
Travel Tips
Prepare the right day for your vacation
Collect information about Pangandaran beach such as tourist destinations to be visited, hotels to stay at, culinary delights around these tourist attractions
Avoid carrying excessive items, such as carrying jewelry.
Make sure to bring light drugs
That's the discussion of our version of the coast of pengandaran. Hopefully reading this article can help make it easier to find information on tourist destinations around Pangandaran.
Read also: