Bogor is a city that has a lot of tourist motorcycle taxis. Many people in Jakarta always go to the Bogor area when the holidays arrive. No wonder, because Bogor does have many natural attractions that are cool and refreshing. So it is very suitable as a location to relax for a while. One of the popular tourist attractions in Bogor that has cool temperatures is Gunung Mas Agrotourism. Here are some explanations about this tourist attraction that you need to know.
Features of Mount Mas
This Gunung Mas tourist attraction in Bogor is very special, because it has beautiful views and the temperature is also very cool. No wonder, because the Gunung Mas Agrotourism tourist location is located at an altitude of approximately 1,200 meters above sea level. From there you can see views of Mount Salak and Mount Gede as well as other hills in the vicinity. Of course this will spoil the eyes and relax a tired brain.
The concept of tourism in Jabodetabek Nature Tourism is natural tourism that is more directed to tea gardens. There is indeed a large tea plantation. Visitors can visit it and even stay in the vicinity. This tea garden area is managed by PTPN VIII. The cool temperature in this area reaches 18-22 degrees Celsius. At night, the temperature can be even lower.
Another interesting thing about this tourist attraction is that visitors can enjoy various tourist facilities quite complete. Children are also suitable to be invited to travel here to introduce them to the natural wealth and cool fresh air. In addition, if you rent a tour guide, children can also experience educational tours, especially about tea and tea plantations. Thus, this one tourist location is also suitable for educative Family Tourist Attractions in Bogor.
Mount Mas Tourism Facilities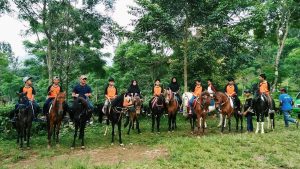 As explained above, there are many tourist facilities that tourists can enjoy. Here are some things that can be done in Gunung Mas Agrotourism while on vacation.
Tea Corner and Tea Cafe – Tourists can now enjoy a packet of walini tea at the Front Office of this attraction for free just by showing the entrance ticket. In addition, visitors can also enjoy tea time and fried bananas at the Tea Corner of this tourist area to relax.
Tea Walk – Tourists can also choose the Tea Walk tour package, which is trekking with a tour guide who will explain various things about tea and tea plantations. Suitable for children as an educational tour.
Riding a horse – Visitors can also tour the tea gardens on horseback. Even visitors can also choose how long and how far the route will be, of course with different rental prices. The type of horse that is there is the Sumbawa Horse.
Off road and ATV – Visitors can also rent an ATV or off-road car to enjoy the natural atmosphere there. Of course, by paying different rental prices for these two types of vehicles. This location is indeed one of the exciting and interesting Outbound Places in Bogor to try.
Swimming pool – In this tourist attraction there is also a swimming pool that can be enjoyed by tourists. But please always pay attention to the ambient temperature considering the temperature there is very cold. For those who cannot stand the cold, it is better not to swim.
Camping – There are also camping ground facilities or campsites around tea plantations that can be rented to set up tents. There are also tent rentals so visitors who don't bring a tent from home can rent there.
Staying in Pondokan – There are also various types of inns or lodges that can be rented to stay there. Of course at different prices.
hang – Tourists can also enjoy hanging games at this attraction. This game is very popular there. Even because of its popularity, many local people also call this location the Hanging Hill.
Souvenir shopping – Tourists can shop for honey news souvenirs as well as various types of tea. Of course, the souvenirs are very unique to the location of the tea plantation itself.
Mount Mas Ticket Prices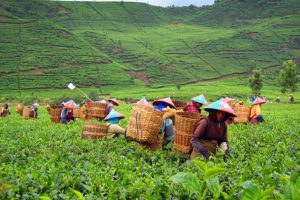 After knowing the various privileges and activities that can be done at Gunung Mas Agrotourism, of course you may be wondering about the price of admission and also the prices of various facilities available at the Bogor Regional Hunting Place.
Actually, the entrance ticket itself is very cheap and affordable. However, if you want to enjoy the existing facilities, a separate tariff will be charged. Therefore, here is the latest price list for Gunung Mas Tourism.
The latest entry ticket price is IDR 15,500 (Previously it was only IDR 6,000 for the public and IDR 4,000 for students)
Price of Tea Walk route 4 km Rp 20.000
Price for Tea Walk route 6 km Rp 25.000
Price for Tea Walk route 8 km Rp 30.000
Price for Tea Walk route 10 km IDR 35,000
Equestrian route 15 minutes IDR 30,000
Riding route 30 minutes IDR 50,000
Off road car IDR 100,000 for 4 people per hour
ATV IDR 50,000 per 15 minutes
The swimming pool is IDR 5,000 for regular visitors and free for overnight visitors
Lodging starts from IDR 400,000 to IDR 1,550,000 for weekdays. For weekends starting from IDR 650,000 to IDR 1,850,000. As for holidays (red dates) starting from IDR 950,000 to IDR 2,150,000 per night.
Hanging Rp. 350.000
Yellow honey souvenirs IDR 350,000 per kilo
Souvenirs of black honey IDR 450,000 per kilo
Clear honey souvenirs IDR 600,000 per kilo
Black tea souvenirs IDR 30,000 per 200 grams
White tea souvenirs IDR 250,000 per 50 grams
Mount Mas . Location and Access
The location of Gunung Mas Agrotourism is in the Puncak Bogor area, namely on Jalan Raya Puncak, kilometer 87, South Tugu, Cisarua, Bogor, West Java. You can visit from 08.00 to 18.00. From downtown Jakarta, this location can be reached in 2 hours by private vehicle. This tourist location is also close to the Cisarua Safari Park tourist attraction so that it can be used as an alternative for Lebaran Tourist Attractions in Bogor with an exciting family. You can get there by going through the Ciawi Toll Gate, approximately 20 kilometers from there.
Those are some explanations about tourist attractions in West Java, namely Gunung Mas Agrotourism which can be visited as a tourist attraction while on vacation in the Bogor area. Hopefully this article helps provide useful travel information for you.