Enjoying natural tourism in Indonesia is never separated from the sea and the beach, because Indonesia is an archipelagic country that has a long coastline. One of the best locations to enjoy marine tourism in Indonesia is to visit the island of Sulawesi because not many tourists come there. Whereas in Sulawesi there is so much natural beauty that is still very natural. For example, some tourist attractions in Tondano or which can also be found in tourist attractions in Wakatobi in Southeast Sulawesi.
For those of you who want to visit Sulawesi, maybe you can go to Donggala Regency in Central Sulawesi. Because there is a tourist attraction in Central Sulawesi that is unique but still natural around Donggala Beach, namely the Donggala Sea Center Tour. This tourist attraction is unique because it may rarely be found in other places similar to this. Here are some explanations about this tourist attraction.
The Uniqueness of Donggala Sea Center
If you think that the Marine Center Tour in Donggala is a beautiful beach, then you are very wrong. Because this Marine Center Tour is not a beach even though its position is near the beach. Rather, it is a naturally formed well. This well is a giant well surrounded by rocks. This well can be seen from the road surface because it is very large with a wide mouth.
What makes this well unique is not only the natural formation process, but also because the water in it will remain clear and never cloudy. Even though this well has been used as a place to bathe or play in water for tourists, it never looks cloudy. The water in it is salt water because it is located near the Donggala beach. So this water will be salty when tasted. This salty taste is obtained from a path that connects the well with the sea. The path was currently covered with rocks.
Another uniqueness of this Donggala Marine Center Tour is the ups and downs. The well water will be high when the sea water is receding. On the other hand, this well water will recede when the sea water is high tide. So this does make this place very unique and also interesting because this natural phenomenon may not be found in other places.
Donggala Sea Center Location
Donggala Marine Center Tourism is located in Limboro Village, Central Banawa District, Donggala Regency, Central Suawesi. Local people refer to Donggala Sea Center as Pusentasi. The name is taken from the Kalili language which is the local language of the surrounding community. Pusentasi is taken from the word pusen which means center. While the word tasi which is the sea.
To get there, visitors can start the journey from the city of Palu. From Pali, visitors can continue the journey by vehicle to Donggala Regency (Banawa) with a distance of about 45 minutes. From Banawa to go to the Marine Center Tour, it takes about 10 minutes to travel.
Activities at Donggala Ocean Center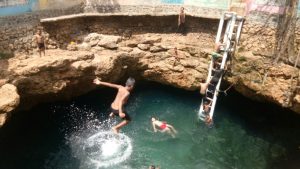 Basically because this tourist attraction is only in the form of a well, there is not much to do there. But you can try swimming in the well because the clarity of the water from this well will attract you to enter it.
This well water is not like a beach where you can play water freely. However, this 10 meter diameter well with a depth of about 7 meters will make you interested in playing water in it.
Around the edge of the well there is also a simple ladder that can be used as a place to enter or climb from the well. If you don't want to swim, you can also ask small children who are Donggala natives to come in and get you some water. Of course with a certain salary.
Donggala Beach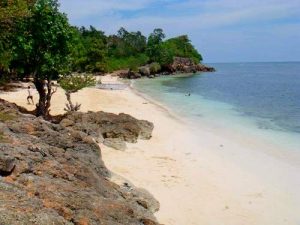 As explained above, this Marine Center Tour in Donggala is near Donggala Beach. Donggala Beach is one of the beaches that has white sand with a blue sea color and is one of the most interesting marine tourism in Indonesia to visit.
This beach will provide a unique tropical view of Indonesia and is very clean. This beach is managed by the local government as a tourist attraction so that its beauty is maintained. This location is suitable for enjoying the sea atmosphere that gets abundant sunlight.
Around Donggala beach there are also shady trees so it is suitable for a place to rest while enjoying the atmosphere and the breeze that is there. Visitors can also do snorkeling and diving on the beach because of the natural beauty of the underwater world.
Donggala Marine Center Facilities
Visitors who want to travel there can get quite complete facilities. Where there is not only a large well as the main attraction, but also has beautiful beaches to visit. In addition, there are also several food stalls that are suitable for you when you are hungry and do not bring food supplies. Visitors who want to stay around this tourist attraction also don't need to worry because there are several inns around Donggala Beach. Prices vary according to your needs.
Donggala Marine Center Entrance Ticket Price
Visitors can enjoy the beauty of this natural tourism by paying IDR 5,000 for child tourists, IDR 10,000 for adult tourists, and IDR 15,000 for foreign or foreign tourists. However, it is reported that this admission ticket is only valid on holidays and red dates. So if you visit Monday to Saturday, visitors will not be charged an entrance fee. So they can visit for free. Even though it's free, keep the environment around you. In addition, continue to respect the surrounding community who live near tourist attractions by remaining friendly and polite.
Those are some explanations from Donggala Marine Center Tourism that you need to know. Also know some of the Year-End Holiday References in Indonesia around Sulawesi for your alternative tour. Hopefully the explanation above is useful for you.