Indonesia, especially outside Java, is the best location to explore nature tourism. This is because tourist objects outside Java are still very natural because not many people touch them. Starting from mountain tours, lakes, to waterfalls, there are many kinds. Starting from Sumatra, Kalimantan, to Papua, everything is worth a visit. One of them is Sulawesi Island.
This island has a very long coastline because of the slender K-like shape of Sulawesi. Of course, there are many beach attractions that tourists can explore. However, it turns out that Sulawesi does not only have beaches. There are also charming waterfall attractions there. One of them is Momaro Falls.
Tourists who want to visit Sulawesi, especially Southeast Sulawesi, just stop by this waterfall. The location is in Southeast Sulawesi, precisely close to the city of Kendari. Here are some explanations that can be helpful and provide more information.
Read also:
Location and Access to Moramo
This waterfall is located in Sumber Sari Village, Moramo District, South Konawe Regency. The location is about 45 kilometers from the city of Kendari. To reach the location of the waterfall, tourists can choose several alternative vehicles that can be ridden, namely two-wheeled vehicles and four-wheeled vehicles.
For tourists from outside the Sulawesi area who do not have a private vehicle, they can rent a car from Kendari City at a price of around Rp. 350,000.
It can also be accessed via air, namely by taking a local plane from Wolter Mongunsidi Airport and getting off at the Tanjung Peropa Nature Reserve Forest. From this location, it is necessary to do trekking or walking as far as 2 kilometers.
During the walk to the waterfall, tourists will see the green and wide natural scenery. The forest reserve was formed in the past with a variety of beautiful flora and fauna. Along the way, tourists may be able to hear the chirping of birds calling each other, or the beautiful forest butterflies. All that will accompany the journey to the waterfall.
This waterfall was discovered by one of the residents from Java who lives in Sulawesi. In 1980. The man found the waterfall while hunting. Ten years later, this waterfall became a tourist attraction. The legend of this waterfall developed in the community as a location that is believed to be the bathing location of the nymphs from heaven.
Read also:
Moramo's Privileges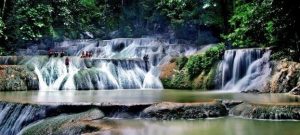 The flow of water in this waterfall comes from the Biskori River which originates from the Tambolosu Mountains, local residents use it as water for irrigation of rice fields and daily life. The community around this location has Javanese and Balinese ethnicities and is identical to the Balinese Hindu tribe.
This waterfall has a lot of beauty that will certainly make tourists feel at home there. Its wide and terraced form provides a rare sight that is rarely found in other waterfalls. In addition, because it is located in a forest nature reserve, of course there are many animals that are still very natural.
This waterfall is terraced with a height of approximately 100 meters. there are at least many tiers with 7 main tiers and more than 60 minor tiers. All levels of the waterfall will give a different feel when the water falls into it. There will be soothing gurgling sounds and natural harmony that soothes the soul.
Unlike waterfalls in general which have a large and high discharge, this waterfall has a standard discharge and is not too high. This is what causes tourists to play along the waterfall more freely.
The temperature there is quite cool. The surrounding scenery is still shady because it is in a protected forest area. Tourists can soak and swim in the waterfall pools as they please because this location is very impressive. The pool that is usually used for swimming is the pool on the second level because the pool is the widest and the water depth is not so deep.
The rocks in this Moramo waterfall come from limestone that is not slippery, so it is guaranteed to walk along the flow of the waterfall, tourists don't have to worry about slipping. In addition, if exposed to sunlight at the right time, there will be a rainbow that appears according to the splashing water and the ripples of the waterfall. This location is also said to save a lot of natural wealth in the form of marble.
Read also:
Facilities and Biota in Moramo
The facilities available at this waterfall include a large vehicle parking area around the location, bathrooms, toilets, and also a place to change clothes. There is also a place to rest for a while to unwind during the trip.
The waterfall area located in the nature reserve forest is an ideal location for the habitat of a variety of animals, such as colorful butterflies, birds, anoa, bbairusa, hornbills, and various other animals.
Travel Tips to Moramo Falls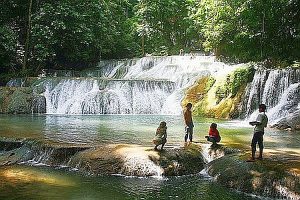 For tourists who want to visit Moramo, here are some tips to know to make your travel more comfortable.
Bring your own food and snacks, because there are no food accommodation facilities such as stalls or shops. Bring as much food as you can, because besides it will take a lot of time, a visit to a beautiful place is a shame to be done in a short time. Especially because of hunger. Tourists can eat or have a unique picnic there while enjoying the beauty of the waterfall.
Always keep the location of the waterfall clean. This is very necessary because nature must be protected. In addition, the water used by local residents for this activity must be kept clean so that no one is in trouble, especially garbage.
Bring a plastic bag for the trash. Dispose of the garbage in the plastic bag and take the bag outside the waterfall area. Dispose of the bag outside the tourist area.
Bring a change of clothes. Of course a change of clothes will be needed to explore this cool waterfall.
Read also:
Thus the explanation of Moramo Waterfall in Kendari, Southeast Sulawesi, which is still natural and beautiful. Always keep clean when traveling, especially in unspoiled locations. Happy holidays and hopefully useful.