The city of Bogor is still a city that is often targeted as a mandatory tourist destination for residents of Jakarta and its surroundings. Naturally, because the location of Bogor, which is not so far from Jakarta, will certainly be easier to reach. Moreover, in Bogor there are also so many Jabodetabek Nature Tours that can help relieve fatigue from the hustle and bustle of the city. If you want to travel with children in Bogor, one of the attractions that can be visited is Mekarsari Tourism. For more complete information about this tourist attraction, the following is an explanation.
Mekarsari Fruit Garden Features
Mekarsari Fruit Garden is the largest fruit garden in Indonesia that can be visited as a tourist attraction. The area even reaches 264 hectares. Of course, with such a large area, the scenery will be very beautiful and natural. As the name suggests, Mekarsari Fruit Garden is certainly overgrown with various fruit trees. And this is the main attraction of the Mekarsari tourism object. In addition there are also other types of plants that can be found there.
This tourist spot not far from Jakarta was founded in 1990 and was initiated by Tien Suharto, or the wife of the second President of Indonesia, Suharto. This tourist attraction not only allows tourists to see the fruit garden, but also allows tourists to get educational tours, namely by learning the procedures for planting fruit, the procedures for maintaining fruit, and the procedures for harvesting fruit. In addition, tourist facilities at this tourist attraction are also quite complete, namely with outbound locations, vegetable gardens, plastic houses, fishing locations, and so on. Of course, this location is suitable for family tourism as well as children's tourism.
Tourists can also choose a tour package at Mekarsari Fruit Park to make it more practical. For example, by following the Greenland Tour package. There will be many facilities that can be obtained, for example going around the fruit garden and even tasting various rare fruits or fruits that are not widely available in Indonesia. Tourists can also take a tourist train to get around and also enjoy the fresh air that is there.
This fruit garden has a wide variety of fruit collections that are quite complete as one of the educational tours in Bogor. Visitors can get more complete information about fruits and fruit plants here. In addition there are also other plants that can be studied there. Among the collections of plants in this tourist attraction include:
Seasonal fruit
Non-seasonal fruit
Rare unique fruit
Crops
Spice plant
Bio-pharmaceutical plants
Vegetable plant
industrial plant
Decorative plants
Protective plants
Mekarsari Fruit Garden Location
This fruit garden is located on Jalan Raya Cileungsi, kilometer 2, Bogor, West Java. The location is also very easy to reach, so it can be used as an alternative tour on weekends and long holidays. You can come to this attraction from 09.00 to 16.30 on weekdays, and 08.00 to 17.00 on weekends.
Activities at Mekarsari Fruit Garden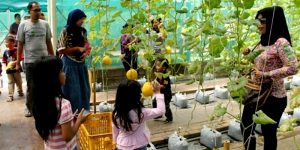 Tourists who come to Mekarsari Tourism can certainly get complete tourist facilities. This will be able to accommodate various kinds of activities that can be done in this tourist attraction. Here are some fun things to do in this tourist attraction.
Enjoy the attractions of gardens and cultivation
Enjoy the water attractions
Enjoying outbound bicycle attractions
Fruity boat tour package
Doing a canoe game
Playing dragon boat games
Playing giant bubble
Playing the water rickshaw game
Doing speedboat games
Doing outbound activities because Mekarsari is also one of the exciting Outbound Places in Bogor
Stay in several accommodations or inns (Treehouse, D'Cabin, Family camp, and Family biking camp)
Picking fruit
Tasting rare fruit
Get interesting education about types of fruit and plants
Climb the tower to see the beauty from a height (tower height 30 meters)
Hunting for photos at Mekarsari 3D Trick ART Rides
Game rides at Kids Fun Valley
Those are some exciting activities that can be done at Mekarsari Bogor.
Mekarsari Fruit Garden Entrance Fee
For those of you who want to visit Mekarsari Tourism while on vacation, here is information about entrance tickets and also some facilities as well as several tour packages to choose from. Hope this information helps.
Entrance ticket price for weekdays and weekends is IDR 25,000 per person
Peak season entrance ticket price is IDR 30,000 per person
4 wheeler Rp 20,000
2-wheeled vehicle IDR 10,000
Large vehicles such as buses IDR 35,000
As for the tour packages offered in Mekarsari, there are various. Here are some tour packages that you can choose from with the existing facilities.
Starfruit ticket IDR 43,000 with gate entrance ticket facilities, tourist train tickets, dragon boat tickets
Duku ticket IDR 43,000 with gate entrance ticket facilities, tourist train tickets, kids fun valley ride tickets
Salak ticket Rp. 43,000 with gate entrance ticket facilities, tourist train tickets, MTB bicycle ride tickets
Kepel ticket IDR 57,000 with gate entrance ticket facilities, tourist train tickets, speedboat ride tickets
Mangosteen ticket Rp. 83,000 with gate entrance ticket facilities, greendland tour ticket, and dragon boat ticket
There is also a pass from Mekarsari Fruit Park combined with Water Kingdom, which is IDR 75,000 for weekdays and IDR 100,000 for weekends. For this ticket, the facilities obtained are Mekarsari Fruit Park HTM, Water Kingdom HTM, deer feeding, and fruit garden carts.
Stay at Mekarsari Fruit Garden
As explained above, tourists can stay at this tourist spot in Bogor. Of course, by choosing what kind of accommodation you want. There are several accommodations with different prices and facilities offered, including the following.
Mekarsari Fruit Garden Tree House IDR 770,000 for weekdays and IDR 990,000 for weekends (4 people capacity)
D'Cabin IDR 660,000 for weekdays and IDR 880,000 for weekends (4 people capacity)
Family Camp IDR 800,000 (4 people capacity)
Family Biking Camp IDR 1,250,000 (4 people capacity)
Those are some explanations about the Mekarsari Tourism object that can be visited while on vacation to the Bogor area, West Java to enjoy the interesting and exciting concepts of nature tourism and fruit agrotourism. Hopefully the information above is useful for you.