If you are going to visit the Bandung area for a vacation and want to experience the natural nuances around Bandung, there is nothing wrong if you go to the North Bandung area. There is a tourist area formerly known as Maribaya Lembang.
Now, the tourist area has been overhauled and its name changed to a more unique one, namely Maribaya Resort Bandung. As the name has changed to be more unique, this tourist area has now also experienced many developments in a more positive direction than before. Curious about this tourist area? Let's find out together.
History
It turns out that this tourist area has a quite unique history. Maribaya itself is taken from the Sundanese language which consists of two words "mari" which means healthy and "baya" which means happy. The embedding of the name Maribaya occurred during the reign of Regent R. Aria Martanegara. At that time there was a chief penghulu named KH Hasan Mustapa. He is also a typical Sundanese poet, who later gave the name Maribaya to the area.
The history of the Maribaya area is always associated with a farmer named Grandmother Raksa Dinata. This poor farmer has a very beautiful child named Maribaya. Since Maribaya was so beautiful, there was a certain concern in the Peasant's heart. He was afraid that his son would become a bone of contention for the youths living in his village. Then, the farmer suddenly went to Tangkuban Perahu Mountain to perform a hermitage.
In the hermitage, he was suddenly given two containers by an old grandfather. The container contains water. The grandfather had ordered that one of the containers filled with water be brought to the east and the rest to be brought to the west. So, the farmer spilled one of the water in an area that is now known as Situ Lembang. The other container was given to Maribaya. Maribaya then spilled the water in her home area, and the former Maribaya water spill has now become a hot spring.
Tourist Area
Maribaya Lembang Tourism, which has now changed its name to Maribaya Resort Bandung, has been a tourist attraction for a very long time.
Even if calculated, the age of this tourist attraction has reached tens of years. If you are a native of Bandung, you must have visited Maribaya.
Or at least you've heard of it before. For those of you who come from outside Bandung, you may be wondering. Actually, what kind of tourist area is Maribaya Resort Bandung?
So, Maribaya Resort Bandung is a natural tourist area that is usually used as a tourist destination, both local and other domestic tourists. There you will find a forest area and green trees. Guaranteed the air must be cool. In addition there is also a beautiful waterfall. You can also take a hot bath that contains sulfur. After undergoing renovations since 2015, this area has become a completely new tourist attraction. Those of you who have visited the place before it was renovated may be amazed and surprised.
Read also:
Location
For residents of Bandung, of course, it will not be difficult if they will visit Maribaya Resort Bandung. For residents from outside Bandung, here will be explained in more detail about the location and accessibility to the Maribaya area. In short, this tourist attraction is on Jalan Maribaya No. 105/202 Lembang, Bandung. If you need further information, you can call (022) 827 82228. The location of Maribaya Resort Bandung is about 22 kilometers from the center of Bandung City. For accessibility to get there, you can choose several routes, including:
The first alternative, through the highway which is good and wide enough. However, the drawback is that this road has to be quite far. You can take the Dago route and then walk through Jalan Setiabudi. From there you have to go to the Lembang area before arriving at Maribaya.
The second alternative, through the highway which is good but quite narrow. From this route, you also need to be careful because many climbs are quite steep. The route is from Dago to Dago Atas. At the fork after Dago Terminal, you need to head towards Dago Giri (turn left). From there you have to take the road to Lembang, then to Maribaya.
The third alternative, you can pass through the Punclut tourist area. However, this route must pass through a road that is not so good and has a fairly long incline. From Dago, you have to go to Ciumbuleuit, then to Punclut. From Punclut Baru towards Lembang, then arrived at Maribaya.
The fourth alternative, suitable for those of you who like to climb alias hiking. You just need to go to Juanda Forest Park. From there you can walk stiffly through the forest to get to Maribaya.
Also read: Tourist Attractions in Dago Pakar
Price of admission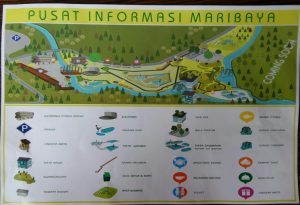 For the price of the entrance ticket, the management of Maribaya Resort Bandung sets a tariff of IDR 35,000 for each person. However, this price does not include the price of several facilities in the area itself.
It's understandable why the management set a fairly high rate. Because it turns out that Maribaya tourism is only open on weekends (Friday – Saturday – Sunday).
If you want to visit there, this tourist area is open from 08.00 am to 08.00 pm.
Tourist Area
As already explained, there are many facilities provided for tourists. One of them is a waterfall. There is also a natural hot spring that you can visit. However, the facilities in Maribaya tourism are not only waterfalls and hot springs. Then what are the tourist facilities that are presented to tourists? Here's the explanation.
Maribaya Waterfall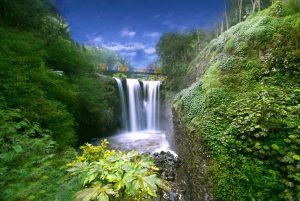 There are at least three waterfalls that you can enjoy inside Maribaya Resort Bandung. The three waterfalls in Sundanese are referred to as "curug".
The names of the three waterfalls include Curug Cikawari, Curug Cigulung, and Curug Cikoleang. These three waterfalls are the result of a combination of the Cigulung River and the Cikawari River.
Near the waterfall there is also a dining area that you can use to eat. It's called Twig Cafe.
Also read: Waterfalls in Bandung
Sky Bridge Tapak Halimun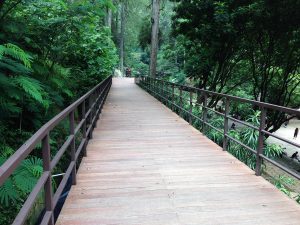 As the name suggests, Sky Bridge Tapak Halimun is a bridge that can be passed in the tourist area. From the Sky Bridge Tapak Halimun, tourists can enjoy a more spacious view of Maribaya Resort Bandung.
This bridge is wooden brown so that the color can still blend with the natural impression of the tourist area. While the shape tends to be linear.
Usually this bridge is also used as a place to take pictures by tourists because it has a more elegant feel.
Bale Pinton Amphitheater
Bale Pinton Amphitheater is an amphitheater that has a capacity of only 200 people. The Bale Pinton Amphitheater is provided for residents or tourists who are interested in holding an outdoor-themed event. Maybe the Bale Pinton Amphitheater can be used as a reference for those of you who are looking for a place for a wedding reception or other event.
Hot water bath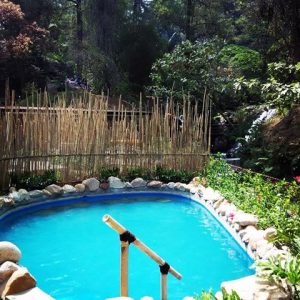 Hot water that comes from Maribaya contains sulfur. Many people who bathe there to treat several types of diseases that are believed to be cured with sulfur.
Tourists can choose which pool they will enter, and in each type of pool a different entrance fee is charged. For the deluxe pool, you need to pay IDR 75,000 per person. As for the VIP pool, the entry ticket price is IDR 150,000 per person.
If you want to rejuvenate your feet, you only need to pay IDR 30,000 per person. Meanwhile, if you want to use Tirta Raga's private bathing room facilities, you need to pay Rp. 90,000 per person.
Talaga Giri
Talaga Giri is the name of a fishing pond and pond for catching fish. If you like fishing, you have to pay IDR 20,000 every half hour. Meanwhile, if you want to catch fish, you have to pay IDR 15,000 every 15 minutes. Interested in trying?
Dining Area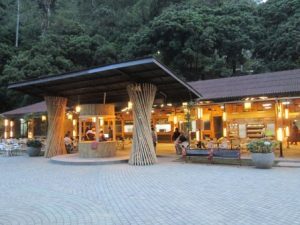 Inside the Maribaya Resort Bandung itself, several dining areas are provided. So tourists don't have to worry if they run out of food. There is a cafe called Twig Cafe which is located near Curug Cigulung.
Meanwhile, the other dining area is the Langlang Buana food court. In this food court there are more food menus to choose from. The place is outside the gates of Maribaya Resort Bandung.
If you just want to eat at this food court, you don't need to buy an entrance ticket to the Maribaya tourist area.
From all these explanations, are you interested in visiting Maribaya Resort Bandung? If you want to vacation there, make sure you choose a route that really suits your taste. And don't forget to always check the condition of the vehicle that will be used, considering that there are many climbs to reach Maribaya. Happy holidays and hopefully useful.