Central Java has always been fascinating. One of the famous ones is Magelang, where this city offers a variety of interesting tourist objects and also a unique Honeymoon Place in Central Java. Apart from being close to Yogyakarta, Magelang does save various beauties due to its unique geographical factors. This city not only has Borobudur Temple which can be used as a tourist destination, but also has a variety of beautiful hills. One of them is Punthuk Mongkrong Magelang. Here are some explanations about this tourist attraction.
The Uniqueness of Punthuk Mongrong
Maybe the name Punthuk Mongkrong is still foreign to your ears when compared to Puthuk Setumbu as one of the tourist attractions in Magelang. But what is certain from Punthuk Mongkrong is the view that is no less beautiful than the scenery presented by Puthuk Setumbu. Where you can also see beautiful views from a height with a background of hills and mountains that can be seen from there.
This hill is located at an altitude of 624 meters above sea level. This altitude is claimed to be the highest Puthuk in Magelang, and beats the heights of Puthuk Setumbu, Puthik Gupakan, and Puthuk Sukmoyo. So it can be said that this hill will be very enchanting to observe the existing scenery.
Especially at dawn and dusk. This place will definitely present a very interesting sight to be captured with a camera. In addition, there are also several viewing posts built by local residents so that tourists can enjoy the atmosphere there more comfortably. Its location which is only about 5 kilometers from Borobudur Temple will also make it easier for tourists to access it, namely in Giritengah Village, Borobudur, Magelang, Central Java.
The beauty of Punthuk Mongrong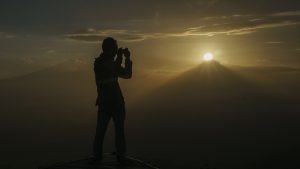 The beauty of Punthuk Mongkrong Magelang itself can be seen from the scenery there, where tourists can see the naturally lined Menoreh hills. In addition, if you go to the top of the hills, you will be able to see views of Borobudur Temple, Mount Merbabu, and also Mount Merapi. Of course, the atmosphere you get will be very beautiful and exotic with such a view.
In addition to views of the hills, mountains, and also Borobudur Temple, the people around Giritengah Village believe that in the past, this area was once used as a stopover by Prince Diponegoro against the Dutch colonialists. So this location also has historical value. You can also enjoy the atmosphere of the Most Beautiful Sunset Place in Indonesia from Puthuk Mongkrong because this place is also one of the best places to wait for the sun to set.
Location of Punthuk Mongrong
As explained above, Punthuk Mongkrong Magelang is located in Giritengah Village, Borobudur, Magelang, Central Java. This location is in the southwest of Borobudur sub-district and is only about 5 km from Borobudur Temple. Access to Punthuk Mongkrong is not fully adequate, because only two-wheeled vehicles can reach there. For those of you who want to visit, it's better to use only two-wheeled vehicles.
To reach this Romantic Tourist Place in Jogja, you can take the route from Borobudur Temple. From the tourist area of ​​Borobudur Temple, just follow the road beside Manohara Resort Bodobudur. This road is a paved road and leads to Majaksingi or Hotel Amanjiwo Resort. You will find an intersection. Take the direction to the right, which is towards the Gunden intersection. Find the Giritengah Village Hall. From there there will be a small uphill road that leads to the entrance of this natural tourist attraction.
Punthuk Mongrong Fasilitas Facilities
This tourist attraction is relatively new, but the existing tourist facilities are sufficient to accommodate several tourist activities and the needs of tourists. There are several facilities, such as:
The viewing post, which has the shape of an open tree house and a V bridge, all of which can be used as a place to see beautiful scenery.
Parking space, which is adequate for two-wheeled vehicles
Food stalls, to accommodate the facilities of hungry or thirsty tourists
A place to rest, which can be used as a place to sit and relax
Toilet, for MCK purposes
Photo spot, with beautiful scenery and green hills in the background
Those are some of the facilities available at this tourist attraction. Although the entry ticket is quite cheap, it turns out that the facilities are complete enough to accommodate tourist activities for tourists.
Punthuk Mongrong V Bridge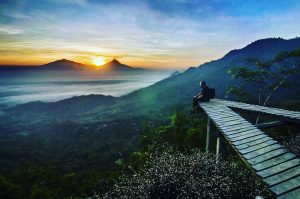 Of the several facilities at Punthuk Mongkrong Magelang mentioned above, one of the viewing posts that is the target of tourists to take photos or to capture beautiful views is the V Bridge. Why is it called the V Bridge? The reason is because this bridge has a shape like the letter V so it has a suitable angle for photo spots.
But what you need to remember is that this bridge can only be climbed by 2 people because it is made of bamboo which has its own capacity. So for those of you who want to take pictures, please take turns with other tourists. If visitors are busy, it is necessary to queue with others.
This bridge is interesting not only because of its conical shape and forms the impression of focus, but also because the scenery from that point of view is indeed beautiful because there are two hills that join together to form a unique view. So the photos will be more charming and nice.
Price of admission
Because this tourist attraction still does not have complete enough facilities and only has standard facilities, the entry ticket price is still cheap so you can reach it even though you don't have much pocket money. In addition, the name of this tourist attraction may not be as popular as Puthuk Setumbu in the ears of tourists, so it will give you the advantage that this attraction is still quiet. The entry ticket price is only IDR 3,000. Meanwhile, the parking fee is only IDR 2,000 per vehicle.
Those are some explanations about Punthuk Mongkrong Magelang that you need to know, especially for those of you who want to travel to Magelang and its surroundings. Also know some tourist attractions in Jogja that you can also visit considering that Magelang is very close to Jogja so it will be easy to reach. Hope it is useful.