Madakaripura Waterfall provides natural scenery in the form of a very beautiful waterfall. Madakaripura waterfall tourist spot, one of the waterfall attractions located in the Bromo Tengger Semeru National Park area. When you first come to this place, you will be amazed after seeing a waterfall that flows between two rock cliff walls. These cliffs seemed to try to prevent the sun's rays from penetrating down. The calm atmosphere is decorated with the serene sound of water. This waterfall is in the form of a niche surrounded by hills that drip water on the entire cliff like rain. The beauty of this tourist attraction cannot be denied, being deep in the mountains makes this place always beautiful and natural. This will appear when you are on your way to this destination.
Madakaripura Waterfall
Madakaripura Waterfall is located in Branggah Hamlet, Negororejo Village, which is in Lumbang District, Probolinggi Regency. Madakaripura Waterfall, East Java, is famous as the highest waterfall on the island of Java and many tourists visit to enjoy its beauty. This waterfall has a height of about 200 meters. Besides being the highest on the island of Java, Madakaripura waterfall has been named the second highest waterfall after Sigura-gura waterfall which is located in the North Ssumatera area.
You can explore a lot of beauty in this waterfall area. Like the cave which is located just below the main waterfall. When you want to find this cave, you have to pass a pool of water which has an area of ​​​​approximately 25 square meters. While the depth of the pool itself is about 7 m and the mini kola has a very heavy water current. This waterfall has a unique architecture, you will be very impressed with the beauty that is in this waterfall. You are amazed by the beauty created by the Almighty Creator.
Read also:
History of Madakaripura Waterfall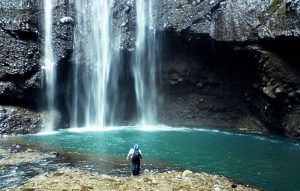 Madakaripura, those of you who come from East Java are certainly familiar with this word, and you will immediately be drawn to the great hero who was able to unite the archipelago under one Majapahit coconut sugar flag, namely Maha Patih Gajah Mada.
If we trace more deeply, the Madakaripura waterfall is closely related to the long history of the Majapahit kingdom. Patih Gajah Mada and Hayam Wuruk succeeded in uniting the archipelago. Patih Gajah Mada himself had extraordinary expertise in the fields of strategy, diplomacy, and even war. That's why Patih Gajah Mada can be trusted by the kings of the archipelago.
According to local residents the name Madakaripura, means "last place". This name is taken from a story that has been circulating in his time. It is said that Patih Gajah Mada spent the end of his life meditating at the location of this waterfall. The location of Patih Gajah Mada's persemedia in a cave which is at the main waterfall. This story is reinforced by the existence of a statue of Gajah Mada in the parking area of ​​the Madakaripura waterfall. Initially this area was a fief land given by the King of Majapahit as a gift to Gajah Mada for his hard work to unite the archipelago, with his oath known as the "Palapa Oath."
The contents of the oath are: "Sira Ggajah Mada papatih amungkubumi tan ayun amukti palapa, sira Gajah Mada: Seagrass huwus lost to the archipelago ingsun amukti palapa, seagrass lost to Seram ring, Tanjungpura, Haru ring, Pahang ring, Dompu, Bali ring, Sunda, Palembang, Tumasik, samana Ingsun amokti palapa." When translated into Indonesian it means: that Gajah Mada will not eat the palapa fruit (luxury, fasting) before he can unite the motherland (Nusantara). Mentioned in this case are the kingdoms of Desert, Seram, Tanjung Pura, Haru, Pahang, Dompo, Bali, Sunda, Palembang, Tumasik where some of these kingdoms at that time were still divided and not yet united.
Read also:
The Myth of Madakaripura Waterfall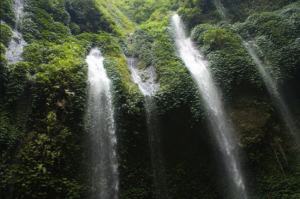 The Madakaripura tourist attraction itself has a million mysteries, where this place has a mystical aura that you can feel when you enter this waterfall area. For those who are not used to it, it might make goosebumps goosebumps. But don't be afraid, and discourage yourself from visiting this tourist attraction. If you come with good intentions, nothing untoward will happen.
According to the beliefs circulating in the midst of the surrounding community. You are advised to leave this place before 14:00. Because it is believed that rain will occur which can affect the sudden flow of water around the waterfall. This is considered quite dangerous, and allows your suit to leave this place.
Beyond the trust that is trusted by the community. This tourist spot has its own charm. No wonder some travel agents who prepare Bromo as a destination, usually insert Madakaripura as a tourist destination. Sources in Madakaripura said that there are actually five waterfalls in this area. When you arrive in the Madakaripura area you can easily see the three waterfalls. However, for the other two waterfalls, you have to find them first because they are hidden behind other waterfalls. Meanwhile in the middle of the cliff, behind the largest waterfall, there is a gaping cavity that runs horizontally. Locals believe, in this hole, the governor of Gajah Mada sat quietly, to meditate in silence.
Read also:
Madakaripura Waterfall Transportation
If you want to explore East Java, Madakaripura waterfall should be your tourist destination. Madakaripura can be reached from Malang or Probolinggo. No need to worry, to get to this waterfall you can easily, just by taking a bus to Tomang and an angkot you can go directly to the location. Along the way from Tomang to Madakaripura you will be amazed by the beautiful and enchanting scenery, but you will feel uncomfortable when traveling because of the unfriendly road conditions.
Accessibility to Madakaripura waterfall is about 5 km from the highway to Bromo or about 45 minutes from the tourist location of Mount Bromo towards Probolinggo (to the north). However, if you are from downtown Probolinggo district about 30 km. The location of this waterfall can be reached by private vehicle or rented car, with a price range of IDR 150,000,- PP + driver (this price can change at any time). The condition of the road you are about to pass is winding and is paved but a little narrow.
Arriving at the gate and entering the parking area, you are required to walk approximately 1 km through the path. To get to the location of the waterfall, you should use the services of a guide, because the road to the waterfall has a fairly heavy terrain. In addition, in this location there are frequent floods and landslides. For a guide fee of around Rp. 50,000, – one way. When you have to and hunger strikes, you don't have to worry about approaching the location of the waterfall, you will find several stalls selling drinks and food.
Read also:
Madakaripura Waterfall Tourism Activities
The fatigue that comes to you while heading to the location of this waterfall, will be paid off with a million charms emitted by this waterfall. No need to worry at the waterfall location, you can play in the water and take a bath. The water that falls heavily and reflects the Ferris wheel is known as holy water or the local people call it "Tirta Sewana." This water, is believed to have extraordinary properties that can heal the sick and can keep you young.
Read also:
Facilities at Madakaripura Waterfall
The facilities in this tourist area are quite complete:
Warung: You don't need to worry, in this waterfall area there are quite a number of stalls selling various kinds of food and drinks. So if you forget or run out of food and drink, don't worry, you can still find it easily at this tourist location at a fairly affordable price.
Mosque: For those of you who are Muslim, you don't have to worry about worship being the main point for you. While enjoying the beauty of Nature that has been created by the Creator, you can still carry out your obligations in this place.
Bathroom: There are several bathroom facilities that have been provided by the manager, you can use them. But you have to keep it clean so that the bathroom that has been provided can be maintained properly.
Parking: As with other tourist attractions, this tourist location provides adequate parking. But you have to be careful so that you don't feel anxious when your vehicle is parked. Keep your vehicle safe by double locking.
Lodging: This tourist attraction is quite attractive, therefore many business people in the hospitality sector are quite interested in establishing hotels and inns near this tourist area.
Read also:
Travel Tips to Madakaripura Waterfall
If you don't want to get wet, don't forget to bring an umbrella or raincoat. But don't worry if you don't bring or forget to bring it, you can rent it in tourist areas.
Bring a change of clothes, to anticipate the clothes you are wearing are already wet.
Use anti-slip footwear because the terrain you will be crossing is slippery
Do not hesitate to use the services of a guide, because they better know the terrain that is safe for you to pass.
Bring documentation, but you have to be careful when carrying it and complete it with a waterproof protector
Keep it clean, don't pollute, let alone damage the natural beauty in this waterfall area. Nature is too dear for you to be damaged. Have a nice vacation at this Madakaripura waterfall, and enjoy every beautiful moment given by the creator
And most importantly, don't forget to pray and clean the day from any bad intentions.
If you are visiting Madakaripura waterfall for the first time, be careful of people who take advantage of this location. For example, if you use a motorbike and park it in a stall, then after you return you will be asked for money because they have washed your motorbike, when in reality your motorbike is only doused with water.
How? Interested in coming to this tourist spot? Come on, invite your family, friends, girlfriend or even friends to this place. Come explore the natural beauty of Indonesia.