Bandung is a strategic location to be used as a tourist location. The Flower City is indeed located in a stunning geographical location, which is surrounded by mountains and highlands, making Bandung like a city in a bowl or cup. Bandung, which is located in West Java, certainly has a variety of interesting natural attractions to visit. After discussing Caringin Tilu Bandung in the previous article, here is a tourist location that is not much different, namely Moko Hill. The following is information about the Bukit Moko Bandung Entrance Ticket and its beauty that is needed.
The beauty of Moko Hill
The name of Moko Hill may already be familiar to the people of Bandung, maybe even to the ears of people outside Bandung. Moko Hill Tourism is already well-known to the wider community as one of the interesting Night Tours in Bandung. Most of them know this tour from social media. This Moko hill tourist attraction is indeed suitable to be a favorite tourist location for tourists who happen to be around Bandung. In fact, this location has long been known as a little paradise in Bandung.
Located at an altitude of 1,500 meters above sea level, Moko Hill can certainly provide stunning natural beauty. The surrounding mountains will look very beautiful and green during the day. Meanwhile, at night, the view of Bandung city lights from a height will fill the scene which becomes very romantic. And because it is at an altitude, this location also has a very cool air temperature. Even there, of course, there is also a thin fog that will add to the atmosphere of the mountains very stunningly.
Another interesting thing about Moko Hill is the existence of a very beautiful pine forest. Even the pine forest on this tour is said to be similar to Nami Island in South Korea. No wonder this tourist location will be filled with many young people, especially at night and when the weekend arrives. In addition, the entrance ticket to Bukit Moko Bandung is also cheap. You don't have to spend a fortune to be able to enjoy this attraction. This is what increasingly attracts tourists to come there.
Moko Hill is also one of the best locations to enjoy the sunset in Bandung. Not long after the sun goes down, the lights of the city of Bandung that start to glow will make all eyes captivated. Many people also stay at Moko Hill to wait for the sunrise view, because this location is also one of the beautiful sunrise spots in Bandung in the morning.
Moko Hill Location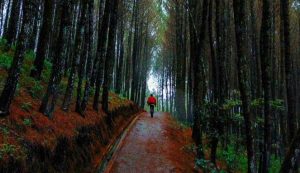 The location of this Moko Hill tour is not far from the Keraton Cliff tourist attraction. Moko Hill is located in Buntis Bongkor Village, Cimenyan, Bandung. This location is only 15 kilometers from the center of Bandung. This location is also not difficult to access. In fact, tourists who do not bring their own vehicle can also access it quite easily.
If you don't bring your own vehicle, you can start the journey from Cicaheum Terminal. From the city of Bandung you can go to Cicaheum Terminal by city transportation. From the terminal, there will be many motorcycle taxi services that can take you to Bukit Moko tourism. But keep in mind that most motorcycle taxis will charge a high price. You need to negotiate first to confirm the price before using their services.
Meanwhile, if you use your own vehicle, the trip can also be started by heading to the Cicaheum Terminal area. From there. take the road to Jalan Padasuka until it gets stuck. If you have passed a large banyan tree, it means you have arrived at the Tourist Attractions in Bandung Cartil. Meanwhile, Moko Hill itself is the highest hilltop in the area. Previously, you will be charged an entrance ticket for Bukit Moko Bandung first.
Moko Hill Ticket Prices
The price of admission to Bukit Moko Bandung itself, as described above, is very cheap. To enter, visitors will be charged a fee of IDR 15,000 per person. From there, you can also go to Puncak Bintang by paying an additional fee of IDR 8,000. If you want to enter Warung Daweung, you need to pay another ticket for IDR 10,000. If you want to camp there, you also need to pay an additional fee of IDR 10,000. The parking fee is IDR 3,000 for two-wheeled vehicles and IDR 5,000 for four-wheeled vehicles. while the price of food at Warung Daweung itself is around Rp. 20,000.
Moko Hill Tourism Facilities
If you really want to travel in the Moko Hill area, here are some facilities that you will get, namely:
Peak Moko is the name of the most appropriate location to enjoy the view of the city light of Bandung. From there you will find a beautiful view of Banding at night from a height. During the day or evening, the view from up there will not disappoint, namely the green view of the hills and the city of Bandung from above.
Warung Daweung is the name of a canteen or a place to eat located on Moko Hill tourism. As mentioned above, if you want to enter this Warung Daweung, tourists will be charged an additional Bukit Moko Bandung entrance ticket of IDR 10,000. There you can enjoy food while enjoying an interesting view.
In Moko Hill there is also a pine forest. This pine forest is also often used as a location for pre-wedding photos from residents around Bandung who want a natural concept during pre-wedding. This location is also often used as a cool photo spot in Bandung from tourists.
Travel Tips to Moko Hill
If you want to visit there, in addition to knowing the entrance ticket to Bukit Moko Bandung, here are some travel tips that you may need to know.
If you want to use a private vehicle, you should fill up with gasoline. This is important because on Jalan Padasuka to Bukit Moko you will not find a gas station.
The road conditions are steep and not completely smooth, so you need to be careful.
Prepare the best camera, especially if you visit at night, so you can capture images more optimally.
Bring warm clothes because this location is at an altitude of 1,500 meters above sea level and will definitely be very cold.
Those are some explanations about the entrance ticket for Bukit Moko Bandung to tourist tips that you need to know. Hopefully this article can provide useful travel recommendations.